Efficient Electrocatalytic Degradation of 4-Chlorophenol Using a Ti/RuO2–SnO2–TiO2/PbO2–CeO2 Composite Electrode
Abstract
A Ti/RuO2–SnO2–TiO2/PbO2–CeO2 composite electrode was synthesized by two steps. The first step was to prepare the interlayer of RuO2–SnO2–TiO2 through a sol–gel method. The second was to fabricate the surface layer of Ce-doped PbO2 by an electrodeposition method. The morphologies and structures of the prepared materials were well characterized by scanning electron microscopy, X-ray diffraction, and X-ray photoelectron spectroscopy. The electrochemical properties were investigated by electrochemical impedance spectroscopy and 4-chlorophenol was selected as a model pollutant to evaluate electrocatalytic activities. The results indicated that the molar ratios of 5:3:2 (Ti/Ru/Sn) and 1:100 (Ce/Pb) were optimal for the interlayer and the surface layer, respectively. Excessive cerium doping would change the preferential crystal orientation of PbO2 from (101) phase to (200) phase. The impedance of the electrode decreased with increasing cerium doping quantity. The average current efficiency and the energy consumption of the cerium-doped electrode, as compared with that of the undoped electrode, could be increased by 28.8% and decreased by 32.7%, respectively. Furthermore, the service life of the modified electrodes was enhanced greatly. The improved performance of the modified electrode could be attributed to both the interlayer and the compact surface microstructure resulted from cerium doping.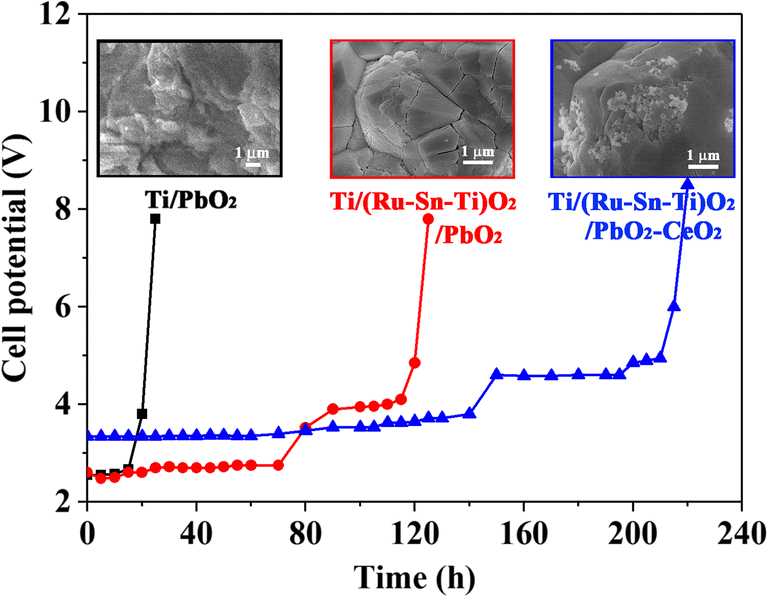 Keywords
CeO2 
PbO2 
Modified electrode 
Electrocatalytic oxidation 
4-Chlorophenol 
Notes
Acknowledgments
This work was supported by the National Natural Science Foundation of China (Nos. 51878133, 51778117, 51578118, 41877364), the Excellent Youth Talents Foundation of Jilin Science & Technology Department (20170520079JH), and the 13th Five-Year Science and Technology Project (JJKH20180652KJ).
Copyright information
© Springer Science+Business Media, LLC, part of Springer Nature 2018