Comparison of Electro-Catalytic Activity of Fe-Ni-Co/C and Pd/C Nanoparticles for Glucose Electro-Oxidation in Alkaline Half-Cell and Direct Glucose Fuel Cell
Abstract
In this paper, the performance of a non-noble metal anode catalyst (Fe-Ni-Co/C) is evaluated and compared with Pd/C electro-catalyst toward the glucose oxidation reaction in the alkaline half-cell and direct glucose fuel cell (DGFC). The electro-oxidation of glucose on Fe-Ni-Co/C and Pd/C is characterized in the half-cell by cyclic voltammetry (CV) and chronoamperometery (CA) techniques. Results indicate that Fe-Ni-Co/C has higher activity and lower tolerance against poisoning intermediate products for glucose oxidation in the alkaline media than that of Pd/C electro-catalyst. Polarization curves of passive air breathing alkaline DGFC show that the DGFC equipped with a Fe-Ni-Co/C anode catalyst produces higher maximum power density (MPD) and open circuit voltage (OCV) compared to a DGFC which employed Pd/C at the anode side; 23 mW cm−2 and 0.93 V versus 14 mW cm−2 and 0.65 V. These results are related to the remarkable activity of Fe-Ni-Co/C electro-catalyst toward glucose oxidation under the alkaline media. Electrochemical impedance response of both cells demonstrates that the DGFC equipped with Fe-Ni-Co/C has lower charge and mass transfer resistance compared to the DGFC equipped with Pd/C.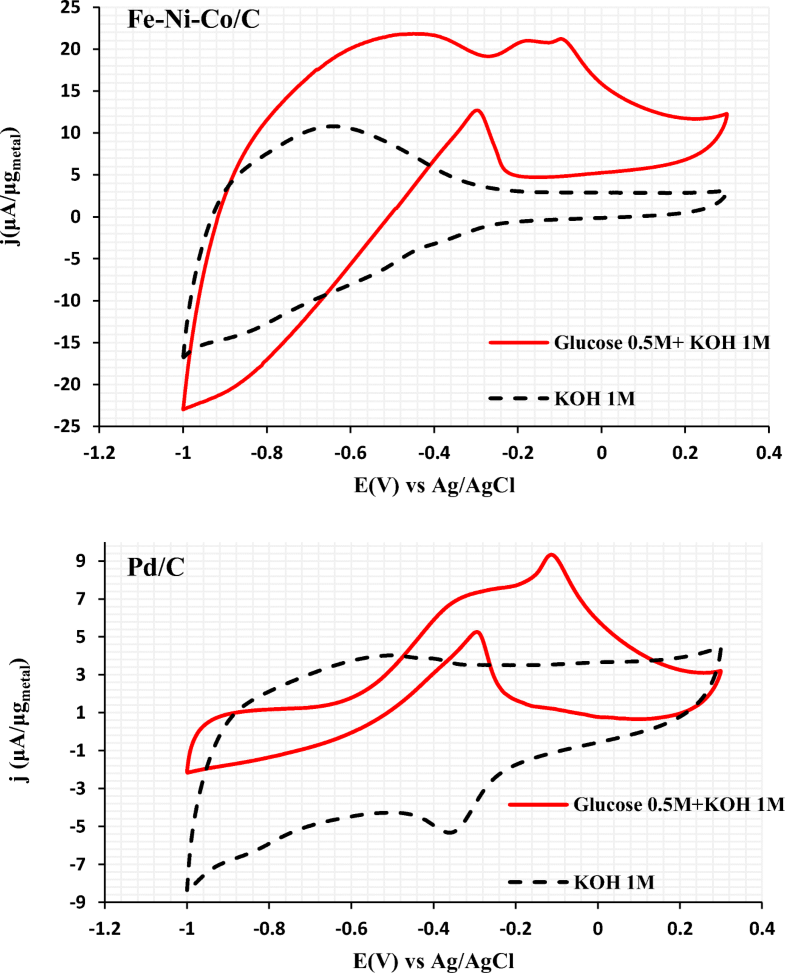 Keywords
Glucose oxidation reaction 
Non-noble metal electro-catalyst 
Electro-catalyst activity 
Direct glucose fuel cell 
Notes
Acknowledgments
The support of the Isfahan University of Technology, Iranian Nanotechnology Initiative Council, and the Iranian Fuel Cell Steering is acknowledged. The authors also gratefully acknowledge the financial support of INSF through the project No. 96017107. The authors would also like to special thanks to Dr. Mohammad M. Momeni assistant professor of chemistry department of IUT for his corporation.
Copyright information
© Springer Science+Business Media, LLC, part of Springer Nature 2018