Effect of Nitrogen-Functional Groups on the ORR Activity of Activated Carbon Fiber-Polypyrrole-Based Electrodes
Abstract
Polypyrrole (PPy) coatings inside the microporosity of an activated carbon fiber (ACF) were synthesized by chemical polymerization obtaining ACF-PPy composites. N-doped ACFs were prepared by carbonization of the ACF-PPy composites at two temperatures (500 and 800 °C). All the samples were characterized using different techniques (XPS, SEM, elemental analysis, physical adsorption of N2, cyclic voltammetry, etc.). The electrochemical characterization in alkaline medium shows that the N-doped ACFs have a similar specific capacitance than the pristine ACF, in spite of the lower specific surface area. The materials were used as electrodes in the oxygen reduction reaction (ORR) in alkaline medium using the rotating ring-disk electrode (RRDE) and linear sweep voltammetry (LSV) tests. It was found that the N-doped ACF material carbonized at 800 °C has higher catalytic activity than the pristine ACF. The investigation also indicates that the ORR process on the N-doped ACF materials proceeds through an indirect two-electron pathway.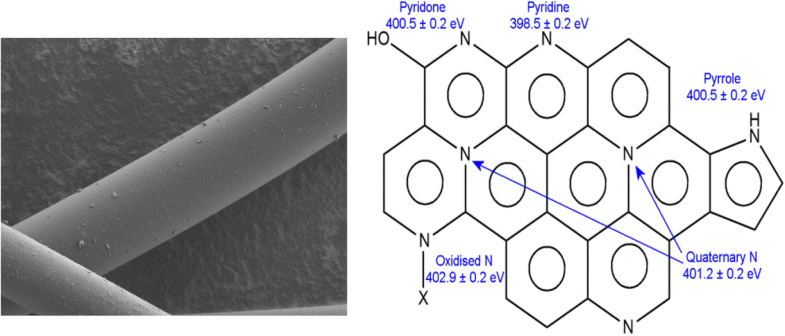 Keywords
Activated carbon fiber 
Polypyrrole 
Thermal treatment 
Oxygen reduction reaction 
Electrocatalysts 
Notes
Funding Information
The authors thank MINECO, GV, and FEDER for financial support (projects MAT2016-76595-R, CTQ2015-66080-R (MINECO/FEDER)). ACRP thanks GV for a Santiago Grisolía fellowship (GRISOLIA/2012/009).
Copyright information
© Springer Science+Business Media, LLC, part of Springer Nature 2018