A Combined DFT and Experimental Investigation of Pt-Wrapped CoNi Nanoparticles for the Oxygen Reduction Reaction
Abstract
CoNi bimetallic nanoparticles wrapped with Pt were the subject of a theoretical study and experimental validation for the oxygen reduction reaction (ORR). The computational study was carried to evaluate the effect of the core composition of the Pt-wrapped CoNi nanoparticles toward the ORR. For this purpose, Pt44 and ConNi6−n-Pt38 (0≤n≤6) octahedral nanoparticles were employed as models and the O and OH binding energies were taken into account to describe the ORR electrocatalytic activity. The experimental validation of these type of nanoparticles was performed considering two compositions (Co30Ni70-20Pt/C and Co70Ni30-20Pt/C). The ConNi6−n-Pt38 (0≤n≤6) nanoparticles exhibit O and OH adsorption energies weaker than the pure Pt44 nanoparticles, suggesting, therefore, a higher electrocatalytic activity for the CoNi-Pt with respect to one of elemental Pt nanoparticles. The electrochemical results confirm the theoretical prediction, showing that the Co30Ni70-20Pt/C and Co70Ni30-20Pt/C electrocatalysts present higher specific activities, 400% and 300%, above that of Pt/C, respectively, as well as mass activities 50% higher than the commercial Pt/C, taken as reference.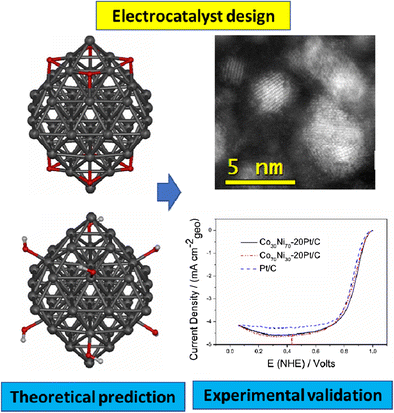 Keywords
ADFT 
Reactivity 
Electrocatalytic activity 
High-energy milling 
Galvanic displacement 
Notes
Acknowledgements
E. F.-R., H. C.-M., M.M. T.-C., and J.L. R.-R. acknowledge CONACYT for their doctoral fellowships. Financial support from the CONACYT projects CB-252658 and 245920 is also gratefully acknowledged. Acknowledgement is given to the Laboratorio Avanzado de Nanoscopía Electrónica from Cinvestav (Dr. Daniel Bahena Uribe for STEM micrographs and Dr. Jorge Roque Puente for the SEM analysis).
Copyright information
© Springer Science+Business Media, LLC, part of Springer Nature 2018