Pt-Ru-NiTiO3 Nanoparticles Dispersed on Vulcan as High Performance Electrocatalysts for the Methanol Oxidation Reaction (MOR)
Abstract
We propose a high performance electrocatalyst based on Pt-Ru-NiTiO3 nanoparticles supported on Vulcan carbon (Pt-Ru-NiTiO3/C) for the methanol oxidation reaction (MOR) in acid medium. The electrocatalyst is prepared from a two-step procedure using a wet chemical method. The morphological studies from TEM indicate that Pt-Ru-NiTiO3 nanoparticles are uniformly distributed on Vulcan carbon. The XRD shows the fcc structure of Pt nanomaterials, while the chemical composition examined using XPS indicates the presence of large fractions of Pt0 and Ru0 species (i.e., metallic state), OH− and O2− species are also formed on the surface of the catalyst. The Pt-Ru-NiTiO3/C electrocatalyst exhibits a higher catalytic activity compared to a PtRu/C alloy. Pt-NiTiO3/C is also more active than the alloy. Therefore, on one side, the addition of Ru enhances the MOR through the formation of oxygenated adsorbed species on Ru, which thereby promotes the oxidation of CO to CO2 at more negative potentials (i.e., the bifunctional mechanism). On the other hand, the superior electrocatalytic performance of Pt-Ru-NiTiO3/C is attributed also to the synergistic effects of NiTiO3, which promotes the reaction increasing the current density and shifting the onset potential to even more negative values, suggesting that it also participates in the bifunctional mechanism along with Ru. From the results shown here, Pt-Ru-NiTiO3/C can be a promising anode nanomaterial for direct methanol fuel cells (DMFCs).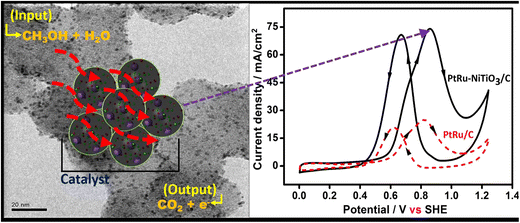 Keywords
Pt-Ru alloys 
XPS characterization 
Methanol oxidation reaction 
Electrocatalysts 
Direct methanol fuel cells 
Notes
Acknowledgements
We thank Prof. N. Munichandraiah and Prof. G. Mohan Rao of the Indian Institute of Science, Bengaluru, for their help rendered in the XPS analysis.
Funding Information
We gratefully acknowledge DST (Nano Mission-SR/NM/NS-1016/2010) and DST-CONACYT (Indo-Mexican Bilateral programme-INT/MEXICO/P14/2012 and grant 252079) for the financial support. This work was also funded through the Project 241526 from CONACYT.
Copyright information
© Springer Science+Business Media, LLC, part of Springer Nature 2018