Abstract
Objective
We examined the feasibility and explored the physical, psychological, relational, and biological effects of Mindfulness-Based Stress Reduction (MBSR), an 8-week standardized mindfulness program, involving older married couples (60 years or older) with metabolic syndrome (one or both partners had metabolic syndrome). We also explored gender differences.
Methods
A pilot randomized controlled trial (RCT) compared MBSR to a Wait List Control (WLC) arm at baseline, post-intervention, and 3-month follow-up clinic visits. Twenty-two spouses (11 couples) self-reported stress, physical and mental functioning, mindfulness, and relationship satisfaction at each time point. Fasting glucose, cholesterol, triglycerides, blood pressure, weight, and waist circumference were measured. MBSR couples answered questions about partner influences on participation, adherence, and practice at the post-intervention visit.
Results
In terms of adherence to MBSR sessions, four of the six couples attended all ten sessions; one couple attended 7; and one wife attended 6 and her husband attended 5 sessions. In terms of efficacy, there were no significant intervention effects; however, there were significant gender by intervention effects. Pre- to post-intervention, MBSR wives displayed greater increases in physical functioning (β = 1.18, t(36) = 3.17, p = .003) and relationship satisfaction (β = .72, t(36) = 2.81, p = .007) than WLC wives. Effects for husbands were not significant. Qualitatively, participants reported encouragement and increased relationship closeness.
Conclusions
Engaging in MBSR as a couple to address symptoms of metabolic syndrome was well-received and feasible. Preliminary effects suggest more benefits for wives than husbands in terms of physical functioning and relational well-being.
This is a preview of subscription content, log in to check access.
Access options
Buy single article
Instant unlimited access to the full article PDF.
US$ 39.95
Price includes VAT for USA
Subscribe to journal
Immediate online access to all issues from 2019. Subscription will auto renew annually.
US$ 99
This is the net price. Taxes to be calculated in checkout.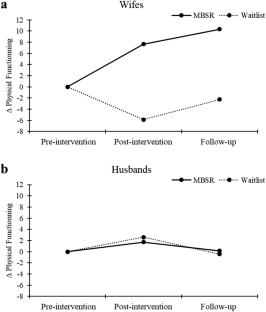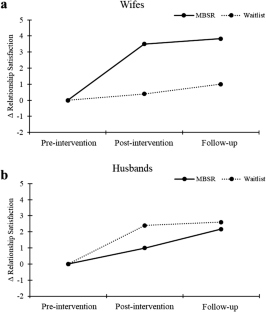 Data Availability Statement
Data from this study will be made available upon request from the first author.
References
Aging, (2018). 2017 Older Americans Profile. Retrieved December 10, 2019 from the Adminstration for Community Living website: https://acl.gov/sites/default/files/Aging%20and%20Disability%20in%20America/2017OlderAmericansProfile.pdf.

Alexander, C. M., Landsman, P. B., Teutsch, S. M., & Haffner, S. M. (2003). NCEP-defined metabolic syndrome, diabetes, and prevalence of coronary heart disease among NHANES III participants age 50 years and older. Diabetes, 52(5), 1210–1214.

Altemus, M., Sarvaiya, N., & Neill Epperson, C. (2014). Sex differences in anxiety and depression clinical perspectives. Frontiers in Neuroendocrinology, 35(3), 320–330.

Baer, R. A., Smith, G. T., & Allen, K. B. (2004). Assessment of mindfulness by self-report the Kentucky inventory of mindfulness skills. Assessment, 11(3), 191–206.

Birnie, K., Garland, S. N., & Carlson, L. E. (2010). Psychological benefits for cancer patients and their partners participating in mindfulness-based stress reduction (MBSR). Psycho-Oncology, 19(9), 1004–1009.

Black, D. R., Gleser, L. J., & Kooyers, K. J. (1990). A meta-analytic evaluation of couples weight-loss programs. Health Psychology, 9(3), 330–347.

Brownell, K. D., Heckerman, C. L., Westlake, R. J., Hayes, S. C., & Monti, P. M. (1978). The effect of couples training and partner co-operativeness in the behavioral treatment of obesity. Behaviour Research and Therapy, 16(5), 323–333.

Carlson, L. E., & Brown, K. W. (2005). Validation of the mindful attention awareness scale in a cancer population. Journal of Psychosomatic Research, 58(1), 29–33.

Carlson, L. E., & Thomas, B. C. (2007). Development of the Calgary symptoms of stress inventory (C-SOSI). International Journal of Behavioral Medicine, 14(4), 249–256.

Carson, J. W., Carson, K. M., Gil, K. M., & Baucom, D. H. (2004). Mindfulness-based relationship enhancement. Behavior Therapy, 35(3), 471–494.

Carson, J. W., Carson, K. M., Gil, K. M., & Baucom, D. H. (2007). Self-expansion as a mediator of relationship improvements in a mindfulness intervention. Journal of Marital and Family Therapy, 33(4), 517–528.

Chen, K. W., Comerford, A., Shinnick, P., & Ziedonis, D. M. (2010). Introducing qigong meditation into residential addiction treatment: a pilot study where gender makes a difference. The Journal of Alternative and Complementary Medicine, 16(8), 875–882.

Chu, P., Gotink, R. A., Yeh, G. Y., Goldie, S. J., & Hunink, M. M. (2016). The effectiveness of yoga in modifying risk factors for cardiovascular disease and metabolic syndrome: a systematic review and meta-analysis of randomized controlled trials. European Journal of Preventive Cardiology, 23(3), 291–307.

Cohen, S., Kamarck, T., & Mermelstein, R. (1983). A global measure of perceived stress. Journal of Health and Social Behavior, 24(4), 385-396.

Creswell, & Lindsay, E. K. (2014). How does mindfulness training affect health? A mindfulness stress buffering account. Current Directions in Psychological Science, 23(6), 401–407.

Creswell, L.,. E. K., Villalba, D. K., & Chin, B. (2019). Mindfulness training and physical health: mechanisms and outcomes. Psychosomatic Medicine, 81(3), 224–232.

Denys, K., Cankurtaran, M., Janssens, W., & Petrovic, M. (2009). Metabolic syndrome in the elderly: an overview of the evidence. Acta Clinica Belgica, 64(1), 23–34.

Dunkley, A., Charles, K., Gray, L., Camosso-Stefinovic, J., Davies, M., & Khunti, K. (2012). Effectiveness of interventions for reducing diabetes and cardiovascular disease risk in people with metabolic syndrome: systematic review and mixed treatment comparison meta-analysis. Diabetes, Obesity and Metabolism, 14(7), 616–625.

Geiger, P. J., Boggero, I. A., Brake, C. A., Caldera, C. A., Combs, H. L., Peters, J. R., & Baer, R. A. (2016). Mindfulness-based interventions for older adults: a review of the effects on physical and emotional well-being. Mindfulness, 7(2), 296–307.

Hendrick, S. S. (1988). A generic measure of relationship satisfaction. Journal of Marriage and the Family, 50(1), 93–98.

Holt-Lunstad, J., Smith, T. B., & Layton, J. B. (2010). Social relationships and mortality risk: a meta-analytic review. PLoS Medicine, 7(7), e1000316.

Hoppmann, C. A., Michalowski, V., & Gerstorf, D. (2016). Spousal interrelationships in health across adulthood: health behaviors and everyday stress as potential underlying mechanisms. In J. Bookwala (Ed.), Couple relationships in the middle and late years: their nature, complexity, and role in health and illness. Washington, D. C: American Psychological Association.

Kabat-Zinn, J. (2013). Full catastrophe living: How to cope with stress, pain and illness using mindfulness meditation.  London, UK: Hachette.

Li, W., Howard, M. O., Garland, E. L., McGovern, P., & Lazar, M. (2017). Mindfulness treatment for substance misuse: a systematic review and meta-analysis. Journal of Substance Abuse Treatment, 75, 62–96.

Lorah, J. (2018). Effect size measures for multilevel models: Definition, interpretation, and TIMSS example. Large-Scale Assessments in Education, 6(1), 8.

Martire, L. M., Schulz, R., Helgeson, V. S., Small, B. J., & Saghafi, E. M. (2010). Review and meta-analysis of couple-oriented interventions for chronic illness. Annals of Behavioral Medicine, 40(3), 325–342.

Matthews, K. A., & Kuller, L. H. (2002). The relationship between psychological risk attributes and the metabolic syndrome in healthy women: antecedent or consequence? Metabolism, 51(12), 1573–1577.

McNair, D. M. (1992). Profile of mood states. San Diego, CA: Educational and Industrial Testing Service.

Reczek, C., Gebhardt-Kram, L., Kissling, A., & Umberson, D. (2018). Healthcare work in marriage: how gay, lesbian, and heterosexual spouses encourage and coerce medical care. Journal of Health and Social Behavior, 59(4), 554–568.

Rojiani, R., Santoyo, J. F., Rahrig, H., Roth, H. D., & Britton, W. B. (2017). Women benefit more than men in response to college-based meditation training. Frontiers in Psychology, 8, 551.

Umberson, D. (1992). Gender, marital status and the social control of health behavior. Social Science & Medicine, 34(8), 907–917.

Ware Jr., J. E., & Sherbourne, C. D. (1992). The MOS 36-item short-form health survey (SF-36): I. Conceptual framework and item selection. Medical Care, 473–483.
Acknowledgments
We would like to thank Kathleen Williams for assistance with recruitment and data collection.
Funding Information
Funding for this study was provided by Yale's Claude D. Pepper Older Americans Independence Center (P30 AG021342).
Ethics declarations
This study was approved by Yale University's ethics committee and has therefore been performed in accordance with the ethical standards laid down in the 1964 Declaration of Helsinki and its later amendments. All participants gave their informed consent prior to their inclusion in the study. None of the authors have a financial relationship with the organization that sponsored the research. The authors declare that they have no conflict of interest.
About this article
Cite this article
Monin, J.K., Sperduto, C.M., Manigault, A.W. et al. Mindfulnes-Based Stress Reduction for Older Couples with Metabolic Syndrome: a Pilot Randomized Controlled Trial. Mindfulness (2020). https://doi.org/10.1007/s12671-019-01301-9
Keywords
MBSR

Couples

Metabolic syndrome