Abstract
The field of mindfulness research and programs, in the workplace and elsewhere, has been a matter of considerable ambiguity and contestation. Distinguishing between first-generation and second-generation mindfulness-based initiatives has been a useful and positive response to this uncertainty and controversy. Second-generation mindfulness interventions in leadership are defined as going beyond views of mindfulness as a means to reduce the stress inherent in continual change, and as instrumental support for organizational performance in an economy of attention. The purpose of this paper is to build on this work in two ways. Firstly, it acknowledges the contribution of first-generation psychological-therapeutic programs. Secondly, it highlights the value of extending the range and depth of Buddhist-derived interventions beyond such programs and most importantly, also capturing and exploring the value of critical and collective approaches to mindfulness that derive from other traditions and schools of thought. In order to guide such a progression, this paper presents a Wheel of Mindfulness model that captures the different, and inevitably selective, lenses on mindfulness, and provides a generative framework for exploring and building on sources of controversy and debate.
This is a preview of subscription content, log in to check access.
Access options
Buy single article
Instant unlimited access to the full article PDF.
US$ 39.95
Price includes VAT for USA
Subscribe to journal
Immediate online access to all issues from 2019. Subscription will auto renew annually.
US$ 99
This is the net price. Taxes to be calculated in checkout.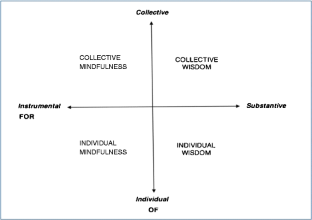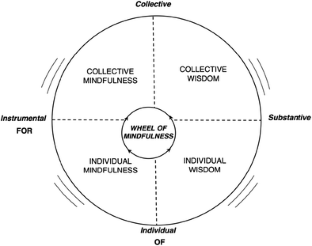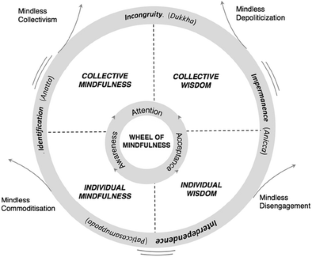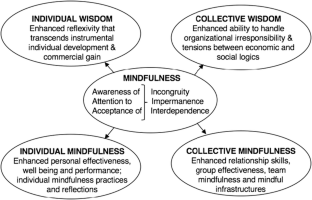 References
Beck, D. E., & Cowan, C. (2014). Spiral dynamics: mastering values, leadership and change. Maiden: Blackwell.

Benson, H., & Allen, R. L. (1980). How much stress is too much? Harvard Business Review, 58(5), 86–92.

Benson, H., Proctor, W., & De Munn, J. (2003). The break-out principle. Simon and Schuster Audio.

Bodhi, B. (2011). What does mindfulness mean? A canonical perspective. Contemporary Buddhism, 12(1), 19–39.

Boltanski, L., & Thevenot, L. (2006). On justification: economies of worth. Princeton: Princeton University Press.

Brazier, D. (2002). The new Buddhism. London: Palgrave/Macmillan.

Brazier, D. (2013). Mindfulness reconsidered. European Journal of Psychotherapy and Counselling, 15(2), 116–126.

Buckley, F., & Monks, K. (2004). The implications of meta-qualities for HR roles. Human Resource Management Journal, 14(4), 41–56.

Bunting, M. (2016). The mindful leader: 7practices for transforming your leadership, your organization and your life. Milton: Wiley.

Burgoyne, J., Hirsch, W., & Williams, S. (2004). The development of management and leadership capability and its contribution to performance: the evidence, the prospect and the research needs. London: UK Dept. of Education and Skills, Research Report RR560.

Burke, K. (1984). Attitudes towards history. San Francisco: University of California Press.

Crane, R., Brewer, J., Feldman, C., Kabat-Zinn, J., Santorelli, S., Williams, J., & Kuyken, W. (2017). What defines mindfulness-based programs? The warp and the weft. Psychological Medicine, 47(6), 990–999.

Davenport, T. H., & Beck, J. C. (2013). The attention economy: understanding the new currency of business. Boston: Harvard Business Press.

Desbordes, G., Gard, T., Hoge, E. A., Hölzel, B. K., Kerr, C., Lazar, S. W., Olendzki, A., & Vago, D. R. (2014). Moving beyond mindfulness: defining equanimity as an outcome measure in meditation and contemplative research. Mindfulness, 6(2), 356–372.

Farb, N. A., Segal, Z. V., Mayberg, H., Bean, J., McKeon, D., Fatima, Z., & Anderson, A. K. (2007). Attending to the present: mindfulness meditation reveals distinct neural modes of self-reference. Social Cognitive and Affective Neuroscience, 2, 313–322.

Galay, K. (1999). Gross national happiness. Thimphu: Centre for Bhutan Studies.

Gallie, D. (1956). Essentially contested concepts. Proceedings of the Aristotelean Society, 12, 167–198.

Garland, E. L., Gaylord, S. A., & Fredrickson, B. L. (2011). Positive reappraisal mediates the stress-reductive effects of mindfulness: an upward spiral process. Mindfulness, 2(1), 59–67.

Goldstein, J. (2013). Mindfulness: a practical guide to awakening. Boulder: Sounds True.

Green, P. (1999). Building robust competencies: linking human resource systems to organizational strategies. San Fransisco: Jossey-Bass.

Griffin, M. A., Neal, A., & Parker, S. K. (2007). A new model of work role performance: positive behavior in uncertain and interdependent contexts. The Academy of Management Journal, 50(2), 327–347.

Harrington, A., & Dunne, J. (2015). When mindfulness is therapy: ethical qualms, historical perspectives. American Psychologist, 70(7), 621–631.

Islam, G., Holm, M., & Karjalainen, M. (2017). Sign of the times: mindfulness as an empty signifier. Organization, November, 1–27.

Kabat-Zinn, J. (1990). Full catastrophe living. New York: Delacorte.

Kornberger, M., Clegg, S. R., & Carter, C. (2006). Rethinking the polyphonic organization: managing as discursive practice. Scandinavian Journal of Management, 22(1), 3–30.

McMahan, D. (2008). The making of Buddhist modernism. Oxford: Oxford University Press.

Mumford, T. V., Campion, M. A., & Morgeson, F. P. (2007). The leadership skills strataplex: leadership skill requirements across organizational levels. The Leadership Quarterly, 18(2), 154–166.

Muyzenberg, L., & HRH the Dalai Lama. (2011). The leaders way: business, Buddhism and happiness in an interconnected world. Boston: Nicholas Brealey Publishing.

Niemiec, R. M., Rashid, T., & Spinella, M. (2012). Strong mindfulness: Integrating mindfulness and character strengths. Journal of Mental Health Counseling, 34(3), 240.

Oxford English Dictionary. (1979). Compact edition. London: Complete Text Book Club Associates.

Pedler, M., Burgoyne, J., & Boydell, T. (2010). A manager's guide to leadership: an action learning approach (2nd ed.). London: McGraw Hill.

Purser, R., & Loy, D. (2013). Beyond McMindfulness. The blog: Huffington Post, 1.

Rosa, H. (2013). Social acceleration: a new theory of modernity. New York: Columbia University Press.

Ryle, G. (1949). The concept of mind. Chicago: University of Chicago Press.

Shantideva, A., & Batchelor, S. (1981). A guide to the Bodhisattvas way of life. Dharamsala: Library of Tibetan Work and Archives.

Shapiro, S. L., Carlson, L. E., & Astin, J. A. (2006). Mechanisms of mindfulness. Journal of Clinical Psychology, 62, 373–386.

Shonin, E., & Van Gordon, W. (2015). Managers experiences of meditation awareness training. Mindfulness, 6(4), 899–909.

Shonin, E., Van Gordon, W., Dunn, T., Singh, N., & Griffiths, M. D. (2014). Meditation awareness training for work-related wellbeing and job performance: a randomized controlled trial. International Journal of Mental Health and Addiction, 12, 806–823.

Shonin, E., Van Gordon, W., & Griffiths, M. (Eds.). (2016). Mindfulness and Buddhist-derived approaches to mental health and addiction. New York: Springer.

Siegel, D. (2007). The mindful brain. New York: Norton.

Silananda, U., & Heinze, R.-I. (1995). The four foundations of mindfulness. Somerville: Wisdom Publications.

Singh, N. N., Lancioni, G. E., Karazsia, B. T., Myers, R. E., Winton, A. S. W., Latham, L. L., & Nugent, K. (2015). Effects of training staff in MBPBS on the use of physical restraints, staff stress and turnover, staff and peer injuries, and cost effectiveness in developmental disabilities. Mindfulness, 6, 926–937.

Tenney, M., & Gard, T. (2016). The mindfulness edge: how to rewire your brain for leadership and personal excellence without adding to your schedule. Hoboken: Wiley.

Van Gordon, W., Shonin, E., & Griffiths, M. D. (2015). Towards a second-generation of mindfulness-based interventions. Australia and New Zealand Journal of Psychiatry, 49, 591–592.

Van Gordon, W., Shonin, E., Lomas, T., & Griffiths, M. D. (2016). Corporate use of mindfulness and authentic spiritual transmission: competing or compatible ideals? Mindfulness and Compassion, 1, 75–83.

Vogus, T., & Sutcliffe, K. (2012). Organizational mindfulness and mindful organizing: a reconciliation and path forward. Academy of Management Learning & Education, 11(4), 722–735.

Wallace, B. Alan. (2003). Buddhism and Science: breaking new ground. New York; Columbia University Press.

Wallace, B. Alan. (2009). Mind in the balance, meditation in science, buddhism and christianity. New York; Columbia University Press.

Wallis, J. (2011). The elixir of mindfulness, Speculative-Non-Buddhist. https://speculativenonbuddhism.com/2011/07/03/elixir-of-mindfulness/#more-237.

Weber, M. (1946). Class, status, party. I. In H. H. Gerth & C. W. Mills (Eds.), From Max Weber: Essays in sociology (pp. 180–195). New York: Oxford University Press.

Weick, K. E., & Sutcliffe, K. M. (2015). Managing the unexpected: sustained performance in a complex world. Hoboken: Wiley.

Williams, M. (2010). Mindfulness and psychological process. Emotion, 10(1), 1–7.

Wilson, J. (2014). Mindful America: the mutual transformation of Buddhist meditation and American culture. London: Oxford University Press.
About this article
Cite this article
King, E., Badham, R. The Wheel of Mindfulness: a Generative Framework for Second-Generation Mindful Leadership. Mindfulness 11, 166–176 (2020). https://doi.org/10.1007/s12671-018-0890-7
Keywords
Mindfulness

Leadership development

Mindful leadership

Attention economy

Second-generation MBIs