Copper Oxide Nanoparticles Synthesized Using Eupatorium odoratum, Acanthospermum hispidum Leaf Extracts, and Its Antibacterial Effects Against Pathogens: a Comparative Study
Abstract
Metal oxide nanoparticles have numerous applications in the food processing, agriculture, and medical field. The green way synthesis of metal oxide nanoparticles using leaf extracts has gained great interest because of cost effective, rapid, simple, and eco-friendly approach. In this research work, we report the synthesis of copper oxide nanoparticles (CuO NPs) using Eupatorium odoratum and Acanthospermum hispidum leaf extracts at room temperature (27 °C). Further, the synthesized CuO NPs were characterized using UV-visible spectroscopy, Fourier transform infrared spectroscopy, X-ray diffraction, scanning electron microscopy with energy dispersive atomic X-ray spectroscopy, and transmission electron microscopy technique. The zone of inhibition against Staphylococcus aureus, Bacillus cereus, and Escherichia coli was found to be 19 mm, 12 mm, and 15 mm for CuO NPs synthesized using Eupatorium odoratum extract and 13 mm, 10 mm, and 20 mm for CuO NPs synthesized using Acanthospermum hispidum extract. The green synthesized CuO NPs are an effective candidate which plausibly utilized in the biomedical field.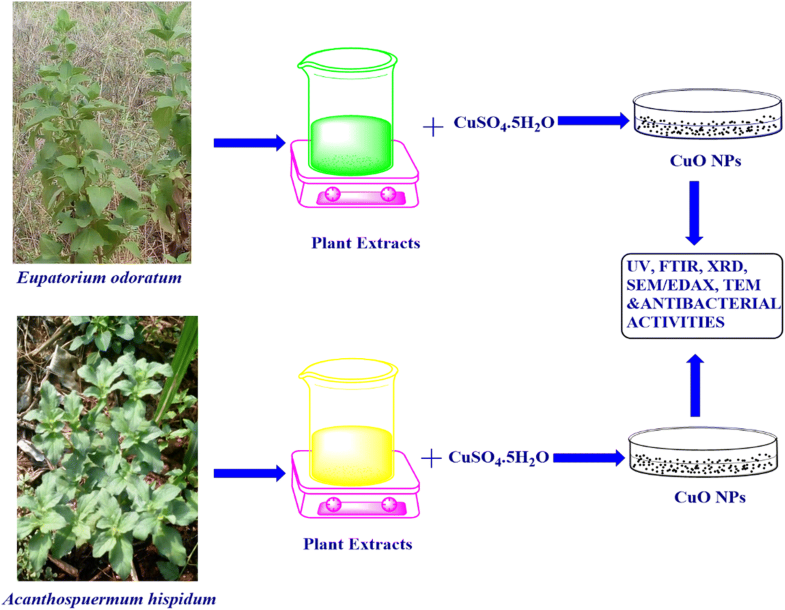 Keywords
Antibacterial effect 
Eupatorium odoratum
Acanthospermum hispidum
Green synthesis 
Copper oxide 
Notes
Compliance with Ethical Standards
Conflict of Interest
None.
Research Involving Humans and Animals Statement
None.
Copyright information
© Springer Science+Business Media, LLC, part of Springer Nature 2019