Integration of Photocatalytic Oxidation and Biodegradation Treatment Processes to Enhance Degradation Efficiency of CETP Wastewater Contaminants
Abstract
In the present, experiment reported an emerging approach of integrated treatment processes such as photocatalytic oxidation and biodegradation to increase degradation efficiency of CETP wastewater. Photocatalytic oxidation process performed using hybrid photocatalyst Ti02 impregnated with activated carbon (AC) and biodegradation was performed by developed biofilm on biocarrier. Synthesized TiO2/AC powder was characterized by sophisticated instrumentation. A lab scale photocatalytic bioreactor was designed to remove pollutants from CETP effluent. In this setup, sample was treated with hybrid photocatalyst TiO2/AC under the sunlight and developed biofilm; sampling was done and analyzed. Our results show better degradation within 6 h because of generation of hydroxyl radical and superoxide species reacted with pollutants. This presented experiment shows the rapid degradation and increase removal efficiency of pollutants by using the integrated processes.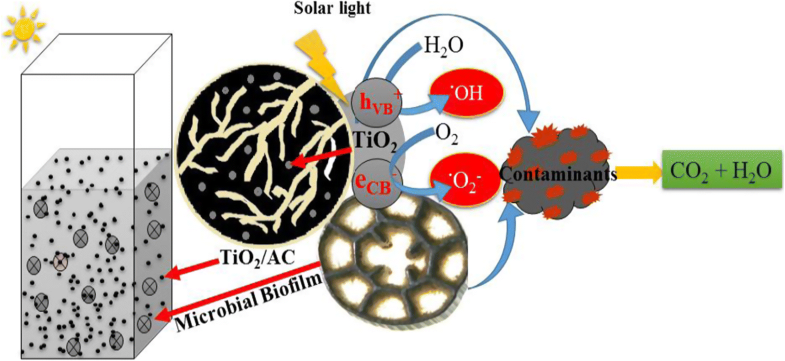 Keywords
Photocatalytic oxidation 
Biodegradation 
Titanium dioxide 
Activated carbon 
Biofilm 
Notes
Acknowledgments
The authors thank the Vapi Green Enviro Limited for their support for this work and also thank to The Central Instrumentation Facility (CIF) for characterization of synthesized photocatalyst. The Non NET fellowship provided UGC, Delhi.
Copyright information
© Springer Science+Business Media, LLC, part of Springer Nature 2018