Abstract
To recover rare earths (RE) with low acid consumption and low environmental pollution, selective pressure leaching with hydrochloric acid from roasted NdFeB scrap was explored. The phase evolution of NdFeB scrap during roasting at 800 °C as a function of time was confirmed, and after complete oxidation, its phase components consisted of Fe2O3, NdFeO3, and NdBO3. In the selective pressure leaching procedure, the optimal leaching was achieved at 110 °C for 30 min, in which the leaching rate of rare earth was 96.27% along with 13.33% of Fe. Subsequently, the effects of the hydrochloric acid dosage, the hydrochloric acid concentration and the particle size of the roasted NdFeB powder on the leaching rate of rare earth were investigated. For leaching at 110 °C for 30 min, the leaching of 13.33% Fe2O3 was derived from the Fe2O3 and NdFeO3 phases in the fully oxidized NdFeB scrap. This phenomenon was verified by the leaching of Fe from Fe2O3 of analytical purity and synthetic NdFeO3. Moreover, the leaching of Nd and Fe from the NdFeO3 phase was found to occur simultaneously. The advantages of the selective pressure leaching process using hydrochloric acid for the oxidized NdFeB scrap were comprehensively evaluated.
This is a preview of subscription content, log in to check access.
Access options
Buy single article
Instant access to the full article PDF.
US$ 39.95
Price includes VAT for USA
Subscribe to journal
Immediate online access to all issues from 2019. Subscription will auto renew annually.
US$ 99
This is the net price. Taxes to be calculated in checkout.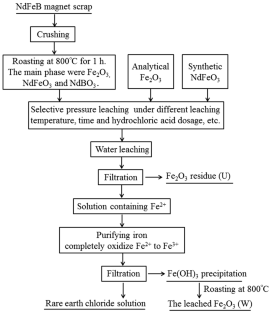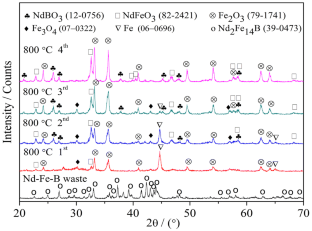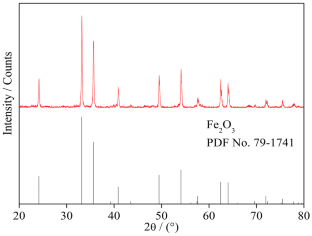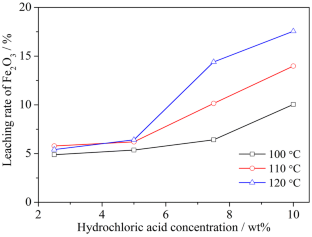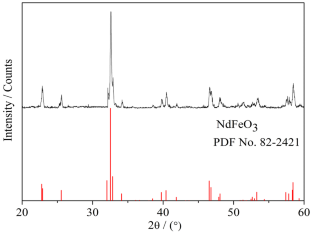 References
1.

Xue T, and Peng H Q, J. Rare Earths27 (2009) 1096.

2.

Hu B P, Rao X L, E N, and Cai D Y, Mater China37 (2018) 653.

3.

Bian Y Y, Guo S Q, Jiang L, Tang K, and Ding W Z, J Sustain Metall1 (2015) 151.

4.

Yang Y X, Walton A, Sheridan R, Güth K, Gauß R, Gutfleisch O, Buchert M, Steenari B, Gerven T V, Jones P T, and Binnemans K, J Sustain Metall3 (2017) 122.

5.

Lee C H, Chen Y J, Liao C H, Popuri S R, Tsai S L, and Hung C E, Metall Mater Trans A44 (2013) 5825.

6.

Yoon H, Kim C, Chung K W, Lee S J, Joe A R, Shin Y H, Lee S L, Yoo S J, and Kim J G, Korean J Chem Eng31 (2014) 706.

7.

Kumari A, Sinha M K, Pramanik S, and S. K. Sahu, Waste Manage75 (2018) 486.

8.

Önal M A R, Borra C R, Guo M X, Blanpain B, and Gerven T V, J Rare Earths35 (2017) 574.

9.

Gergoric M, Ravaux C, Steenari B, Espegren F, and Retegan T, Metals8 (2018) 721.

10.

Önal M A R, Borra C R, Guo M X, Blanpain B, and Gerven T V, J Sustain Metall1 (2015) 199.

11.

Behera S S, and Parhi P K, Sep Purif Technol160 (2016) 59.

12.

Hoogerstraete T V, Blanpain B, Gerven T V, and Binnemans K, RSC Adv4 (2014) 64099.

13.

Gergoric M, Ekberg C, Foreman M R S J, Steenari B, and Retegan T, J Sustain Metall3 (2017) 638.

14.

Wu J P, Deng G F, Deng L L, Lin C X, and Pan X B, Nonferr Metal Sci Eng7 (2016) 119.

15.

Jiang Z Z, Zhong C L, Lu J Z, and Zhang L J, Technol Develop Chem Ind47 (2018) 55.

16.

Wang Y J, Liu Y H, Guo J X, Wang S L, and Weng G Q, Hydrometall China25 (2006) 195.

17.

Lin J, Method for separation and recovery valuable elements from NdFeB waste, CN102206755 B.

18.

Koyama K, Akiko K, and Mikiya T, Kidorui (Rare Earths)54 (2008) 36.

19.

Firdaus M, Rhamdhani M A, Rankin W J, Pownceby M, Webster N A S, D'Angelo A M, and McGregor K, Corros Sci133 (2018) 374.

20.

Firdaus M, and Rhamdhani M A (2017) Rare Metal Technol3: 65.
Acknowledgements
The authors gratefully acknowledge the financial support from the Program for Young Talents of Science and Technology in Universities of Inner Mongolia Autonomous Region (Grant No. NJYT-20-B27), the National Natural Science Foundation of China (Grant No. 51804170) and the Natural Science Foundation of Inner Mongolia (Grant Nos. 2018LH05014 and No. 2018LH05018).
Additional information
Publisher's Note
Springer Nature remains neutral with regard to jurisdictional claims in published maps and institutional affiliations.
About this article
Cite this article
Jiang, Y., Deng, Y., Xin, W. et al. Oxidative Roasting–Selective Pressure Leaching Process for Rare Earth Recovery from NdFeB Magnet Scrap. Trans Indian Inst Met (2020). https://doi.org/10.1007/s12666-020-01888-x
Received:

Accepted:

Published:
Keywords
NdFeB magnet scrap

Oxidative roasting

High-pressure selective leaching

Rare earth recovery

NdFeO3