Abstract
The Royal Tombs at Songsanri have played considerable roles in the study of Baekje history since the Royal Tomb of King Muryeong was excavated, in untouched condition, in 1971. However, the stability of the Royal Tombs at Songsanri has been threatened by constant exposure to the external environment and infiltration by rainwater. In this study, behavioral monitoring of the walls was conducted using tilt sensors to obtain very precise data about the deformation of the structurally vulnerable walls, evaluate their behavioral characteristics and the influence of environmental changes on these behaviors, and diagnose the structural stability of the ancient tombs. In tomb no. 5, with the exception of relatively rapid behavioral changes attributed to the stabilization process of the tilt sensors, the walls remained stable. However, abnormal changes were observed at several positions in the walls of tomb no. 6 and the Royal Tomb of King Muryeong. These changes were attributed to environmental changes. Furthermore, the abnormal changes in the walls were found to coincide with increases in the soil water content due to rainfall and artificial environmental changes caused by the investigations in the tombs. These findings are expected to be useful in creating policies and designing countermeasures to preserve these historically and culturally valuable tombs.
This is a preview of subscription content, log in to check access.
Access options
Buy single article
Instant access to the full article PDF.
US$ 39.95
Price includes VAT for USA
Subscribe to journal
Immediate online access to all issues from 2019. Subscription will auto renew annually.
US$ 199
This is the net price. Taxes to be calculated in checkout.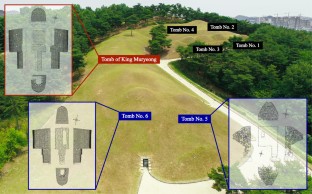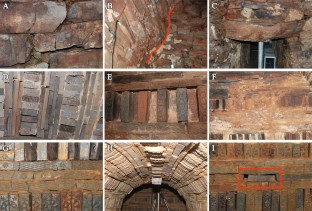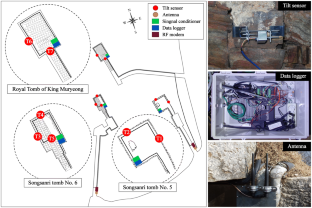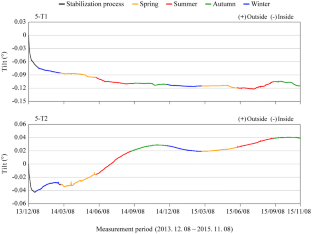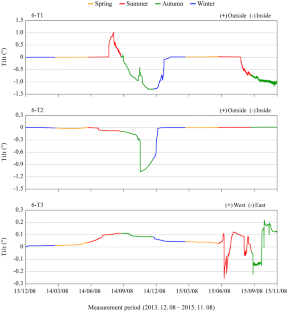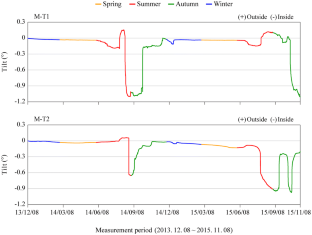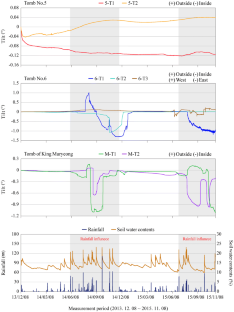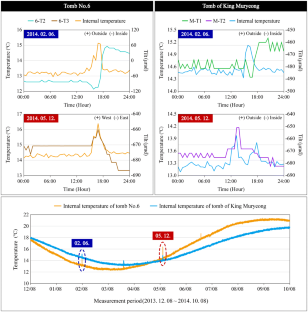 References
Addabbo T, Fort A, Mugnaini M, Panzardi E, Pozzebon A (2019) A city-scale IoT architecture for monumental structures monitoring. Measurement 131:349–357

Basto C, Pelà L, Chacón R (2017) Open-source digital technologies for low-cost monitoring of historical constructions. J Cultural Heritage 25:31–40

Binda L, Saisi A, Tiraboschi C (2000) Investigation procedures for the diagnosis of historic masonries. Constr Build Mater 14:199–233

Burland JB, Jamiolkowski M, Viggiani C (1998) Establishing the leaning tower of Pisa. Bull Eng Geol Env 57:91–99

Cultural Heritage Administration (1974) Excavation report of the Royal Tomb of King Muryeong. Research Report, pp 1–286

Gentile C, Guidobaldi M, Saisi A (2016) One-year dynamic monitoring of a historic tower: damage detection under changing environment. Meccanica 51:2873–2889

Han KS (2011) Making technique studies of mural paintings in the no. 6 tomb of Songsanri, Gongju. J Conserv Sci 27:451–458

Hester J, Prabhu S, Atamturktur S, Sorber J (2017) Remote and wireless long-term vibration monitoring of historic monuments. Procedia Eng 199:3302–3307

Jang SY, Lee CH (2013) Production and supply of bricks from the Songsanri Tomb Complex. Korean Ancient Hist Soc 82:27–53

Jo YH, Lee CH (2014) Behavioral monitoring and stability evaluation of Korean stone pagoda in Magoksa Temple using tiltmeter sensor. Int J Appl Eng Res 9:14659–14668

Kim HS, Cha GC, Jung SJ, Kim WJ, Bae BS, Kim DM (2012) Structural behavior analysis of arched stone bridges considering arch types. J Architect Inst Korea Struct Constr 28:91–98

Kita A, Cavalagli N, Ubertini F (2019) Temperature effects on static and dynamic behavior of Consoli Palace in Gubbio, Italy. Mech Syst Signal Process 120:180–202

Kümpel H-J, Peters JA, Bower DR (1988) Nontidal tilt and water table variations in a seismically active region in Quebec, Canada. Tectonophysics 152:253–265

Lee SK (1993) Shallow-depth tilt monitoring for engineering application. J Eng Geol 3:279–293

Lorenzoni F, Casarin F, Caldon M, Islami K, Modena C (2016) Uncertainty quantification in structural health monitoring: applications on cultural heritage buildings. Mech Syst Signal Process 66–67:268–281

Masciotta MG, Ramos LF, Lourenço PB (2017) The importance of structural monitoring as a diagnosis and control tool in the restoration process of heritage structures: a case study in Portugal. J Cultural Heritage 27:36–47

Mesquita E, Arêde A, Pinto N, Antunes P, Varum H (2018) Long-term monitoring of a damaged historic structure using a wireless sensor network. Eng Struct 161:108–117

Moreira VN, Fernandes J, Matos JC, Oliveira DV (2016) Reliability-based assessment of existing masonry arch railway bridges. Constr Build Mater 115:544–554

Roje-Bonacci T, Miščević P, Salvezani D (2014) Non-destructive monitoring methods as indicators of damage caused on Cathedral of St. Lawrence in Trogir, Croatia. J Cultural Heritage 15:424–431

Saisi A, Gentile C, Ruccolo A (2016) Pre-diagnostic prompt investigation and static monitoring of a historic bell-tower. Constr Build Mater 122:833–844

Saisi A, Gentile C, Ruccolo A (2017) Static and dynamic monitoring of a cultural heritage bell-tower in Monza, Italy. Procedia Eng 199:3356–3361

Suh MC, Park EJ (1997) Characteristics of subsurface movement and safety of the Songsanri tomb site of the Baekje dynasty using tiltmeter system. J Eng Geol 7:191–205

Tóth AR, Orbán Z, Bagi K (2009) Discrete element analysis of a stone masonry arch. Mech Res Commun 36:469–480

Ubertini F, Gabriele C, Cavalagli N (2016) Vibration-based structural health monitoring of a historic bell-tower using output-only measurements and multivariate statistical analysis. Struct Health Monit 15:438–457

Ubertini F, Gabriele C, Cavalagli N, Pisello AL, Materazzi AL, Cotana F (2017) Environmental effects on natural frequencies of the San Pietro bell tower in Perugia, Italy, and their removal for structural performance assessment. Mech Syst Signal Process 82:307–322

Verstrynge E, Wilder K, Drougkas A, Voet E, Van Balen K, Wevers M (2018) Crack monitoring in historical masonry with distributed strain and acoustic emission sensing techniques. Constr Build Mater 162:898–907

Ye XW, Xi PS, Su YH, Chen B, Han JP (2018) Stochastic characterization of wind field characteristics of an arch bridge instrumented with structural health monitoring system. Struct Saf 71:47–56
Additional information
Publisher's Note
Springer Nature remains neutral with regard to jurisdictional claims in published maps and institutional affiliations.
About this article
Cite this article
Kim, S.H., Lee, C.H. & Jo, Y.H. Behavioral characteristics and structural stability of the walls in the ancient Korean Royal Tombs from the sixth century Baekje Kingdom. Environ Earth Sci 79, 81 (2020). https://doi.org/10.1007/s12665-020-8819-6
Received:

Accepted:

Published:
Keywords
Royal Tombs at Songsanri

Automatic measuring system

Behavioral monitoring

Environmental change

Displacement