Abstract
Background
The sphenoid sinus is considered as the most variable pneumatized structure of the skull.
Purpose
The aim of the present study was to determine the prevalence of the Onodi cell as well as to evaluate the relationship between the sphenoid sinus type of pneumatization and the presence of surrounding neurovascular protrusion using cone beam computed tomography (CBCT).
Methods
The CBCT images of 500 patients/996 sides [203 males (40.6%) and 297 females (59.4%)] were analyzed in this study. The type of sphenoid sinus pneumatization, prevalence of internal carotid artery (ICA) and optic nerve (ON) protrusion and dehiscence, and also the frequency of Onodi cell were assessed.
Results
The percentages of the conchal, presellar, sellar, postsellar (a), and postsellar (b) types of pneumatization were 1%, 11.5%, 35.5%, 38.9%, and 13.1%, respectively. The more the sphenoid sinuses pneumatized, the greater the frequency of ON and ICA protrusion and dehiscence of their wall to the sinus. The prevalence of Onodi cell was 38.8%. A significant correlation was found between ON dehiscence and the presence of Onodi cells.
Conclusion
The present study demonstrated a significant relationship between the sinus type and frequency of neurovascular protrusions. Therefore, the sphenoid sinus extent of pneumatization might be useful in predicting the risk of iatrogenic damage to the surrounding structures.
This is a preview of subscription content, log in to check access.
Access options
Buy single article
Instant unlimited access to the full article PDF.
US$ 39.95
Price includes VAT for USA
Subscribe to journal
Immediate online access to all issues from 2019. Subscription will auto renew annually.
US$ 99
This is the net price. Taxes to be calculated in checkout.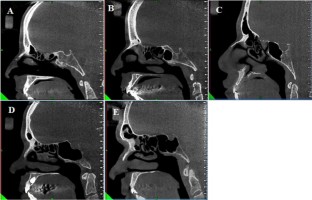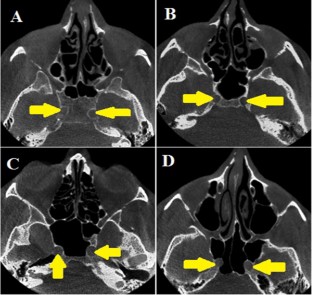 References
1.

Stokovic N, Trkulja V, Dumic-Cule I, Cukovic-Bagic I, Lauc T, Vukicevic S et al (2016) Sphenoid sinus types, dimensions and relationship with surrounding structures. Ann Anat 203:69–76

2.

Guldner C, Pistorius SM, Diogo I, Bien S, Sesterhenn A, Werner JA (2012) Analysis of pneumatization and neurovascular structures of the sphenoid sinus using cone-beam tomography (CBT). Acta Radiol 53:214–219

3.

Rahmati A, Ghafari R, AnjomShoa M (2016) Normal variations of sphenoid sinus and the adjacent structures detected in cone beam computed tomography. J Dent (Shiraz) 17:32–37

4.

Jankowski R, Auque J, Simon C, Marchal JC, Hepner H, Wayoff M (1992) How i do it: head and neck and plastic surgery: endoscopic pituitary Tumor surgery. Laryngoscope 102:198–202

5.

Stankiewicz JA (1987) Complications of endoscopic nasal surgery: occurrence and treatment. Am J Rhinol 1:45–49

6.

Buus DR, David TT, Farris BK (1990) Ophthalmic complications of sinus surgery. Ophthalmology 97:612–619

7.

Cappabianca P, Cavallo L, Colao A, De Caro MDB, Esposito F, Cirillo S et al (2002) Endoscopic endonasal transsphenoidal approach: outcome analysis of 100 consecutive procedures. Minim Invasive Neurosurg 45:193–200

8.

Simonetti G, Meloni F, Teatini G, Salvolini U, Rovasio S, Masala W et al (1987) Computed tomography of the ethmoid labyrinth and adjacent structures. Ann Otol Rhinol Laryngol 96:239–250

9.

Parks ET (2014) Cone beam computed tomography for the nasal cavity and paranasal sinuses. Dent Clin North Am 58:627–651

10.

Craiu C, Sandulescu M, Rusu MC (2015) Variations of sphenoid pneumatization: a CBCT study. Rom J Rhinol 5:107–113

11.

Tomovic S, Esmaeili A, Chan NJ, Choudhry OJ, Shukla PA, Liu JK et al (2012) High-resolution computed tomography analysis of the prevalence of Onodi cells. Laryngoscope 122:1470–1473

12.

Driben JS, Bolger WE, Robles HA, Cable B, Zinreich SJ (1998) The reliability of computerized tomographic detection of the Onodi (Sphenoethmoid) cell. Am J Rhinol 12:105–111

13.

Yanagisawa E, Weaver EM, Ashikawa R (1998) The Onodi (sphenoethmoid) cell. Ear Nose Throat J 77:578–580

14.

Kasemsiri P, Thanaviratananich S, Puttharak W (2011) The prevalence and pattern of pneumatization of Onodi cell in Thai patients. J Med Assoc Thai 94:1122–1126

15.

Van Alyea OE (1941) Sphenoid sinus: anatomic study, with consideration of the clinical significance of the structural characteristics of the sphenoid sinus. Arch Otorhinolaryngol 34:225–253

16.

Eggers G, Klein J, Welzel T, Mühling J (2008) Geometric accuracy of digital volume tomography and conventional computed tomography. Br J Oral Maxillofac Surg 46:639–644

17.

Eggers G, Senoo H, Kane G, Mühling J (2009) The accuracy of image guided surgery based on cone beam computer tomography image data. Oral Surg Oral Med Oral Pathol Oral Radiol Endod 107:e41–e48

18.

Lund H, Gröndahl K, Gröndahl H (2009) Accuracy and precision of linear measurements in cone beam computed tomography accuitomo® tomograms obtained with different reconstruction techniques. Dentomaxillofac Radiol 38:379–386

19.

Paknahad M, Shahidi S (2015) Association between mandibular condylar position and clinical dysfunction index. J Craniomaxillofac Surg 43:432–436

20.

Paknahad M, Shahidi S, Abbaszade H (2016) Correlation between condylar position and different sagittal skeletal facial types. J Orofac Orthop 77:350–356

21.

Shahidi S, Vojdani M, Paknahad M (2013) Correlation between articular eminence steepness measured with cone-beam computed tomography and clinical dysfunction index in patients with temporomandibular joint dysfunction. Oral Surg Oral Med Oral Pathol Oral Radiol 116:91–97

22.

Güldner C, Pistorius SM, Diogo I, Bien S, Sesterhenn A, Werner JA (2012) Analysis of pneumatization and neurovascular structures of the sphenoid sinus using cone-beam tomography (CBT). Acta Radiol 53:214–219

23.

Wang J, Bidari S, Inoue K, Yang H, Rhoton A Jr (2010) Extensions of the sphenoid sinus: a new classification. Neurosurgery 66:797–816

24.

Lu Y, Pan J, Qi S, Shi J, Zhang X, Wu K (2011) Pneumatization of the sphenoid sinus in Chinese: the differences from Caucasian and its application in the extended transsphenoidal approach. J Anat 219:132–42

25.

Tomovic S, Esmaeili A, Chan NJ, Shukla PA, Choudhry OJ, Liu JK et al (2013) High-resolution computed tomography analysis of variations of the sphenoid sinus. J Neurol Surg B Skull Base 74:82–90

26.

Liu S, Wang Z, Zhou B, Yang B, Fan E, Li Y (2002) Related structures of the lateral sphenoid wall anatomy studies in CT and MRI. Lin Chuang Er Bi Yan Hou Ke Za Zhi 16:407–409

27.

Hamid O, El Fiky L, Hassan O, Kotb A, El Fiky S (2008) Anatomic variations of the sphenoid sinus and their impact on trans-sphenoid pituitary surgery. Skull base 18:9–15

28.

Weinberger DG, Anand VK, Al-Rawi M, Cheng HJ, Messina AV (1996) Surgical anatomy and variations of the Onodi cell. Am J Rhinol 10:365–370

29.

Bansberg SF, Harner SG, Forbes G (1987) Relationship of the optic nerve to the paranasal sinuses as shown by computed tomography. Otolaryngol Head Neck Surg 96:331–335

30.

Batra PS, Citardi MJ, Gallivan RP, Roh H-J, Lanza DC (2004) Software-enabled CT analysis of optic nerve position and paranasal sinus pneumatization patterns. Otolaryngol Head Neck Surg 131:940–945

31.

Hardy J (1967) Surgery of the pituitary gland, using the trans-sphenoidal approach. Comparative study of 2 technical methods. L'unión Médicale du Canada 96:702–12

32.

Muhr C, Bergström K, Grimelius L, Larsson S-G (1981) A parallel study of the roentgen anatomy of the sella turcica and the histopathology of the pituitary gland in 205 autopsy specimens. Neuroradiology 21:55–65

33.

Banna M, Olutola P (1983) Patterns of pneumatization and septation of the sphenoidal sinus. J Can Assoc Radiol 34:291–293

34.

Idowu O, Balogun B, Okoli C (2009) Dimensions, septation, and pattern of pneumatization of the sphenoidal sinus. Folia morphologica 68:228–232

35.

Dessi P, Moulin G, Castro F, Chagnaud C, Cannoni M (1994) Protrusion of the optic nerve into the ethmoid and sphenoid sinus: prospective study of 150 CT studies. Neuroradiology 36:515–516

36.

Erpek G (1998) Evaluation of some important anatomical variations and dangerous areas of the paranasal sinuses by CT for safer endonasal surgery. Rhinology 36:162–167

37.

Kazkayasi M, Karadeniz Y, Arikan OK (2005) Anatomic variations of the sphenoid sinus on computed tomography. Rhinology 43:109–114

38.

Hewaidi G, Omami G (2008) Anatomic variation of sphenoid sinus and related structures in Libyan population: CT scan study. Libyan J Med 3:1–9

39.

Davoodi M, Saki N, Saki G, Rahim F (2009) Anatomical variations of neurovascular structures adjacent sphenoid sinus by using CT scan. Pak J Biol Sci 12:522–525

40.

Yeoh KH, Tan KK (1994) The optic nerve in the posterior ethmoid in Asians. Acta Otolaryngol 114:329–336

41.

Arslan H, Aydınlıoğlu A, Bozkurt M, Egeli E (1999) Anatomic variations of the paranasal sinuses: CT examination for endoscopic sinus surgery. Auris Nasus Larynx 26:39–48

42.

Thanaviratananich S, Chaisiwamongkol K, Kraitrakul S, Tangsawad W (2003) The prevalence of an Onodi cell in adult Thai cadavers. Ear Nose Throat J 82:200–204

43.

Nitinavakarn B, Thanaviratananich S, Sangsilp N (2005) Anatomical variations of the lateral nasal wall and paranasal sinuses: A CT study for endoscopic sinus surgery (ESS) in Thai patients. J Med Assoc Thai 88:763–768

44.

Unal B, Bademci G, Bilgili YK, Batay F, Avci E (2006) Risky anatomic variations of sphenoid sinus for surgery. Surg Radiol Anat 28:195–201

45.

Wada K, Moriyama H, Edamatsu H, Hama T, Arai C, Kojima H et al (2015) Identification of Onodi cell and new classification of sphenoid sinus for endoscopic sinus surgery. Int Forum Allergy Rhinol 5:1068–1076
Ethics declarations
Conflict of interest
All authors declare that they have no conflict of interest.
Informed Consent
Informed consent was obtained from all individual participants included in the study.
Human and Animal Rights
All procedures performed in studies involving human participants were in accordance with the ethical standards of the institutional committee (sums12232) and with the 1964 Helsinki declaration and its later amendments or comparable ethical standards.
Additional information
Publisher's Note
Springer Nature remains neutral with regard to jurisdictional claims in published maps and institutional affiliations.
About this article
Cite this article
Movahhedian, N., Paknahad, M., Abbasinia, F. et al. Cone Beam Computed Tomography Analysis of Sphenoid Sinus Pneumatization and Relationship with Neurovascular Structures. J. Maxillofac. Oral Surg. (2020). https://doi.org/10.1007/s12663-020-01326-x
Received:

Accepted:

Published:
Keywords
Sphenoid sinus

Internal carotid artery

Optic nerve

Pneumatization

Cone beam computed tomography