Abstract
Aim
Dimensional changes of the alveolar bone are often noted in horizontal and vertical planes as a sequel to tooth extraction, particularly in the maxillary posterior region due to alveolar bone resorption combined with pneumatization of the sinus. The aim of this retrospective study was to quantitatively assess the maxillary residual alveolar ridge using cone beam computed tomography (CBCT) scans.
Materials and methods
A total of 349 edentulous sites from 250 CBCTs were evaluated. The apico-coronal bone height and bucco-palatal crest width were measured in sagittal and coronal slices, respectively. Additionally, the obliqueness of the sinus floor at the edentulous sites was also evaluated.
Results
One hundred and twelve (55.45%) of the molar and 74 (54.42%) of the premolar sites had a horizontal ridge dimension < 6 mm, whereas 137 (67.83%) of the molar and 61 (44.86%) of the premolar sites showed an apico-coronal height < 8 mm. Furthermore, 183 (54.14%) of the evaluated sites had an oblique sinus floor morphology.
Conclusion
Additional augmentative procedures are thus required in a high percentage of the population at the edentulous maxillary posterior site for rehabilitation using a standard dimension implant. This study stresses on the need for a three-dimensional CBCT prior to implant surgery for proper treatment planning.
This is a preview of subscription content, log in to check access.
Access options
Buy single article
Instant unlimited access to the full article PDF.
US$ 39.95
Price includes VAT for USA
Subscribe to journal
Immediate online access to all issues from 2019. Subscription will auto renew annually.
US$ 99
This is the net price. Taxes to be calculated in checkout.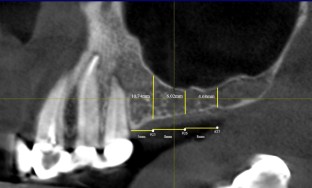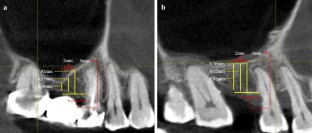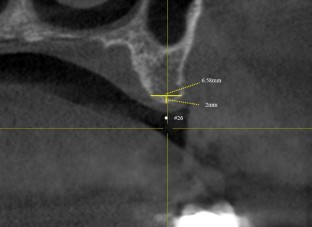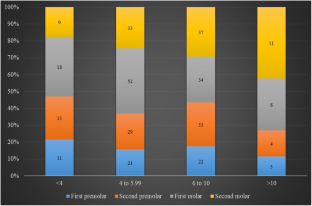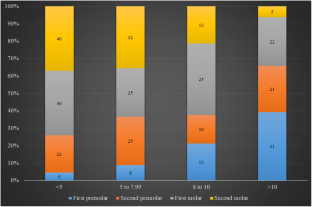 References
1.

Schneider R (1999) Prosthetic concerns about atrophic alveolar ridges. Postgrad Dent 6(2):3–7

2.

Sharan A, Madjar D (2008) Maxillary sinus pneumatization following extractions: a radiographic study. Int J Oral Maxillofac Implants 23:48–56

3.

Razavi R, Zena RB, Khan Z, Gould AR (1995) Anatomic site evaluation of edentulous maxillae for dental implant placement. Int J Prosthodont 4:90–94

4.

Adell R, Lekholm U, Rockler B, Branemark PI (1981) A 15-year study of osseointegrated implants in the treatment of the edentulous jaw. Int J Oral Maxillofac Surg 10:387–416

5.

Farina R, Pramstraller M, FranceschettiG Pramstraller C, Trombelli L (2011) Alveolar ridge dimensions in maxillary posterior sextants: a retrospective comparative study of dentate and edentulous sites using computerized tomography data. Clin Oral Implants Res 22(10):1138–1144

6.

de Souza Nunes LS, Bornstein MM, Sendi P, Buser D (2013) Anatomical characteristics and dimensions of edentulous sites in the posterior maxillae of patients referred for implant therapy. Int J Periodontics Restorative Dent 33(3):337–345

7.

Pramstraller M, Farina R, Franceschetti G, Pramstraller C, Trombelli L (2011) Ridge dimensions of the edentulous posterior maxilla: a retrospective analysis of a cohort of 127 patients using computerized tomography data. Clin Oral Implants Res 22(1):54–61

8.

Veyre-Goulet S, Fortin T, Thierry A (2008) Accuracy of linear measurement by cone beam computed tomography to assess bone quantity in the posterior maxilla: a human cadaver study. Clin Implant Dent Relat Res 10:226–230

9.

Swasty D, Lee JS, Huang JC, Maki K, Gansky SA, Hatcher D, Miller AJ (2009) Anthropometric analysis of the human mandibular cortical bone as assessed by cone-beam computed tomography. J Oral Maxillofac Surg 67:491–500

10.

Saglam AA (2002) The vertical heights of maxillary and mandibular bones in panoramic radiographs of dentate and edentulous subjects. Quintessence Int 33(6):433–438

11.

Kilic C, Kamburoglu K, Yuksel SP, Ozen T (2010) An assessment of the relationship between the maxillary sinus floor and the maxillary posterior teeth root tips using dental cone-beam computerized tomography. Eur J Dent 4(4):462

12.

Stratemann SA, Huang JC, Maki K, Miller AJ, Hatcher DC (2008) Comparison of cone beam computed tomography imaging with physical measures. Dentomaxillofac Radiol 37(2):80–93

13.

Ferrigno N, Laureti M, Fanali S (2006) Dental implants placement in conjunction with osteotome sinus floor elevation: a 12- year life-table analysis from a prospective study on 588 ITI® implants. Clin Oral Implants Res 17(2):194–205

14.

Seong WJ, Barczak M, Jung J, Basu S, Olin PS, Conrad HJ (2013) Prevalence of sinus augmentation associated with maxillary posterior implants. J Oral Implantol 39(6):680–688

15.

Buser D, Martin WD, Belser UC (2006) Surgical considerations with regard to single tooth replacements in the esthetic zone: Standard procedure in sites without bone deficiencies. In: Buser D, Belser U, Wismeijer D (eds) ITI Treatment Guide, vol 1. Implant Therapy in the Esthetic Zone. Quintessence, Berlin, pp 26–37

16.

Grunder U, Gracis S, Capelli M (2005) Influence of the 3-D bone-to-implant relationship on esthetics. Int J Periodontics Restorative Dent 25:113–119

17.

Belser UC (2006) Replacement of an upper left persisting deciduous canine with a regular neck implant, restored with a ceramometal crown, horizontally screw-retained. In: Buser D, Belser U, Wismeijer D (eds) ITI treatment guide, vol 1: Implant therapy in the esthetic zone. Quintessence, Berlin, pp 159–177

18.

Katsuyama H, Jensen SS (2006) Treatment options for sinus floor elevation. In: Chen S, Buser D, Wismeijer D (eds) ITI treatment guide, vol 5. Sinus floor elevation procedures. Quintessence, Berlin, pp 33–57

19.

Pjetursson BE, Rast C, Bragger U, Schmidlin K, Zwahlen M, Lang NP (2009) Maxillary sinus floor elevation using the (transalveolar) osteotome technique with or without grafting material. Part I: Implant survival and patients' perception. Clin Oral Implants Res 20:667–676

20.

Xie Q, Ainamo A, Tilvis R (1997) Association of residual ridge resorption with systemic factors in home-living elderly subjects. Acta Odontol Scand 55(5):299–305

21.

Kaveeshwar SA, Cornwall J (2014) The current state of diabetes mellitus in India. Australas Med J 7(1):45–48

22.

Liu R, Bal HS, Desta T, Krothapalli N, Alyassi M, Luan Q, Graves DT (2006) Diabetes enhances periodontal bone loss through enhanced resorption and diminished bone formation. J Dent Res 85(6):510–514

23.

Harinarayan CV (2005) Prevalence of vitamin D insufficiency in postmenopausal south Indian women. Osteoporos Int 16(4):397–402

24.

Vedantam A, Subramanian V, Rao NV, John KR (2010) Malnutrition in free-living elderly in rural south India: prevalence and risk factors. Public Health Nutr 13(9):1328–1332

25.

Jesudason D, Need AG, Horowitz M, O'loughlin PD, Morris HA, Nordin BE (2002) Relationship between serum 25-hydroxyvitamin D and bone resorption markers in vitamin D insufficiency. Bone 31(5):626–630
Ethics declarations
Conflict of interest
The authors declare that they have no conflict of interest.
Additional information
Publisher's Note
Springer Nature remains neutral with regard to jurisdictional claims in published maps and institutional affiliations.
About this article
Cite this article
Padhye, N.M., Bhatavadekar, N.B. Quantitative Assessment of the Edentulous Posterior Maxilla for Implant Therapy: A Retrospective Cone Beam Computed Tomographic Study. J. Maxillofac. Oral Surg. 19, 125–130 (2020) doi:10.1007/s12663-019-01236-7
Received:

Accepted:

Published:

Issue Date:
Keywords
Cone bean computed tomography

Implant

Maxilla

Sinus