Abstract
Bit error rate (BER) is typically high in underwater acoustic (UWA) channel, which is characterized by high propagation delay and poor quality of communications. UWA noise statistics do not follow the standard Gaussian distribution. It has been proven through field tests that the noise follows the t-distribution in Malaysian shallow-water. In this paper, a study on UWA error performance is presented based on t-distribution. Furthermore, the expressions of error performance are derived using binary phase shift keying (BPSK) and quadrature phase shift keying (QPSK) modulations order. Moreover, the new waveform filtered orthogonal frequency division multiplexing (F-OFDM) in UWA with turbo and convolution code is adopted. The simulation results show that at BER 10–3, the Signal-to-Noise Ratio (SNR) is 6 dB and 11 dB for BPSK and QPSK, respectively. The turbo code performance appears to be superior over the convolution code. Furthermore, the results indicate that F-OFDM significantly improves the power spectral density to approximately 120 dBW compared with OFDM.
This is a preview of subscription content, log in to check access.
Access options
Buy single article
Instant unlimited access to the full article PDF.
US$ 39.95
Price includes VAT for USA
Subscribe to journal
Immediate online access to all issues from 2019. Subscription will auto renew annually.
US$ 99
This is the net price. Taxes to be calculated in checkout.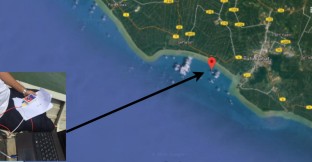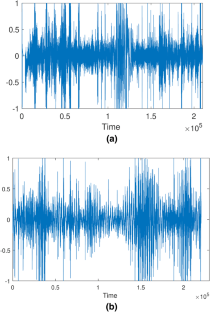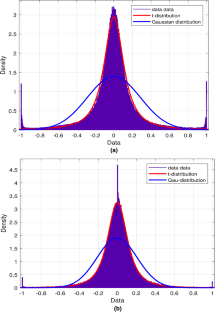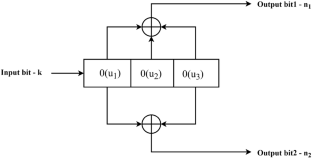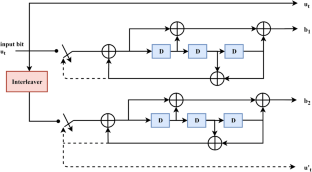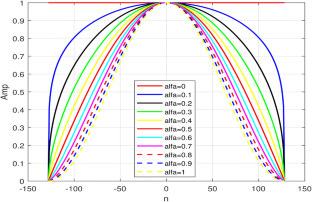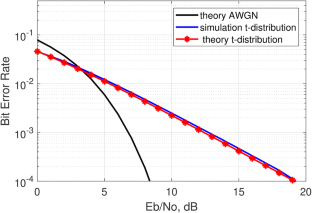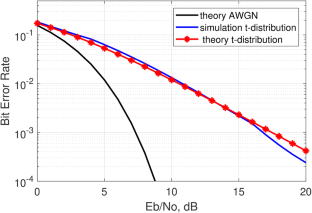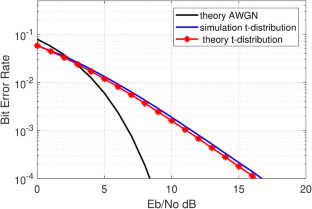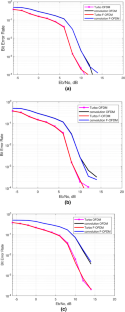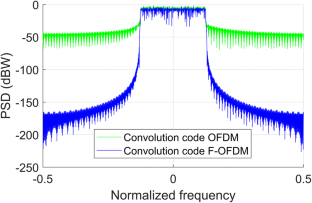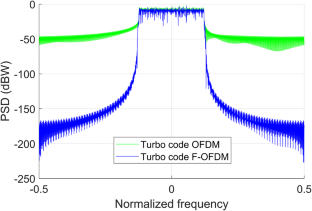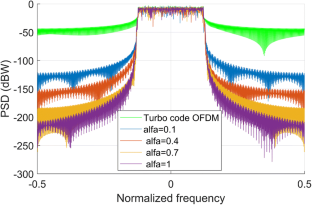 References
Ahsanullah M, Kibria BG, Shakil M (2014) Normal and student's t distributions and their applications, vol 4. Springer, New York

Al-Aboosi YY, Sha'ameri AZ (2017a) Improved signal de-noising in underwater acoustic noise using S-transform: a performance evaluation and comparison with the wavelet transform. J Ocean Eng Sci 2(3):172–185

Al-Aboosi YY, Sha'ameri AZ (2017b) Improved underwater signal detection using efficient time–frequency de-noising technique and pre-whitening filter. Appl Acoust 123:93–106

Al-Aboosi YY, Ahmed MS, Shah NSM, Khamis NHH (2017a) Study of absorption loss effects on acoustic wave propagation in shallow water using different empirical models. ARPN J Eng Appl Sci 12:6474–6478

Al-Aboosi YY, Kanaa A, Sha'ameri AZ, Abdualnabi HA (2017b) Diurnal variability of underwater acoustic noise characteristics in shallow water. Telkomnika 15(1):314

Almohammedi AA, Noordin NK, Sali A, Hashim F, Balfaqih M (2017) An adaptive multi-channel assignment and coordination scheme for IEEE 802.11 P/1609.4 in vehicular Ad-Hoc networks. IEEE Access 6:2781–2802

Babar Z, Sun Z, Ma L, Qiao G (2016) Shallow water acoustic channel modeling and OFDM simulations. In: Paper presented at the OCEANS 2016 MTS/IEEE Monterey

Balfaqih M, Nordin R, Balfaqih Z, Haseeb S, Hashim A (2015) An evaluation of IEEE 802.11 MAC layer handoff process in capwap centralized WLAN. J Theor Appl Inf Technol 71(3):468–479

Balfaqih M, Ismail M, Nordin R, Balfaqih Z (2017) Handover performance evaluation of centralized and distributed network-based mobility management in vehicular urban environment. In: Paper presented at the 2017 9th IEEE-GCC conference and exhibition (GCCCE)

Banerjee S, Agrawal M (2013) Underwater acoustic noise with generalized Gaussian statistics: effects on error performance. In: Paper presented at the OCEANS-Bergen, 2013 MTS/IEEE

Banerjee S, Agrawal M (2014) On the performance of underwater communication system in noise with Gaussian mixture statistics. In: Paper presented at the communications (NCC), 2014 twentieth national conference on

Bernard S (2001) Digital communications fundamentals and applications. Prentice Hall, Upper Saddle River

Berrou C, Glavieux A, Thitimajshima P (1993) Near Shannon limit error-correcting coding and decoding: Turbo-codes. In: Paper presented at the communications, 1993. ICC'93 Geneva. Technical program, conference record, IEEE international conference on

Chen P, Rong Y, Nordholm S, He Z, Duncan AJ (2017) Joint channel estimation and impulsive noise mitigation in underwater acoustic OFDM communication systems. IEEE Trans Wirel Commun 16(9):6165–6178

Chitre M, Potter J, Heng OS (2004) Underwater acoustic channel characterisation for medium-range shallow water communications. In: Paper presented at the OCEANS'04. MTTS/IEEE TECHNO-OCEAN'04

Chitre M, Ong S, Potter J (2005) Performance of coded OFDM in very shallow water channels and snapping shrimp noise. In: Paper presented at the OCEANS, 2005. Proceedings of MTS/IEEE

Wu D, Zhang X, Qiu J, Gu L, Saito Y, Benjebbour A, Kishiyama Y (2016) A field trial of f-OFDM toward 5G. In: IEEE globecom workshops (GC Wkshps), pp 1–6

Gerzaguet R, Bartzoudis N, Baltar LG, Berg V, Doré J-B, Kténas D et al (2017) The 5G candidate waveform race: a comparison of complexity and performance. EURASIP J Wirel Commun Netw 2017(1):13

Goalic A, Trubuil J, Beuzelin N (2006) Channel coding for underwater acoustic communication system. In: Paper presented at the OCEANS 2006

Gomathi R, Manickam JML (2016) PAPR reduction technique using combined DCT and LDPC based OFDM system for underwater acoustic communication. ARPN J Eng Appl Sci 11(7):4424–4430

Hammoodi A, Audah L, Taher MA (2019) Green coexistence for 5G waveform candidates: a review. IEEE Access 7:10103–10126

Han W, Huang J, Jiang M (2009) Performance analysis of underwater digital speech communication system based on LDPC codes. In: Paper presented at the industrial electronics and applications, 2009. ICIEA 2009. 4th IEEE Conference on

Huang J, Zhou S, Willett P (2008) Nonbinary LDPC coding for multicarrier underwater acoustic communication. IEEE J Sel Areas Commun 26(9):1684–1696

Javaid N, Ahmad Z, Sher A, Wadud Z, Khan ZA, Ahmed SH (2019) Fair energy management with void hole avoidance in intelligent heterogeneous underwater WSNs. J Ambient Intell Humaniz Comput 10(11):4225–4241

Jawhar YA, Ramli KN, Taher MA, Shah NSM, Audah L, Ahmed MS, Abbas T (2018) New low-complexity segmentation scheme for the partial transmit sequence technique for reducing the high PAPR value in OFDM systems. ETRI J 40(6):699–713

Jawhar YA, Audah L, Taher MA, Ramli KN, Shah NSM, Musa M, Ahmed MS (2019) A review of partial transmit sequence for PAPR reduction in the OFDM systems. IEEE Access 7:18021–18041

Jin L, Li Y, Zhao C, Wei Z, Li B, Shi J (2016) Cascading polar coding and LT coding for radar and sonar networks. EURASIP J Wirel Commun Netw 2016(1):254

Li D, Wu Y, Zhu M (2017) Nonbinary LDPC code for noncoherent underwater acoustic communication under non-Gaussian noise. In: Paper presented at the signal processing, communications and computing (ICSPCC), 2017 IEEE International Conference on

Liu L, Wang Y, Li L, Zhang X, Wang J (2009) Design and implementation of channel coding for underwater acoustic system. In: Paper presented at the ASIC, 2009. ASICON'09. IEEE 8th international conference on

Liu L, Zhang Y, Zhang P, Zhou L, Niu J (2017) Channel coding for underwater acoustic single-carrier CDMA communication system. In: Paper presented at the seventh international conference on electronics and information engineering

Liu Y, Chen X, Zhong Z, Ai B, Miao D, Zhao Z et al (2017) Waveform design for 5g networks: analysis and comparison. IEEE Access 5:19282–19292

Medwin H, Clay CS (1997) Fundamentals of acoustical oceanography. Academic Press, Cambridge

Murugan SS, Natarajan V (2010) Performance analysis of signal to noise ratio and bit error rate for multiuser using passive time reversal technique in underwater communication. In: Paper presented at the 2010 international conference on wireless communication and sensor computing (ICWCSC)

Noguet D, Gautier M, Berg V (2011) Advances in opportunistic radio technologies for TVWS. EURASIP J Wirel Commun Netw 2011(1):170

Ochiai H, Imai H (2001) On the distribution of the peak-to-average power ratio in OFDM signals. IEEE Trans Commun 49(2):282–289

Panaro J, Lopes F, Barreira LM, Souza FE (2012) Underwater acoustic noise model for shallow water communications. In: Paper presented at the Brazilian telecommunication symposium

Qiao G, Babar Z, Ma L, Liu S, Wu J (2017) MIMO-OFDM underwater acoustic communication systems—a review. Phys Commun 23:56–64

Roy S, Duman TM, McDonald V, Proakis JG (2007) High-rate communication for underwater acoustic channels using multiple transmitters and space–time coding: receiver structures and experimental results. IEEE J Oceanic Eng 32(3):663–688

Schaich F, Wild T (2014) Waveform contenders for 5G—OFDM vs. FBMC vs. UFMC. In: Paper presented at the 2014 6th international symposium on communications, control and signal processing (ISCCSP)

Sha'ameri AZ, Al-Aboosi YY, Khamis NHH (2014) Underwater acoustic noise characteristics of shallow water in tropical seas. In: Paper presented at the computer and communication engineering (ICCCE), 2014 international conference on

Shah NSM, Al-Aboosi YY, Ahmed MS (2018) Error performance analysis in underwater acoustic noise with non-Gaussian distribution. Telkomnika 16(2):681–689

Stojanovic M, Preisig J (2009) Underwater acoustic communication channels: propagation models and statistical characterization. IEEE Commun Mag 47(1):84–89

Stojanovic M, Catipovic JA, Proakis JG (1994) Phase-coherent digital communications for underwater acoustic channels. IEEE J Oceanic Eng 19(1):100–111

Tahir B, Schwarz S, Rupp M (2017) BER comparison between convolutional, turbo, LDPC, and polar codes. In: Paper presented at the telecommunications (ICT), 2017 24th international conference on

Urick RJ (1984) Ambient noise in the sea. Report No. 20070117128. Undersea Warefare Technology Office, Naval Sea Systems Command, Washington DC

Wang J, Jin A, Shi D, Wang L, Shen H, Wu D et al (2017) Spectral efficiency improvement with 5G technologies: results from field tests. IEEE J Sel Areas Commun 35(8):1867–1875

Wu X, Jiang M, Zhao C (2018) Decoding optimization for 5G LDPC codes by machine learning. IEEE Access 6:50179–50186

Zhang X, Jia M, Chen L, Ma J, Qiu J (2015) Filtered-OFDM-enabler for flexible waveform in the 5th generation cellular networks. In: Paper presented at the global communications conference (GLOBECOM), 2015 IEEE
Acknowledgements
This research was funded by the Ministry of Higher Education Malaysia under Fundamental Research Grant Scheme Vot No. K096 and partially sponsored by Universiti Tun Hussein Onn Malaysia
Additional information
Publisher's Note
Springer Nature remains neutral with regard to jurisdictional claims in published maps and institutional affiliations.
About this article
Cite this article
Ahmed, M.S., Shah, N.S.M., Ghawbar, F. et al. Filtered-OFDM with channel coding based on T-distribution noise for underwater acoustic communication. J Ambient Intell Human Comput (2020). https://doi.org/10.1007/s12652-020-01713-9
Received:

Accepted:

Published:
Keywords
F-OFDM

OFDM

t-Distribution

Gaussian distribution

Channel coding

Underwater acoustic