Abstract
For an unfamiliar field, researchers who are looking for interdisciplinary collaboration or students who are going to start their research career often need to look for top research affiliations and domain experts according to the publication of top conferences or journals in this field. Further comparative analysis of affiliations or experts with similar achievements is also needed in order to find suitable collaborators or supervisors. In this work, we provide comprehensive visual analysis of research affiliations and domain experts based on papers accepted by the IEEE VIS from 1990 to 2018. First, we extract multi-word keywords from title and abstract automatically and then extract topics using LDA model based on these keywords. Second, we extract relationship between authors and affiliations based on co-author analysis. Third, we design and implement VISPubComPAS, a requirement-driven analysis system to (1) help users discover top affiliations and experts of required keywords; (2) visualize the relationships and statistics of these affiliations and experts; (3) compare two selected affiliations or experts of interest in detail by visualization. Finally, we conduct use cases and user reviews to demonstrate the effectiveness of VISPubComPAS.
Graphic abstract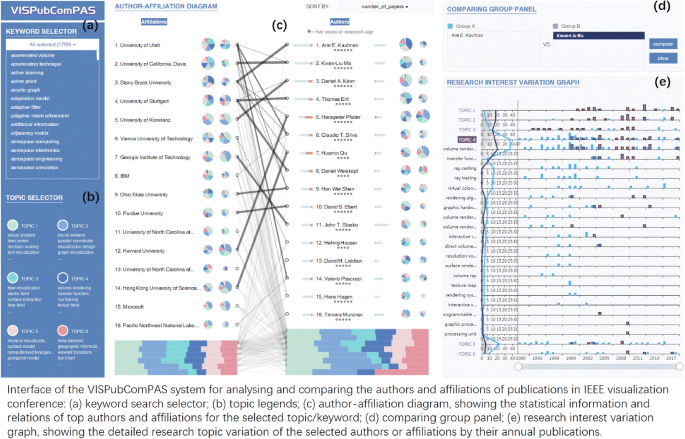 This is a preview of subscription content, log in to check access.
Access options
Buy single article
Instant unlimited access to the full article PDF.
US$ 39.95
Price includes VAT for USA
Subscribe to journal
Immediate online access to all issues from 2019. Subscription will auto renew annually.
US$ 99
This is the net price. Taxes to be calculated in checkout.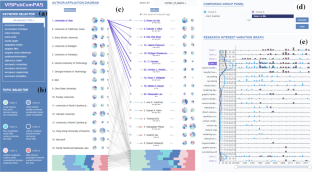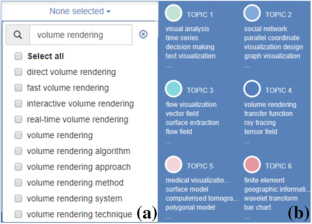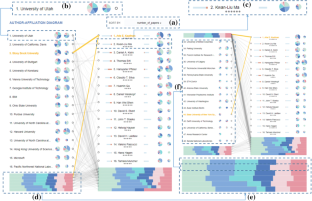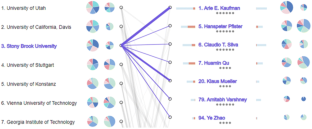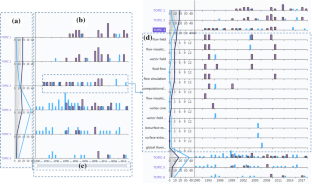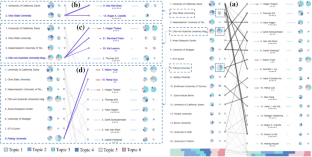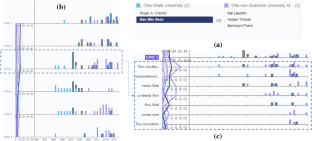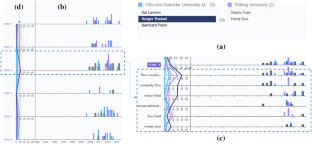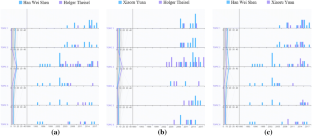 References
Blei DM, Ng AY, Jordan MI (2003) Latent dirichlet allocation. J Mach Learn Res 3(Jan):993–1022

Chuang J, Manning CD, Heer J (2012) Termite: visualization techniques for assessing textual topic models. In: Proceedings of the international working conference on advanced visual interfaces. ACM

Chuang J et al. (2013) Topic model diagnostics: assessing domain relevance via topical alignment. In: International conference on machine learning

Görg C, Liu Z, Kihm J et al (2013) Combining computational analyses and interactive visualization for document exploration and sensemaking in jigsaw. IEEE Trans Visual Comput Graph 19(10):1646–1663

Guo H, Laidlaw DH (2018) Topic-based exploration and embedded visualizations for research idea generation. In: IEEE transactions on visualization and computer graphics

Isenberg P et al. (2015) Visualization publication dataset. http://vispubdata.org/. Published June 2015

Isenberg P, Isenberg T, Sedlmair M et al (2017a) Visualization as seen through its research paper keywords[J]. IEEE Trans Visual Comput Graph 23(1):771–780

Isenberg P, Heimerl F, Koch S et al (2017b) vispubdata. org: a metadata collection about ieee visualization (vis) publications. IEEE Trans Vis Comput Graph 23(9):2199–2206

Latif S, Beck F (2018) VIS author profiles: interactive descriptions of publication records combining text and visualization. In: IEEE transactions on visualization and computer graphics, pp. 1–1

Liu S et al. (2018) Bridging text visualization and mining: a task-driven survey. In: IEEE Trans Vis Comput Graph

Maguire E, Montull JM, Louppe G (2016) Visualization of publication impact. arXiv preprint: arXiv:1605.06242

Matejka J, Grossman T, Fitzmaurice G (2012) Citeology: visualizing paper genealogy. In: CHI'12 extended abstracts on human factors in computing systems. ACM, pp. 181–190

Sievert C, Shirley K (2014) LDAvis: a method for visualizing and interpreting topics. In: Proceedings of the workshop on interactive language learning, visualization, and interfaces, pp. 63–70

Sinha A, Shen Z, Song Y, Ma H, Eide D, Hsu BJ, Wang K (2015) An overview of microsoft academic service (MA) and applications. In: Proceedings of the 24th international conference on world wide web (WWW '15 Companion). ACM, New York, NY, USA, pp. 243–246

Stasko J, Choo J, Han Y et al. (2013) Citevis: exploring conference paper citation data visually. In: Posters of IEEE InfoVis, 2

van Raan AFJ (2004) Sleeping beauties in science. Scientometrics 59(3):467–472

Wang Y, Shi C, Li L, Tong H, Qu H (2018) Visualizing research impact through citation data. ACM Trans Interact Intell Syst (TiiS) 8(1):5

Wu Y, Pitipornvivat N, Zhao J, Yang S, Huang G, Qu H (2015) egoSlider: visual analysis of egocentric network evolution. IEEE Trans Vis Comput Graph 22(1):260–269
Acknowledgements
This work was supported by the Strategic Priority Research Program of the Chinese Academy of Sciences, Grant No. XDA19080102, the 13th Five-year Informatization Plan of Chinese Academy of Sciences, Grant No. XXH13504 and the Key Research Program of Frontier Sciences, CAS, Grant No. QYZDB-SSW-SMC004-02.
Additional information
Publisher's Note
Springer Nature remains neutral with regard to jurisdictional claims in published maps and institutional affiliations.
Electronic supplementary material
Below is the link to the electronic supplementary material.
Supplementary material 1 (MP4 9909 kb)
About this article
Cite this article
Wang, Y., Yu, M., Shan, G. et al. VISPubComPAS: a comparative analytical system for visualization publication data. J Vis 22, 941–953 (2019). https://doi.org/10.1007/s12650-019-00585-2
Received:

Accepted:

Published:

Issue Date:
Keywords
Comparison

Scientific literature

Topic extraction

Visual analytics system

Publication analysis

Author analysis