Abstract
Flow topology around a simplified model of a two-wheel landing gear is studied using the hydrogen-bubble visualization technique. The complete test model consists of two wheels, an axle, a main strut and a support strut. A number of wheel models with varying geometric details are considered. During the analyses, the flow field around the wheels is divided into three main regions: upper, central and lower. (1) In the upper (wing side) flow region, the flow along the inner side surface of the wheels either remains attached until the wheel aft or it separates prematurely and periodically forms slant vortices in the near wake. The wheel geometry is found to control the type of separation. (2) In the central flow region, comparison of the flow sections above and below the axle shows that main strut blockage has a significant influence on the separation behavior of the flow between the wheels. Furthermore, the addition of interior wells to the wheel geometry is found to result in a cross-stream jet at the level of the axle. This highly-erratic fluid ejection has the potential to be a source of aeroacoustic noise. (3) In the lower (ground side) flow region, the near wake is shown to accommodate periodically forming large-scale structures.
Graphical Abstract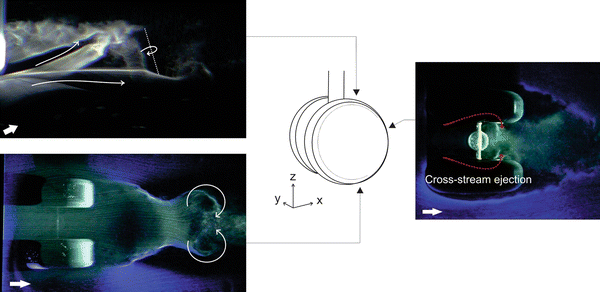 This is a preview of subscription content, log in to check access.
Access options
Buy single article
Instant unlimited access to the full article PDF.
US$ 39.95
Price includes VAT for USA
Subscribe to journal
Immediate online access to all issues from 2019. Subscription will auto renew annually.
US$ 99
This is the net price. Taxes to be calculated in checkout.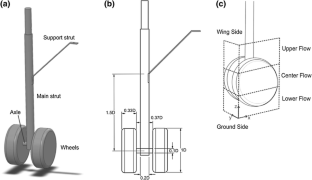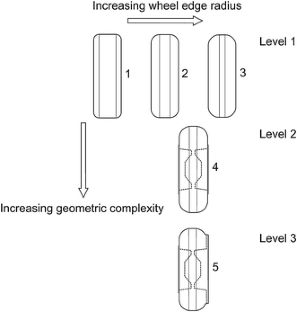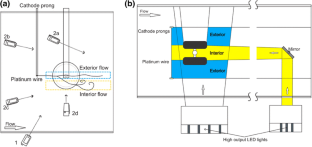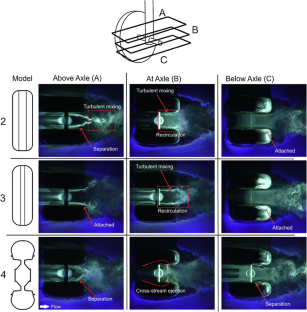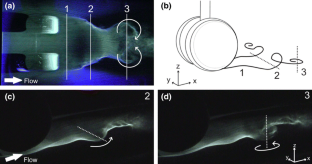 References
Clayton BR, Massey BS (1967) Flow visualization in water: a review of techniques. J Sci Instrum 44(1):2–11

Dobrzynski W (2010) Almost 40 years of airframe noise research: what did we achieve? J Aircr 47(2):353–367

Franssen EAM, van Wiechen CMAG, Nagelkerke NJD, Lebret E (2004) Aircraft noise around a large international airport and its impact on general health and medication use. J Occup Environ Med 61(5):405–413

Girvin R (2009) Aircraft noise-abatement and mitigation strategies. J Air Transp Manag 15(1):14–22

Hedges LS, Travin AK, Spalart PR (2002) Detached-eddy simulations over a simplified landing gear. J Fluids Eng 124(2):413–423

Imamura T, Hirai T, Amemiya K, Yokokawa Y, Enomoto S, Yamamoto K (2010) Reprint of: aerodynamic and aeroacoustic simulations of a two-wheel landing gear. Procedia IUTAM 1:293–302

Lazos B (2002a) Surface topology on the wheels of a generic four-wheel landing gear. AIAA J 40(12):2402–2411

Lazos B (2002b) Mean flow features around the inline wheels of four-wheel landing gear. AIAA J 40(2):193–198

Manoha E, Bulte J, Ciobaca V, Caruelle B (2009) LAGOON: an experimental database for the validation of landing gear noise prediction methods. In: Proceedings of the 13th CEAS-ASC workshop and 4th scientific workshop of X3-noise, Bucharest

Morrell S, Taylor R, Lyle D (1997) A review of health effects of aircraft noise. Aust N Z J Public Health 21(2):221–236

Murayama M, Yokokawa Y, Yamamoto K, Hirai T (2013) Computational study of low-noise fairings around tire-axle region of a two-wheel main landing gear. Comput Fluids 85:114–124

Quayle AR, Dowling AP, Babinsky H, Graham WR, Liu Y (2007) Phased array measurements from landing gear models. In: AIAA aeroacoustics conference (28th AIAA aeroacoustics conference), paper AIAA 2007-3463

Sanders L, Manoha E, Khelil SB, Francois C (2012) LAGOON: new Mach landing gear noise computation and further analysis of the CAA process. In: AIAA aeroacoustics conference (33rd AIAA aeroacoustics conference), paper AIAA 2012-2281

Zawodny NS, Liu F, Yardibi T, Cattafesta L, Khorrami MR, Neuhart DH, Van de Ven T (2009) A comparative study of a 1/4-scale Gulfstream G550 aircraft nose gear model. In: 15th AIAA/CEAS aeroacoustics conference, paper AIAA 2009-3153
Acknowledgments
This research was supported by Natural Sciences and Engineering Research Council of Canada (NSERC Engage) and Bombardier Aerospace Canada. Particular gratitude is expressed towards Stephen Colavincenzo of Bombardier for his continual support of the project.
Electronic supplementary material
Below is the link to the electronic supplementary material.
Supplementary Movie 1: Hydrogen bubble video showing the periodic formation of the slant vortices in the upper flow region for model 1. The provided video is only a section of the full recording and is slowed down four times (MP4 29883 kb)
Supplementary Movie 2: Hydrogen bubble video showing the cross-stream ejection of the interior flow from the wheel wells. Results are shown for model 4. The provided video is only a section of the full recording and is slowed down four times (MP4 40434 kb)
Supplementary Movie 3: Hydrogen bubble video showing the formation and convection of the large-scale roll-up structures in the near wake of the bottom flow region (for model 1). The provided video is only a section of the full recording and is slowed down four times (MP4 46987 kb)
About this article
Cite this article
Feltham, G., Ekmekci, A. Flow topology around a simplified two-wheel landing gear. J Vis 17, 211–219 (2014). https://doi.org/10.1007/s12650-014-0202-9
Received:

Revised:

Accepted:

Published:

Issue Date:
Keywords
Landing gear

Flow topology

Flow visualization

Hydrogen bubble

Aeroacoustics

Landing gear noise