Influence of Various Irradiation Time on Sono-Functionalization of Zirconia-Doped Mesoporous-Silica by Sulfuric Acid for Biofuel Production from Waste Cooking Oil
Abstract
In this study, sulfated zirconia on MCM-41 prepared through a new ultrasound-assisted sulfation method for biodiesel production from waste cooking oil. The effect of different sonication times (15, 30 and 45 min) on nanocatalyst properties were studied using BET, EDX, FESEM, NH3-TPD, FTIR and XRD analyses. The XRD patterns along with the results of FTIR and BET analysis revealed the MCM-41 framework destruction while Zr doping and sulfation of nanocatalysts. The FESEM images of the nanocatalysts illustrated a well distribution and uniform morphology for the SZM(T = 45). The size distribution of the SZM(T = 45) were subsequently determined by FESEM images. Biodiesel production carried out under following constant operational parameters to evaluate catalytic performance of synthesized samples: 5 wt% catalyst loading, 60 °C reaction temperature, methanol/oil molar ratio of 9:1 and 6 h reaction time. Using ultrasound-assisted sulfation method in nanocatalysts preparation was increased dispersion of active phase and stability of synthesized nanocatalysts. Obtained results demonstrated that longer irradiation time in nanocatalyst preparation led to higher biodiesel conversion. Additionally, after five cycles, the sonicated sample showed higher reusability compared to non-sonicated one. Among the prepared samples, the longer sonicated SZM(T = 45) nanocatalyst showed the highest conversion (93.5%) and significant stability in biodiesel production.
Graphic Abstract
Sono-sulfated zirconia nanocatalyst supported on MCM-41 was synthesized by an ultrasound-assisted impregnation/hydrothermal hybrid synthesis method. The effect of irradiation time was studied by changing time of the sonication (15, 30, 45 min) during the synthesis which led to different physiochemical properties of the nanocatalyst. It was found that, the performance of investigated nanocatalysts in biodiesel production from sunflower oil showed sonicated catalysts have higher conversion in comparison to non-sonicated catalyst. Biodiesel conversion in catalyst with 60 W and 45 min ultrasonic irradiation showed higher biodiesel conversion and also reusability in reaction environment.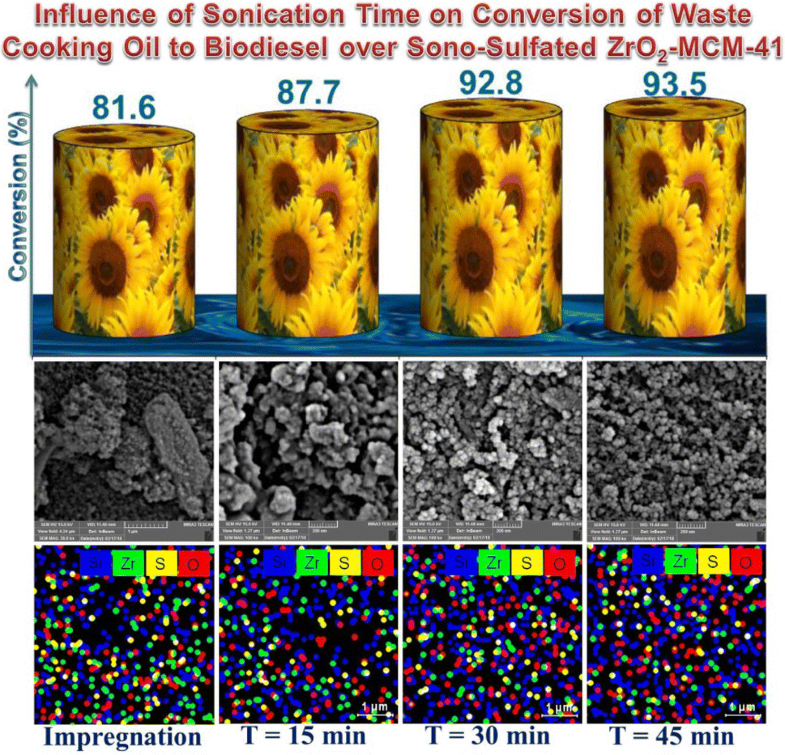 Keywords
Dispersed sulfated zirconia on MCM-41 
Nanocatalyst 
Waste cooking oil 
Ultrasound 
Irradiation time 
Biodiesel 
Notes
Acknowledgements
We really acknowledge Iran Nanotechnology Initiative Council and Sahand University of Technology for the financial support of the research.
Copyright information
© Springer Nature B.V. 2019