Choline Based Basic Ionic Liquid (BIL)/Acidic DES Mediated Cellulose Rich Fractionation of Agricultural Waste Biomass and Valorization to 5-HMF
Abstract
The present work demonstrates the efficient alkaline pre-treatment method to obtain a cellulose rich fraction from agricultural waste biomass using low cost and biocompatible aqueous choline hydroxide [Ch]OH, a basic ionic liquid (BIL) and the conversion of isolated cellulose into 5-(hydroxymethyl) furfural, catalyzed by various homogeneous acidic deep eutectic solvents (DES).
Graphical Abstract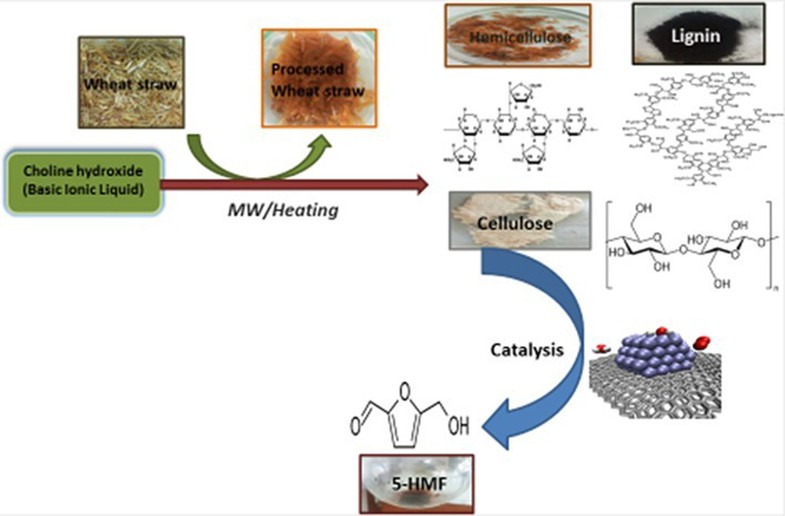 (a) Low cost, mild biodegradable choline hydroxide (basic ionic liquid). (b) White cellulose fibers without bleaching process. (c) Recyclable and recoverable catalysts. And (d) High yield and purity of 5-HMF.
Keywords
Agriculture waste 
Choline hydroxide 
Choline chloride/p-TSA 
Choline chloride/oxalic acid 
Choline chloride/citric acid 
Cellulose 
5-HMF 
Notes
Acknowledgements
The authors are thankful Punjab engineering college (Deemed to be University), Chandigarh for necessary facility and SAIF-CIL Punjab University, Chandigarh for spectroscopic analysis.
Compliance with Ethical Standards
Conflict of interest
There are no conflicts to declare.
Copyright information
© Springer Nature B.V. 2019