Abstract
Various protoscolicidal agents are indicated for the prevention of recurrence of cystic echinococcosis caused by the larval stage of Echinococcus granulosus; however, most of these chemicals have adverse side effects. This study evaluated the effects of Zataria multiflora essential oil (ZEO) nano-emulsion and emulsion at the concentrations of 1, 2, 5, 10, 15, and 20 µl/ml on E. granulosus protoscoleces. Albendazole (5 mg/ml), normal saline, and nano-emulsion without ZEO served as control groups. Optimal concentrations of ZEO nano-emulsion and emulsion on the microcysts were also investigated. ZEO emulsion at a concentration of 20 µl/ml for the duration of 15 min and nano-emulsion for the duration of 10 min resulted in the death of 100% of the protoscoleces. Additionally, densely packed aggregates were formed inside the microcysts treated with ZEO nano-emulsion and emulsion at a concentration of 20 µl/ml after 40 min, but the complete destruction of laminated layers did not occur. The results indicate that ZEO nano-emulsions have a higher protoscolicidal effect than its emulsion, but these two compounds had similar effects on microcysts.
This is a preview of subscription content, log in to check access.
Access options
Buy single article
Instant unlimited access to the full article PDF.
US$ 39.95
Price includes VAT for USA
Subscribe to journal
Immediate online access to all issues from 2019. Subscription will auto renew annually.
US$ 99
This is the net price. Taxes to be calculated in checkout.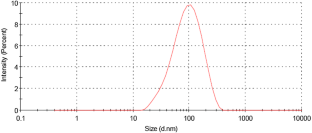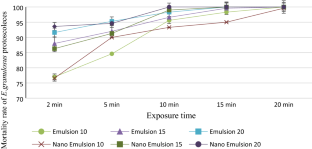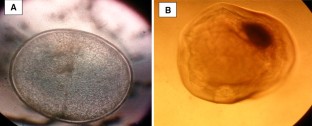 References
Besim H, Karayalcin K, Hamamci O, Gungor C, Korkmaz A (1998) Scolicidal agents in hydatid cyst surgery. HPB Surg World J Hepat Pancreat Biliary Surg 10:347–351. https://doi.org/10.1155/1998/78170

Brunetti E, Kern P, Vuitton DA, WHO-IWGE WP (2010) Expert consensus for the diagnosis and treatment of cystic and alveolar echinococcosis in humans. Acta Trop 114:1–16. https://doi.org/10.1016/j.actatropica.2009.11.001

Elissondo MC, Dopchiz MC, Brasesco M, Denegri G (2004) Echinococcus granulosus: first report of microcysts formation from protoscoleces of cattle origin using the in vitro vesicular culture technique. Parasite (Paris, France) 11:415–418. https://doi.org/10.1051/parasite/2004114415

Elissondo MC, Albani CM, Gende L, Eguaras M, Denegri G (2008) Efficacy of thymol against Echinococcus granulosus protoscoleces. Parasitol Int 57:185–190. https://doi.org/10.1016/j.paritit.2007.12.005

Farhadi M, Fazaeli A, Haniloo A (2015) Genetic characterization of livestock and human hydatid cyst isolates from northwest Iran, using the mitochondrial cox1 gene sequence. Parasitol Res 114:4363–4370. https://doi.org/10.1007/s00436-015-4673-y

Ghosh V, Mukherjee A, Chandrasekaran N (2014) Eugenol-loaded antimicrobial nanoemulsion preserves fruit juice against, microbial spoilage. Colloids Surf B Biointerfaces 114:392–397. https://doi.org/10.1016/j.colsurfb.2013.10.034

Hosseinzadeh S, Fazeli M, Hosseini A, Shekarforoush SS (2012) Molecular characterization of Echinococcus granulosus in south of Iran. Open J Vet Med 2:201–206

Jahanbakhsh S, Azadpour M, Tavakoli Kareshk A, Keyhani A, Mahmoudvand H (2016) Zataria multiflora Bioss: lethal effects of methanolic extract against protoscoleces of Echinococcus granulosus. J Parasit Dis 40:1289–1292. https://doi.org/10.1007/s12639-015-0670-4

Jaiswal M, Dudhe R, Sharma PK (2015) Nanoemulsion: an advanced mode of drug delivery system. 3 Biotech 5:123–127. https://doi.org/10.1007/s13205-014-0214-0

Kahriman G, Ozcan N, Dogan S, Karaborklu O (2017) Percutaneous treatment of liver hydatid cysts in 190 patients: a retrospective study. Acta Radiol (Stockh Swed 1987) 58:676–684. https://doi.org/10.1177/0284185116664226

Kohansal MH, Nourian A, Rahimi MT, Daryani A, Spotin A, Ahmadpour E (2017) Natural products applied against hydatid cyst protoscolices: a review of past to present. Acta Trop 176:385–394. https://doi.org/10.1016/j.actatropica.2017.09.013

Mahmoudvand H, Kheirandish F, Dezaki ES, Shamsaddini S, Harandi MF (2016) Chemical composition, efficacy and safety of Pistacia vera (var. Fandoghi) to inactivate protoscoleces during hydatid cyst surgery. Biomed Pharmacother 82:393–398. https://doi.org/10.1016/j.biopha.2016.05.012

Moazeni M, Roozitalab A (2012) High scolicidal effect of Zataria multiflora on protoccoleces of hydatid cyst: an in vitro study. Comp Clin Pathol 21:99–104. https://doi.org/10.1007/s00580-010-1069-3

Moazeni M, Larki S, Oryan A, Saharkhiz MJ (2014a) Preventive and therapeutic effects of Zataria multiflora methanolic extract on hydatid cyst: an in vivo study. Vet Parasitol 205:107–112. https://doi.org/10.1016/j.vetpar.2014.07.006

Moazeni M, Larki S, Saharkhiz MJ, Oryan A, Lari MA, Alavi AM (2014b) In vivo study of the efficacy of the aromatic water of Zataria multiflora on hydatid cysts. Antimicrob Agents Chemother 58:6003–6008. https://doi.org/10.1128/Aac.02963-14

Moazeni M, Borji H, Saboor Darbandi M, Saharkhiz MJ (2017) In vitro and in vivo antihydatid activity of a nano emulsion of Zataria multiflora essential oil. Res Vet Sci 114:308–312. https://doi.org/10.1016/j.rvsc.2017.06.003

Niazi M, Saki M, Sepahvand M, Jahanbakhsh S, Khatami M, Beyranvand M (2019) In vitro and ex vivo scolicidal effects of Olea europaea L. to inactivate the protoscolecs during hydatid cyst surgery. Ann Med Surg 42:7–10. https://doi.org/10.1016/j.amsu.2019.04.006

Oryan A, Moazeni M, Zarei Kordshouli F (2016) Administration of Zataria multiflora as a novel therapeutic strategy in destruction of the germinal layer of hydatid cyst. Res J Parasitol 11:41–47

Shafiei R, Teshnizi SH, Kalantar K, Gholami M, Mirzaee G, Mirzaee F (2016) The seroprevalence of human cystic echinococcosis in Iran: a systematic review and meta-analysis study. J Parasitol Res 2016:1425147. https://doi.org/10.1155/2016/1425147

Sharafi SM, Sefiddashti RR, Sanei B, Yousefi M, Darani HY (2017) Scolicidal agents for protoscolices of Echinococcus granulosus hydatid cyst: review of literature. J Res Med Sci 22:92. https://doi.org/10.4103/jrms.JRMS_1030_16

Smego RA Jr, Sebanego P (2005) Treatment options for hepatic cystic echinococcosis. Int J Infect Dis 9:69–76. https://doi.org/10.1016/j.ijid.2004.08.001

Solorzano-Santos F, Miranda-Novales MG (2012) Essential oils from aromatic herbs as antimicrobial agents. Curr Opin Biotechnol 23:136–141. https://doi.org/10.1016/j.copbio.2011.08.005

Torgerson PR (2014) Helminth-Cestode: Echinococcus granulosus and Echinococcus multilocularis. In: Motarjemi Y (ed) Encyclopedia of food safety, vol 2. Academic press, Fribourg, pp 63–69

Yones DA, Taher GA, Ibraheim ZZ (2011) In vitro effects of some herbs used in Egyptian traditional medicine on viability of protoscolices of hydatid cysts. Korean J Parasitol 49:255–263. https://doi.org/10.3347/kjp.2011.49.3.255
Acknowledgements
This study is a result of an approved master's thesis from Zanjan University of Medical Sciences (A-12-95-12; ZUMS.REC.1396.172). The authors of this article would like to sincerely thank colleagues in the Department of Parasitology and Mycology at Zanjan University of Medical Sciences for their assistance in this project.
Ethics declarations
Conflict of interest
The authors declare that they have no conflict of interest.
Additional information
Publisher's Note
Springer Nature remains neutral with regard to jurisdictional claims in published maps and institutional affiliations.
About this article
Cite this article
Karimi Yazdi, M., Haniloo, A., Ghaffari, A. et al. Antiparasitic effects of Zataria multiflora essential oil nano-emulsion on larval stages of Echinococcus granulosus. J Parasit Dis (2020). https://doi.org/10.1007/s12639-020-01193-w
Received:

Accepted:

Published:
Keywords
Echinococcus granulosus

Protoscoleces

Microcyst

Nano-emulsion

Emulsion

Zataria multiflora

In vitro