This is a preview of subscription content, log in to check access.
Access options
Buy single article
Instant access to the full article PDF.
US$ 39.95
Price includes VAT for USA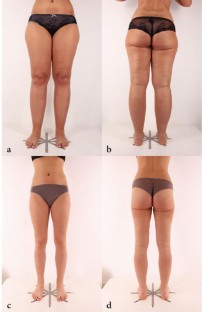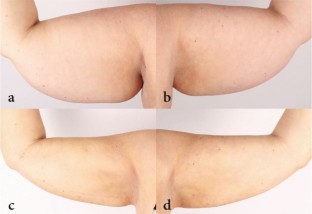 Literatur
1.

Miller A. Komorbidität von Patienten mit Lymphödemen. LymphForsch. 2008; 12: 14-8

2.

Deutsche Gesellschaft für Phlebologie e.V. (DGP). S1-Leitlinie Lipödem. Oktober 2015. AWMF-Registernr.: 037-012

3.

Herpertz U. Ödeme und Lymphdrainage. Diagnose und Therapie. Lehrbuch der Ödematologie. 5. Aufl. Stuttgart: Schattauer 2014

4.

Chen SG et al. Painful fat syndrome in a male patient. Br J Plast Surg. 2004; 57: 282-6

5.

Szolnoky G et al. Complex decongestive physiotherapy decreases capillary fragility in lipedema. Lymphology. 2008; 41: 161-6

6.

Brauer WJ, Brauer VS. Altersabhängigkeit des Lymphtransportes bei Lipödem und Lipolymphödem. LymphForsch. 2005; 9: 6-9

7.

Brauer WJ, Weissleder H. Methodik und Ergebnisse der Funktionslymphszintigraphie: Erfahrungen bei 924 Patienten. Phlebologie. 2002; 31: 118-25

8.

Kaiserling E. Morphologische Befunde beim Lymphödem, Lipödem, Lipolymphödem. In: Földi M, Földi E, Kubik St (Hrsg.) Lehrbuch der Lymphologie. Stuttgart, New York: Gustav Fischer. 2005; S. 374-8

9.

Suga H et al. Adipose tissue remodeling in lipedema: adipocyte death and concurrent regeneration. J Cut Pathol. 2009; 36: 1293-8

10.

Al Ghazal P et al. Lipomatosen. J Dtsch Dermatol Ges. 2018; 16: 313-28

11.

Herpertz U. Entstehungszeitpunkt von Lipödemen. LymphForsch. 2004; 8: 79-81

12.

Stutz JJ, Krahl D. Water jet-assisted liposuction for patients with lipoedema: histologic and immunohistologic analysis of the aspirates of 30 lipoedema patients. Aesth Plast Surg. 2009; 33: 153-62

13.

Schmeller W, Meier-Vollrath J. Schmerzen beim Lipödem. LymphForsch. 2008; 12: 8-12

14.

Polak P et al. Adipose-specific Knockout of raptor Results in Lean Mice with Enhanced Mitochondrial Respiration. Cell Metab. 2008; 8: 399-410

15.

Marshall M, Schwahn-Schreiber C. Das Lipödem - ein wenig beachtetes Krankheitsbild. Vasomed. 2008; 20: 59-65

16.

Marshall M. Differentialdiagnostische Abklärung des Lymph-, Lip- und Phlebödems mittels hochauflösender (Duplex-)Sonographie. Ultraschall Klin Praxis. 1996; 10: 130-7

17.

Werner GT, Rodiek SO. Stellenwert der Kernspintomographie bei unklaren Beinödemen. Lymphologie. 1993; 17: 2-5

18.

Tiedjen KU et al. Indirect xero-lymphography in lymphedema, lipedema and venous insufficiency. Phlebologie 92 Eds. Raymond- Martinbeau P, Prescott R, Zummo M: John Libbey Eurotext, Paris pp. 396-8, 1992

19.

Weissleder H et al. Aussagewert der Funktions-Lymphszintigraphie und indirekten Lymphangiographie beim Lipödem-Syndrom. Lymphologie. 1995; 19: 38-41

20.

Dutch Society for Dermatology and Venerology and the Dutch Academy of medical specialists (ORDE) Lipedema guidelines in the Netherlands. 2014

21.

Herpertz U. Krankheitsspektrum des Lipödems an einer Lymphologischen Fachklinik- Erscheinungsformen, Mischbilder und Behandlungsmöglichkeiten. Vasomed. 1997; 5: 301-7

22.

Cornely ME. Liposuktion (Liposclupture). In: Weissleder H, Schuchhardt C: Erkrankungen des Lmyphgefäßsystems. Viavital-Verlag, Köln 2000; 2: 384-97

23.

Langendoen SI et al. Lipoedema: from clinical presentation to therapy. A review of the literature. Br J Dermatol. 2009; 161: 980-6

24.

Klein JA. Tumescent Technique. Tumescent anesthesia and microcannular liposuction, St. Louis: Mosby; 2000

25.

Deutsche Adipositas Gesellschaft (DAG). Interdisziplinäre Leitlinie der Qualität S3 zur Prävention und Therapie der Adipositas. April 2014. AWMF-Registernr.: 050/001

26.

von Lukowicz D. Münchner Lipödem Score (MLS) - Eine klare Beurteilung der Operationsindikation. DGPRÄC-Jahrestagung. 27. September 2019

27.

Lipocura®. Münchner Lipödem Score (MLS). https://www.lipocura.de/lipoedem/diagnose/muenchner-lipoedem-score/ (Abgerufen am 11. Dezember 2019)

28.

Fife CE et al. Lipedema: a frequently misdiagnosed and misunderstood fatty deposition syndrome. Adv Skin Wound Care. 2010; 23: 81-92

29.

Meier-Vollrath I, Schmeller W. Lipödem - aktueller Stand, neue Perspektiven. J Dtsch Dermatol Ges. 2004; 2: 181-6
Ethics declarations
Die Autoren erklären, dass sie sich bei der Erstellung des Beitrags von keinen wirtschaftlichen Interessen leiten ließen. Die Autoren legen folgende potenziellen Interessenkonflikte offen: keine.
Der Verlag erklärt, dass die inhaltliche Qualität des Beitrags von zwei unabhängigen Gutachtern geprüft wurde. Werbung in dieser Zeitschriftenausgabe hat keinen Bezug zur CME-Fortbildung. Der Verlag garantiert, dass die CME-Fortbildung sowie die CME-Fragen frei sind von werblichen Aussagen und keinerlei Produktempfehlungen enthalten. Dies gilt insbesondere für Präparate, die zur Therapie des dargestellten Krankheitsbildes geeignet sind.
About this article
Cite this article
Aust, M., Aliu, A., Leuthner, P. et al. Lipödem erkennen und effektiv behandeln. ästhet dermatol kosmetol 12, 32–42 (2020). https://doi.org/10.1007/s12634-019-0609-3