Development and Characterization of Inorganic-Organic (Si-O-Al) Hybrid Geopolymeric Precursors via Solid State Method
Abstract
In this study, an innovative one part, solution free concept applied for the development of hybrid inorganic–organic geopolymeric precursors having Si-O-Al networks at the precursor stage only. For the process development, fly ash, sodium hydroxide along with rice husk were together mechano-chemically dry grinded for a period of 8, 16 and 24 hours and 'organic in-organic hybrid geopolymeric precursors' in solid powder form is obtained. Mechanico-chemically derived tailored organic in-organic hybrid geopolymeric precursors were characterized by different techniques like XRD, 29Si MAS NMR, 27Al MAS NMR, SEM and FESEM. XRD results revealed presence of inorganic phases and organic phase in organic in-organic hybrid geopolymeric precursors. 29Si MAS NMR spectra revealed partial transformation of tertracoordinated Si into pentacoordinated silica due to presence of organic moiety.27Al MAS NMR spectra indicated presence of peaks centered at δ 52 to δ 66 ppm confirmed the formation of geopolymeric precursors. Developed geopolymeric precursor overcome the process drawbacks of conventional geopolymerization process via solution chemistry by making it user friendly as geopolymer from these geopolymeric precursor is obtained by addition of water only unlike conventional geopolymerization process which involves addition of hazardous alkaline solution to aluminosilicate raw material like fly ash. Further, the development of geopolymeric precursor utilize two environmentally unsafe waste materials and resulted in development of material with improved mechanical properties.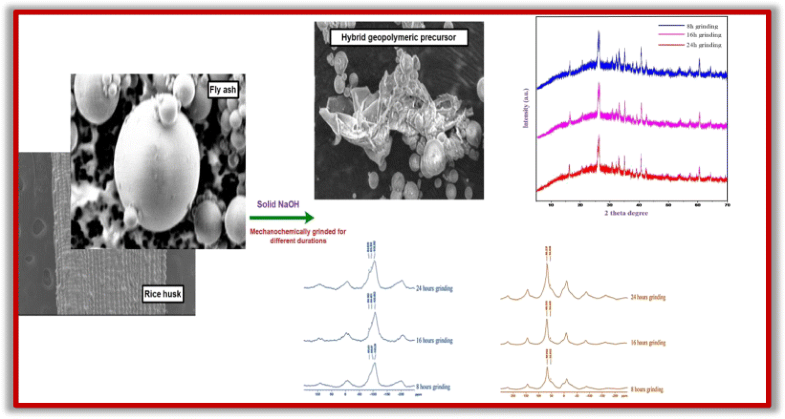 Keywords
Solution free 
Mechanochemically 
Fly ash 
Silica 
Precursors 
Notes
Acknowledgements
Authors of this paper are highly grateful to Director, CSIR-AMPRI for his kind support to carry out this work successfully. Authors are also thankful to CSIR-NCL, Pune, for providing NMR facility for this work. A special gratefulness to Dr.O.P.Modi, Mohd.Shafeeq and Deepak Kashyap for their help in performing X-ray diffraction and Scanning electron microscopic studies.
Compliance with Ethical Standards
Conflict of interests
Authors of this research declare no conflicts of interest.
Copyright information
© Springer Science+Business Media B.V., part of Springer Nature 2018