Synthesis of 2-amino-4,6-diarylnicotinonitrile in the presence of CoFe2O4@SiO2-SO3H as a reusable solid acid nanocatalyst under microwave irradiation in solvent-freeconditions
Abstract
The modification of silica-coated CoFe2O4 magnetic nanoparticles (CoFe2O4@SiO2) with chlorosulfonic acid, which can be utilized as an organic-inorganic hybrid heterogeneous catalyst, introduces an astonishing and efficient system for the synthesis and simplicity of the recovery of the catalyst. The applied CoFe2O4 magnetic nanoparticles are 22.98–45.30 nm measured that can be utilized as a catalyst for the preparation of 2-amino-4,6-diarylnicotinonitrile under microwave irradiation in solvent-free conditions by four component reaction of aromatic acetophenone, aldehydes analogues, malononitrile and ammonium acetate. The so synthesized magnetic nanocatalyst was characterized by X-ray powder diffraction, SEM, TGA and FT-IR techniques. This simple protocol suggests advantages such as shorter reaction times, high yield, catalyst recovery, achieving the high purity of products by simple recrystallization and facile work-up. Other noticeable characteristics contain the catalyst can be recovered at least five times without any clear decrease in its catalytic activity.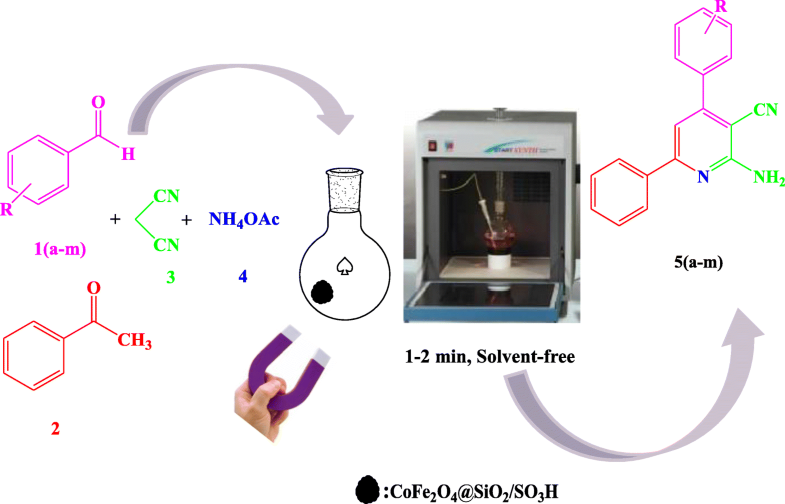 Keywords
Cobalt ferrite 
Magnetic nanoparticles 
Microwave irradiation 
Solvent-free 
2-Amino-4,6-diarylnicotinonitrile 
Notes
Acknowledgements
This work was supported by the "University of Zanjan".
Copyright information
© Springer Nature B.V. 2018