Synthesis, Characterization, and Properties of N- Heteroaryl Formamide Derivatives in the Presence of the Al-MCM-41-Nanocatalyst
Abstract
This study aims to find out an efficient and simple method for N-formylation of different kinds of heteroaryl amines. The method is based on presence of formic acid and use of aluminum nanoparticles, loaded on a regular porous silica MCM-41 (Al-MCM-41), as the catalyst (at 60 °C in a solvent-free condition). The synthesized Al-MCM-41 nanocatalyst with average size 25–35 nm was characterized by FT-IR, SEM and TEM. The results show that the Al-MCM-41 nanocatalyst can provide yields of up 91% between 15 and 30 min for the N-formylation of different aromatic amines. The use of Al-MCM-41 nanocatalysts for the synthesis of N-heteroaryl formamide is reported for the first time in this article.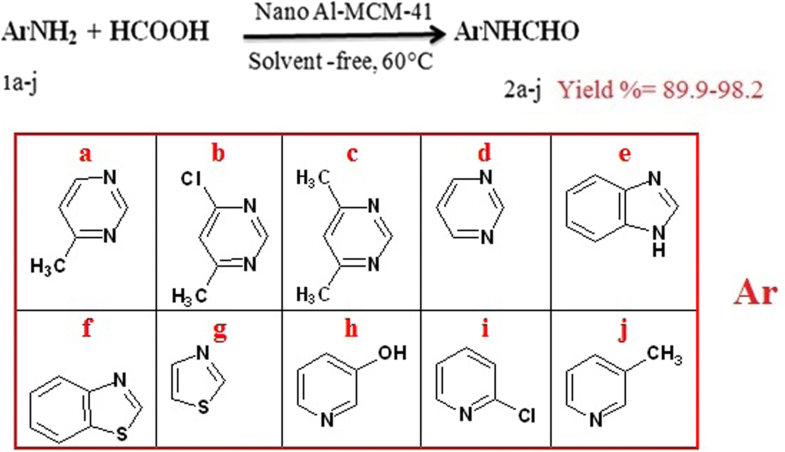 Keywords
Al-MCM-41 nanocatalyst 
Heteroaryl amine 
N-heteroaryl formamide 
Solvent- free 
Notes
Acknowledgements
We acknowledge the Islamic Azad University of Omidiyeh. We would also like to thank Mrs. Saedeh Kamalifar for her contribution to this manuscript.
Copyright information
© Springer Nature B.V. 2019