Abstract
Purpose
Combined video modeling (VM) and video feedback (VF) may be more beneficial than traditional feedback when teaching procedural skills. This study examined whether repeated VM and VF compared with VM alone reduced the time required for medical students to perform peripheral intravenous (IV) cannulation.
Methods
Twenty-five novice medical students were randomly assigned to groups in a one-way blinded embedded mixed-methods study to perform IV cannulation. Participants received standardized instruction and performed IV cannulation on each other while being audio-video recorded. They were assigned to review a video of an expert performing IV cannulation (VM alone), or both the expert video and a video of their own most recent IV cannulation (VM+VF), before returning to perform another IV cannulation. This was repeated for a total of four IV cannulation encounters and three video reviews. A post-test interview was also conducted and analyzed qualitatively using thematic content analysis.
Results
The median [interquartile range] time required to perform IV cannulation in the final encounter was significantly different between the VM+VF group vs VM alone group (126 [93-226] sec vs 345 [131-537] sec, respectively; median difference, 111 sec; 95% confidence interval, 8 to 391; P = 0.02). There was no significant difference in IV cannulation success between VM alone and VM+VF in the final encounter (75% vs 85% respectively; P = 0.65). For the VM+VF group, the time to perform IV cannulation was reduced after the final encounter compared with the baseline encounter (P = 0.002), which was not true of the VM alone group (P = 0.35).
Conclusion
Video modeling and feedback shortened time to IV skill completion, reduced complications, and improved satisfaction in novice medical students.
Résumé
Objectif
La combinaison d'une vidéo de démonstration (VD) et d'une vidéo de rétroaction (VR) pourrait être plus efficace que la rétroaction traditionnelle pour l'enseignement des habiletés nécessaires pour des procédures. Cette étude a cherché à savoir si la répétition d'une VD et d'une VR réduisait davantage le temps nécessaire à des étudiants en médecine pour effectuer une canulation intraveineuse périphérique (IV) par rapport à la seule VD.
Méthodes
Vingt-cinq étudiants en médecine novices ont été assignés par randomisation à des groupes d'une étude utilisant différentes méthodes intégrées d'apprentissage avec insu unilatéral pour la réalisation d'une canulation IV. Les participants ont reçu un enseignement standardisé et ont réalisé une canulation IV sur un autre participant tout en étant filmés (audio-vidéo). Selon leur groupe, ils devaient visionner la vidéo d'un expert effectuant une canulation IV (groupe VD uniquement) ou voir la vidéo de l'expert et une vidéo de leur plus récente canulation IV (groupe VD + VR) avant d'effectuer une autre canulation IV. La procédure a été répétée (total de 4 tentatives de canulations et 3 séances de vidéos). Un entretien post test a été également mené et analysé du point de vue qualitatif au moyen d'une analyse thématique du contenu.
Résultats
Le temps médian [plage interquartile] nécessaire pour effectuer la canulation IV au cours de la dernière tentative a été significativement différent entre le groupe VD+VR et le groupe VD seule (respectivement, 126 secondes [93 à 226 s] contre 345 s [131 à 537 s]; différence des médianes, 111 s; intervalle de confiance à 95 % : 8 à 391; P = 0,02). Il n'y a pas eu de différence significative entre le taux de réussite des canulations entre le groupe VD seule et le groupe VD+VR (respectivement, 75 % contre 85 %; P = 0,65). Pour le groupe VD+VR, le temps nécessaire à la canulation IV au moment de la dernière tentative a été plus court par rapport au temps mis au cours de la première tentative (P = 0,002), ce qui n'a pas été le cas pour le groupe VD seule (P = 0,35).
Conclusion
La vidéo de démonstration et la vidéo de rétroaction ont permis de raccourcir le temps de réalisation des habiletés d'une canulation IV, ont réduit les complications et amélioré la satisfaction des étudiants en médecine novices.
This is a preview of subscription content, log in to check access.
Access options
Buy single article
Instant access to the full article PDF.
US$ 39.95
Price includes VAT for USA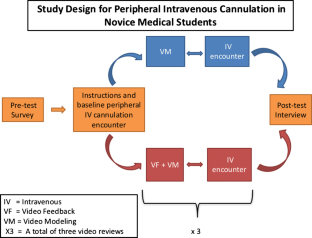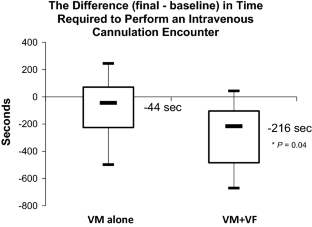 References
1.

Hastings RH, Rickard TC. Deliberate practice for achieving and maintaining expertise in anesthesiology. Anesth Analg 2015; 120: 449-59.

2.

Grantcharov TP, Reznick RK. Teaching procedural skills. BMJ 2008; 336: 1129-31.

3.

Issenberg SB, McGaghie WC, Petrusa ER, Lee Gordon D, Scalese RJ. Features and uses of high-fidelity medical simulations that lead to effective learning: a BEME systematic review. Med Teach 2005; 27: 10-28.

4.

Broking K, Waurick R. How to teach regional anesthesia. Curr Opin Anaesthesiol 2006; 19: 526-30.

5.

Ashley EA. Medical education - beyond tomorrow? The new doctor - Asclepiad or Logiatros? Med Educ 2000; 34: 455-9.

6.

Castanelli DJ. The rise of simulation in technical skills teaching and the implications for training novices in anaesthesia. Anaesth Intensive Care 2009; 37: 903-10.

7.

Gardner H. Frames of Mind: The Theory of Multiple Intelligences. NY: Basic Books; 2011 .

8.

Kolb AY, Kolb DA. Learning styles and learning spaces: enhancing experiential learning in higher education. Acad Manag Learn Educ 2005; 4: 193-212.

9.

Ende J. Feedback in clinical medical education. JAMA 1983; 250: 777-81.

10.

Colthart I, Bagnall G, Evans A, et al. The effectiveness of self-assessment on the identification of learner needs, learner activity, and impact on clinical practice: BEME Guide no. 10. Med Teach 2008; 30: 124-45.

11.

Yoo MS, Chae SM. Effects of peer review on communication skills and learning motivation among nursing students. J Nurs Educ 2011; 50: 230-3.

12.

Lane JL, Gottlieb RP. Improving the interviewing and self-assessment skills of medical students: is it time to readopt videotaping as an educational tool? Ambul Pediatr 2004; 4: 244-8.

13.

Stefanidis D, Korndorffer JR Jr, Heniford BT, Scott DJ. Limited feedback and video tutorials optimize learning and resource utilization during laparoscopic simulator training. Surgery 2007; 142: 202-6.

14.

Stranc MF, McDiarmid JG, Stranc LC. Video assessment of surgical technique. Br J Plast Surg 1991; 44: 65-8.

15.

Yoo MS, Son YJ, Kim YS, Park JH. Video-based self-assessment: implementation and evaluation in an undergraduate nursing course. Nurse Educ Today 2009; 29: 585-9.

16.

Martin D, Regehr G, Hodges B, McNaughton N. Using videotaped benchmarks to improve the self-assessment ability of family practice residents. Acad Med 1998; 73: 1201-6.

17.

Ward M, MacRae H, Schlachta C, et al. Resident self-assessment of operative performance. Am J Surg 2003; 185: 521-4.

18.

Jamshidi R, LaMasters T, Eisenberg D, Duh QY, Curet M. Video self-assessment augments development of videoscopic suturing skill. J Am Coll Surg 2009; 209: 622-5.

19.

Liebermann DG, Katz L, Hughes MD, Bartlett RM, McClements J, Franks IM. Advances in the application of information technology to sport performance. J Sports Sci 2002; 20: 755-69.

20.

Crenshaw JT. Use of video-feedback, reflection, and interactive analysis to improve nurse leadership practices. Nurs Adm Q 2012; 36: 260-7.

21.

Roter DL, Larson S, Shinitzky H, et al. Use of an innovative video feedback technique to enhance communication skills training. Med Educ 2004; 38: 145-57.

22.

Paul S, Dawson KP, Lanphear JH, Cheema MY. Video recording feedback: a feasible and effective approach to teaching history-taking and physical examination skills in undergraduate paediatric medicine. Med Educ 1998; 32: 332-6.

23.

Ozcakar N, Mevsim V, Guldal D, et al. Is the use of videotape recording superior to verbal feedback alone in the teaching of clinical skills? BMC Public Health 2009. https://doi.org/10.1186/1471-2458-9-474.

24.

Kirkpatrick D. Revisiting Kirkpatrick's four-level-model. Train Dev 1996; 1: 54-7.

25.

Nesbitt C, Phillips AW, Searle R, Stansby G. Student views on the use of 2 styles of video-enhanced feedback compared to standard lecture feedback during clinical skills training. J Surg Educ 2015; 72: 969-73.

26.

Birnbach DJ, Santos AC, Bourlier RA, et al. The effectiveness of video technology as an adjunct to teach and evaluate epidural anesthesia performance skills. Anesthesiology 2002; 96: 5-9.

27.

Kardash K, Tessler MJ. Videotape feedback in teaching laryngoscopy. Can J Anaesth 1997; 44: 54-8.

28.

Backstein D, Agnidis Z, Sadhu R, MacRae H. Effectiveness of repeated video feedback in the acquisition of a surgical technical skill. Can J Surg 2005; 48: 195-200.

29.

Backstein D, Agnidis Z, Regehr G, Reznick R. The effectiveness of video feedback in the acquisition of orthopedic technical skills. Am J Surg 2004; 187: 427-32.

30.

Farquharson AL, Cresswell AC, Beard JD, Chan P. Randomized trial of the effect of video feedback on the acquisition of surgical skills. Br J Surg 2013; 100: 1448-53.

31.

Nesbitt CI, Phillips AW, Searle RF, Stansby G. Randomized trial to assess the effect of supervised and unsupervised video feedback on teaching practical skills. J Surg Educ 2015; 72: 697-703.

32.

Sheffield FD. Theoretical considerations in the learning of complex sequential tasks from demonstration and practice. In: Lumsdaine AA (Ed.). Student Response in Programmed Instruction. Washington, DC: National Academy of Sciences—National Research Council; 1961: 13-32.

33.

Cross ES, Kraemer DJ, de C Hamilton AF, Kelley WM, Grafton ST. Sensitivity of the action observation network to physical and observational learning. Cereb Cortex 2009; 19: 315-26.

34.

Wulf G, Shea C, Lewthwaite R. Motor skill learning and performance: a review of influential factors. Med Educ 2010; 44: 75-84.

35.

Zetou E, Tzetzis G, Vernadakis N, Kioumourtzoglou E. Modeling in learning two volleyball skills. Percept Mot Skills 2002; 94(3 Pt 2): 1131-42.

36.

Ericsson KA, Krampe RT, Tesch-Römer C. The role of deliberate practice in the acquisition of expert performance. Psychol Rev 1993; 100: 363-406.

37.

Ericsson KA. Necessity is the mother of invention: video recording firsthand perspectives of critical medical procedures to make simulated training more effective. Acad Med 2014; 89: 17-20.

38.

Miller G, Gabbard C. Effects of visual aids on acquisition of selected tennis skills. Percept Mot Skills 1988; 67: 603-6.

39.

Barzouka K, Bergeles N, Hatziharistos D. Effect of simultaneous model observation and self-modeling of volleyball skill acquisition. Percept Mot Skills 2007; 104: 32-42.

40.

Boyer E, Miltenberger RG, Batsche C, Fogel V. Video modeling by experts with video feedback to enhance gymnastics skills. J Appl Behav Anal 2009; 42: 855-60.

41.

Cauraugh JH, Martin M, Martin KK. Modeling surgical expertise for motor skill acquisition. Am J Surg 1999; 177: 331-6.

42.

Simons L, Lathlean J, Squire C. Shifting the focus: sequential methods of analysis with qualitative data. Qual Health Res 2008; 18: 120-32.

43.

Halcomb EJ, Davidson PM. Is verbatim transcription of interview data always necessary? Appl Nurs Res 2006; 19: 38-42.

44.

Sainsbury JE, Telgarsky B, Parotto M, Niazi A, Wong DT, Cooper RM. The effect of verbal and video feedback on learning direct laryngoscopy among novice laryngoscopists: a randomized pilot study. Can J Anesth 2017; 64: 252-9.

45.

Lean LL, Hong RY, Ti LK. End-task versus in-task feedback to increase procedural learning retention during spinal anaesthesia training of novices. Adv Health Sci Educ Theory Pract 2017; 22: 713-21.

46.

Baker BG, Bhalla A, Doleman B, et al. Simulation fails to replicate stress in trainees performing a technical procedure in the clinical environment. Med Teach 2017; 39: 53-7.

47.

Carter SC, Chiang A, Shah G, et al. Video-based peer feedback through social networking for robotic surgery simulation: a multicenter randomized controlled trial 2015; 261: 870-5.

48.

Ericsson KA. Deliberate practice and acquisition of expert performance: a general overview. Acad Emerg Med 2008; 15: 988-94.

49.

Pusic M, Pecaric M, Boutis K. How much practice is enough? Using learning curves to assess the deliberate practice of radiograph interpretation. Acad Med 2011; 86: 731-6.

50.

Dornan T. Osler, Flexner, apprenticeship and 'the new medical education'. J R Soc Med 2005; 98: 91-5.

51.

Wynne K. Death of the physician apprentice. BMJ 2009. https://doi.org/10.1136/bmj.b2994.

52.

Thompson L, Exline M, Leung CG, et al. A clinical procedures curriculum for undergraduate medical students: the eight-year history of a third-year immersive experience. Med Educ Online 2016. https://doi.org/10.3402/meo.v21.29486.

53.

Irby DM, Wilkerson L. Teaching when time is limited. BMJ 2008; 336: 384-7.
Author contributions
Julie Yu contributed to all aspects of this manuscript, including study conception and design; acquisition, analysis, and interpretation of data; and drafting the article. Calvin Lo contributed to data acquisition and interpretation of data. Claudia Madampage contributed to the drafting of the manuscript. Jagmeet Bajwa contributed to the analysis of data. Jennifer O'Brien contributed to study conception and design, as well as analysis and interpretation of data. Paul Olszynski contributed to study conception and design. Malcolm Lucy contributed to study conception and design, and acquisition and interpretation of data. All authors contributed to the critical revision of the manuscript.
Acknowledgements
The authors wish to thank the Clinical Learning Resource Centre staff, the anesthesia residents at the University of Saskatchewan, and the late Dr. Neil Cowie. Without all of their support, this project would never have been possible.
Conflicts of interest
None.
Funding statement
The authors wish to thank the Department of Anesthesia for their generous funding of the project, the Clinical Learning Resource Centre for their generous equipment contributions, as well as the in-kind equipment support received from the following: ICU Medical, B.D. Posi Flush, Rit Med, 3-M, Hospira.
Ethical approval
Ethical approval for studies on human subjects was granted by the Biomedical Research Ethics Board (Bio-REB) at the University of Saskatchewan on Jan 20 2016, Bio # 15-321.
Editorial responsibility
This submission was handled by Dr. Hilary P. Grocott, Editor-in-Chief, Canadian Journal of Anesthesia.
Additional information
Publisher's Note
Springer Nature remains neutral with regard to jurisdictional claims in published maps and institutional affiliations.
Electronic supplementary material
Below is the link to the electronic supplementary material.
Supplementary material 1 Expert video model. Video with audio narration provided to participants as an example of expert intravenous cannulation performance. Both groups viewed this video during the video review period (with headphones). Participants were permitted to pause, fast forward or rewind any component of the video during the review period. (MOV 183720 kb)
About this article
Cite this article
Yu, J., Lo, C., Madampage, C. et al. Video Modeling and Video Feedback to Reduce Time to Perform Intravenous Cannulation in Medical Students: A Randomized-Controlled Mixed-Methods Study. Can J Anesth/J Can Anesth (2020). https://doi.org/10.1007/s12630-020-01570-2
Received:

Revised:

Accepted:

Published: