Abstract
Purpose
Intravenous leiomyomatosis is a rare disorder characterized by benign smooth-muscle tumours, termed leiomyomas, which originate from uterine leiomyomas or pelvic veins. Tumours may extend into the right-sided heart chambers, termed intracardiac leiomyomatosis (ICLM), and may be potentially life-threatening due to mechanical interference with cardiac structures or pulmonary arteries. While surgical excision is the optimal therapy, incomplete retrieval of a tumour or fatal retroperitoneal hemorrhage may occur. We present a case where intraoperative transesophageal ultrasound (TEU) guided complete removal of an intracardiac leiomyoma in a single-stage surgery solely through the right atrium without vein injury.
Clinical features
A 46-yr-old female patient presented with a two-week history of exertional dyspnea, palpitations, and syncope. Preoperative imaging modalities revealed a continuous solid mass extending from the inferior vena cava (IVC) into the right atrium, and the patient subsequently underwent open heart surgery for tumour removal and definitive diagnosis. A systematic intraoperative TEU examination performed before resection showed that the serpentine tumour was free from any attachment to the IVC and the heart. Furthermore, the diameter of the intracardiac end of the tumour was wider than that of the IVC. Given these findings, the surgeons carefully drew the cord-like tumour out of the right atrium under close TEU monitoring without vein injury. Post-extraction TEU examination showed complete removal of the tumour. Microscopic examination of the specimen confirmed the diagnosis of intravenous leiomyomatosis.
Conclusions
For cases with ICLM, intraoperative TEU plays a significant role in helping to plan the surgical approach, monitor the movement of the tumour and the IVC during the extraction, and assess the completeness of tumour resection.
Résumé
Objectif
La léiomyomatose intraveineuse est une affection rare caractérisée par des tumeurs bénignes des muscles lisses (appelées léiomyomes) qui ont pour origine des léiomyomes utérins ou des veines pelviennes. Les tumeurs peuvent s'étendre dans les cavités droites du cœur (constituant la léiomyomatose intracardiaque) et menacer la survie des patients en raison de la gêne mécanique engendrée dans les structures cardiaques ou les artères pulmonaires. Bien que le traitement optimal soit l'exérèse chirurgicale, une exérèse incomplète de la tumeur ou une hémorragie rétropéritonéale fatale peuvent survenir. Nous présentons un cas dans lequel une échographie transœsophagienne (ETO) peropératoire a guidé l'extraction complète en un seul temps chirurgical d'un léiomyome intracardiaque, uniquement par voie auriculaire droite, sans lésion veineuse.
Caractéristiques cliniques
Une femme âgée de 46 ans a présenté pendant deux semaines une dyspnée d'effort, des palpitations et une syncope. Les modalités d'imagerie préopératoire ont révélé une masse pleine continue s'étendant de la veine cave inférieure (VCI) jusque dans l'oreillette droite et la patiente a subi en conséquence une intervention chirurgicale à cœur ouvert pour l'ablation de la tumeur et un diagnostic définitif. Un examen peropératoire systématique par ETO réalisé avant la résection a montré que la tumeur allongée et flottante était dépourvue de tout lien à la VCI et au cœur. De plus, le diamètre de son extrémité intracardiaque était supérieur à celui de la VCI. Compte tenu de ces constatations, le chirurgien a précautionneusement tiré sur la tumeur semblable à une corde hors de l'oreillette droite sous monitorage ETO continu sans léser la veine. L'examen par ETO post extraction a confirmé l'ablation complète de la tumeur. L'examen microscopique de l'échantillon a confirmé le diagnostic de léiomyomatose intraveineuse.
Conclusions
Dans les cas de léimyomatose intracardiaque, l'ETO peropératoire apporte une contribution significative à la planification de l'abord chirurgical, à la surveillance des mouvements de la tumeur et de la VCI au cours de l'extraction, et permet de s'assurer que la tumeur a été complètement réséquée.
This is a preview of subscription content, log in to check access.
Access options
Buy single article
Instant unlimited access to the full article PDF.
US$ 39.95
Price includes VAT for USA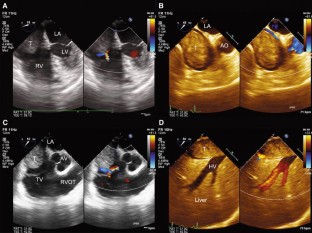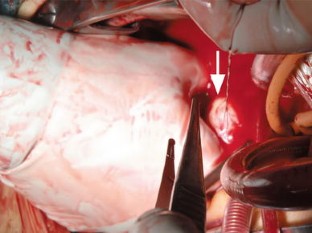 References
1.

Worley MJ Jr, Aelion A, Caputo TA, et al. Intravenous leiomyomatosis with intracardiac extension: a single-institution experience. Am J Obstet Gynecol 2009; 201: 574.e1-5.

2.

Lam PM, Lo KW, Yu MY, et al. Intravenous leiomyomatosis: two cases with different routes of tumor extension. J Vasc Surg 2004; 39: 465-9.

3.

Roman DA, Mirchandani H. Intravenous leiomyoma with intracardiac extension causing sudden death. Arch Pathol Lab Med 1987; 111: 1176-8.

4.

Burke M, Opeskin K. Death due to intravenous leiomyomatosis extending to the right pulmonary artery. Pathology 2004; 36: 202-3.

5.

Esmaeilzadeh M, Tavakolli A, Safaei A. Recurrent intracardiac leiomyomatosis. Can J Cardiol 2007; 23: 1085-6.

6.

Nili M, Liban E, Levy MJ. Tricuspid stenosis due to intravenous leiomyomatosis—a call for caution: case report and review of the literature. Tex Heart Inst J 1982; 9: 231-5.

7.

Li B, Chen X, Chu YD, Li RY, Li WD, Ni YM. Intracardiac leiomyomatosis: a comprehensive analysis of 194 cases. Interact Cardiovasc Thorac Surg 2013; 17: 132-8.

8.

Kullo IJ, Oh JK, Keeney GL, Khandheria BK, Seward JB. Intracardiac leiomyomatosis: echocardiographic features. Chest 1999; 115: 587-91.

9.

Liu B, Liu C, Guan H, et al. Intravenous leiomyomatosis with inferior vena cava and heart extension. J Vasc Surg 2009; 50: 897-902.

10.

Wang J, Yang J, Huang H, et al. Management of intravenous leiomyomatosis with intracaval and intracardiac extension. Obstet Gynecol 2012; 120: 1400-6.

11.

Subramaniam B, Pawlowski J, Gross BA, Kim YB, LoGerfo FW. TEE-guided one-stage excision of intravenous leiomyomatosis with cardiac extension through an abdominal approach. J Cardiothorac Vasc Anesth 2006; 20: 94-5.

12.

Matsuo K, Fleischman F, Ghattas CS, et al. Successful extraction of cardiac-extending intravenous leiomyomatosis through gonadal vein. Fertil Steril 2012; 98(1341-5): e1.

13.

Little SJ, Van der Heusen F, Thornton KC. Complete intraoperative transesophageal echocardiogram imaging of the extent of an inferior vena cava mass guides surgical management. Anesth Analg 2010; 111: 1125-7.

14.

Wu CK, Luo JL, Yang CY, et al. Intravenous leiomyomatosis with intracardiac extension. Intern Med 2009; 48: 997-1001.

15.

Low G, Rouget AC, Crawley C. Case 188: Intravenous leiomyomatosis with intracaval and intracardiac involvement. Radiology 2012; 265: 971-5.
Acknowledgments
The authors declare that there was no assistance with the manuscript, no financial support, and no conflicts of interest.
Additional information
Author contributions
Hao-Rui Sun, Hai-Bo Song, Ke Lin, and Jin Liu contributed to the conception and design of this manuscript. Hao-Rui Sun and Yan-Zi Zhang participated in data acquisition. All authors made significant contributions to manuscript preparation and final editing.
Electronic supplementary material
Below is the link to the electronic supplementary material.
Video 1 Transesophageal ultrasound examination showing a serpentine solid tumour in the long-axis view that extends up the inferior vena cava into the right atrium and is free from any attachment to the lumen and without invasion into the hepatic veins. (MPG 3088 kb)
Video 2 Live visualization of tumour movement in the inferior vena cava with transesophageal echocardiography during surgical extraction. (MPG 1958 kb)
Video 3 Post-extraction transesophageal ultrasound examination of the inferior vena cava and the right atrium showing complete removal of the tumour. (MPG 4688 kb)
About this article
Cite this article
Sun, H., Song, H., Zhang, Y. et al. Successful one-stage extraction of an intracardiac and intravenous leiomyoma through the right atrium under transesophageal ultrasound monitoring. Can J Anesth/J Can Anesth 61, 446–451 (2014). https://doi.org/10.1007/s12630-014-0130-0
Received:

Accepted:

Published:

Issue Date:
Keywords
Inferior Vena Cava

Right Ventricle

Sufentanil

Right Atrium

Uterine Leiomyomas