Access to Affordable Breast Cancer Care in Eastern Europe
Global Breast Cancer (BO Anderson and C Duggan, Section Editors)
Part of the following topical collections:
Abstract
Purpose of Review
The majority of Central and Eastern European (CEE) countries report inferior breast cancer survival rates compared with Western European countries. We review limitations in access to screening programs, surgery, radiotherapy, pathology, palliative care, and antineoplastic medicines as potential explanations for these disparities.
Recent Findings
Most CEE countries do not have the quality and quantity of radiotherapy needed to adequately service the population. Surgical services are widely accessible, but sentinel node biopsy is not universally available. There are important limitations for CEE patients in accessing high-quality pathology. Many patients living with advanced cancer are in dire need of palliation services. Important inequalities exist in availability and patient costs, especially for newer, more expensive drugs, across Europe, while drug shortages affect several "essential," old, and inexpensive drugs.
Summary
Improvements in radiotherapy, surgery, and pathology and access to medicines are needed, together with the provision of trained health care professionals.
Keywords
Breast cancer 
Eastern Europe 
Limited resources 
Background
Central and Eastern European (CEE) countries represent the group of countries comprising Albania, Bulgaria, Croatia, the Czech Republic, former Yugoslavian countries, Hungary, Moldova, Poland, Romania, the Slovak Republic, and the three Baltic states: Estonia, Latvia, and Lithuania (Fig.
1
).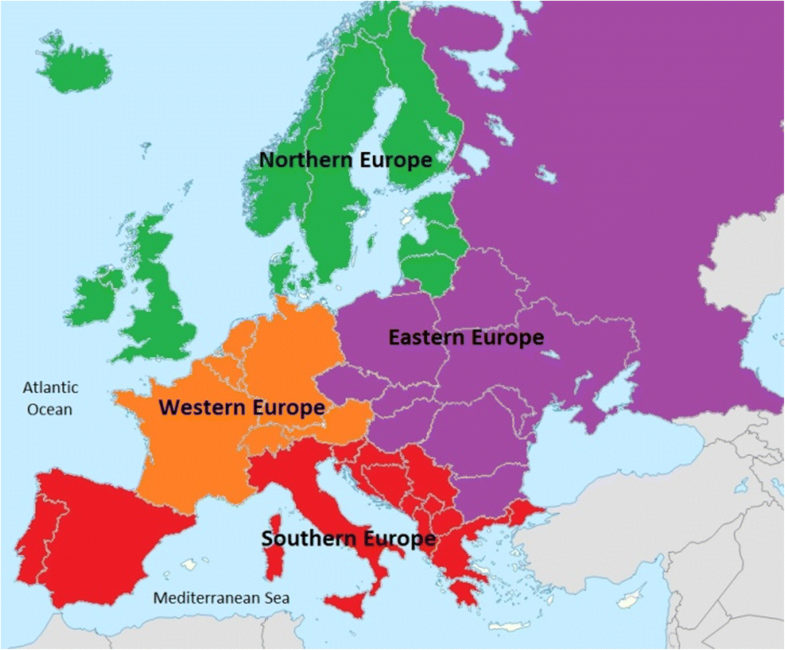 Due to their similar economic background in the post-communist system, these countries are usually analyzed together as they share common characteristics.
Disparities in cancer outcomes can be evaluated using key metrics such as cancer survival, which also reflects the effectiveness of health care systems. According to EUROCARE-5, cancer survival has improved across Europe, starting in 2000, due to access to enhanced diagnosis and treatment. However, important differences in breast cancer outcomes are still evident comparing CEE with the rest of the European Union (EU) [1]. With the exception of the Czech Republic, which has a 5-year survival rate of 78.0% (CI 77.3–78.7), the rest of CEE countries have a 5-year survival rate of 10–15% lower than the European mean (81.8%, 95% CI 81.6–82.0) [1].
According to the World Bank, the Czech Republic, Estonia, Hungary, Latvia, Lithuania, Poland, Slovenia, and Slovak Republic are high income countries (HIC). The rest of the countries in CCE region (Albania, Bulgaria, Serbia, Romania) are low- and middle-income countries (LMICs).
In the majority of CEE countries, increases in incidence for breast cancer were among the highest observed in the EU as a whole, while mortality decreased only modestly [2]. The causes of these disparities are undoubtedly multifactorial, including general population health and lifestyle, late stage at diagnosis, health system and cancer care infrastructure, lack of access to specific equipment such as radiotherapy and to trained oncology specialists, and last but not least, patient access and availability to cancer medication.
Other contributing factors include the absence of national cancer plans, late or incomplete implementation of screening programs, decentralization of cancer care, and poor access to standard care [3]. Certain issues are explained by the historical and geopolitical situation of the former "Eastern/Soviet Bloc" that led to geopolitical isolation for 5 decades, until the early 1990s when the Soviet-influenced governance fell apart in most CEE countries. Ten CEE countries are currently integrated into the 28-state EU economic and political systems (EU-28), including the EU health care system [3]. This has led to improvement and access for private health care in the context of social health insurance systems funded through employment-related premiums [3].
In 2015, the EU-28 mean on health spending per capita was 2781€/per person; the lowest rates were observed in Romania (816€), Latvia (1030€), Bulgaria (1108€), or Serbia (1049€) [4]. The majority of health spending across Eastern Europe is publicly financed on average costs and direct out-of-pocket payments account for approximately 15%, but direct out-of-pocket costs can represent a much greater share in some countries: Bulgaria (46%), Hungary (28%), Latvia (39%), Serbia (37%), or even half of it in Albania [4]. Furthermore, there is a substantial disparity when comparing health care costs for cancer per person versus health expenditure per capita in EU, the costs for cancer per person remain low in CEE countries, and the European mean percentage is represented only by 3%, ranging from 1.44% in Bulgaria, 2.57% in Romania, 3% in Czech Republic, and 3.63% in Slovenia.
Nevertheless, significantly limited health care resources that are present in certain environments pose unique challenges for the clinicians working in this area. Certain aspects of breast cancer management are unavailable, e.g., immunohistochemistry, which hence prohibits the use of standard guidelines. In this context, data presented in OECD Health Statistics 2016 have shown that since 2009, several countries including Hungary and Montenegro reduced the percentage of Gross Domestic Product (GDP) allocated to health care [4]. Unfortunately, in line with the EU directives, health care and its management represents a national responsibility. Guidelines and indicators are recommended, but are not mandatory, and the final decisions, approval, and implementation are at the discretion of each country's national administration.
Because of lack of resources, clinicians are thus forced sometimes to make decisions against their best medical knowledge. For example, if targeted therapies such as trastuzumab are not available, oncologists are forced to provide suboptimal treatment. Confined by a limited budget, the clinician is obliged to become a manager of scarce resources. Nowadays, with the current trend of meaningful advances that come at a high cost, even traditionally "wealthy" systems struggle to cover the cost of cancer care, which is becoming unaffordable even in high-income countries using the current models of care delivery and financing [5].
Systems Data Regarding Comprehensive Breast Cancer Care
A substantial difficulty in assessing access to quality breast surgery and loco-regional and systematic care in the CEE is the paucity of prospectively collected health system and long-term cancer outcome data. In many CEE countries, registry data are often very limited, health information systems and reporting are weak, and long-term follow-up of patients in clinical and research context is suboptimal [6].
European cancer indicators are in the process of being developed. Professional societies like the European Society of Breast Cancer Specialists (EUSOMA) play an important role in developing quality indicators in breast cancer [7] and these recommendations are being followed on a voluntary basis in CEE. The quality indicators are also used by breast centers in order to qualify for a standardized audit and quality control in order to become certified as quality breast units. In 2006, the European Parliament adopted a resolution supported by EUSOMA and Europa Donna meant to ensure a nationwide provision of specialist breast units by 2016, since treatment in a specialist breast unit has been proven to raise chances of survival and to improve quality of life (European Parliament resolution on breast cancer in the enlarged European Union (RE/636089EN.doc) B6-0528/2006). As a consequence, the European Commission Initiative on Breast Cancer (ECIBC) is currently developing a European Quality Assurance Scheme for Breast Cancer Services, to establish common quality and safety requirements for breast cancer services throughout the EU that will constitute the basis for a voluntary accreditation scheme for breast units in the EU.
Conclusions and Way Forward
There are important limitations across CEE in the availability and access to the multiple services required for the qualitative management of breast cancer patients, which lead to worse clinical outcomes in the region. There are many areas that need improvement. The overarching issue of chronic underfinancing by national health authorities of cancer expenditure is difficult to tackle; raising awareness among decision makers of the consequences of not investing in cancer care with the involvement of the civil society is critical to position cancer on the national agenda. Population education is dearly needed to decrease late presentation and uptake of the screening programs, where available. Awareness of both surgeons and patients on the benefits of minimizing surgery through breast conservation and sentinel node biopsy, together with investments for the needed equipment are keys to improve long-term quality of life of breast cancer patients. Increase of radiotherapy capacity is urgently needed in several CEE countries; the burden of the initial big financial investment is the main barrier. Access to essential, inexpensive medicines should be a health priority; adoption of preventive strategies to inform and take action to prevent medicine shortages is key to ensure continuity of quality care. Reimbursement of newer, more expensive medicines should be prioritized on the basis of the magnitude of benefit provided by the intervention. The current situation, where new therapies providing marginal benefit in highly selected patients are approved at high price, is neither desirable nor sustainable. Consideration of "clinical benefit" and "value" that includes quality and consistency of evidence for effectiveness, toxicity, and cost is welcome. Pressure should be put on registration agencies (FDA, EMA) to use a criterion of value for approval, rather than statistical significance of an outcome measure. We, as oncologists, should stop saying it is not our problem and act using these evidences to improve the outcome of our patients.
Notes
Compliance with Ethical Standards
Conflict of Interest
The authors declare that they have no competing interests.
Human and Animal Rights and Informed Consent
This article does not contain any studies with human or animal subjects performed by any of the authors.
References
Papers of particular interest, published recently, have been highlighted as: • Of importance •• Of major importance
1.

De Angelis R, Sant M, Coleman MP, Francisci S, Baili P, Pierannunzio D, Trama A, Visser O, Brenner H, et al. Cancer survival in Europe 1999–2007 by country and age: EUROCARE-5 2014;15(1):23–34. Doi: 10.1016/S1470-2045(13)70546-1.

Google Scholar

2.

3.

4.

5.

6.

7.

Biganzoli, et al. Quality indicators in breast cancer care: An update from the EUSOMA working group. Eur J Cancer. 2017;86:59–81.

CrossRef

PubMed

Google Scholar

8.

9.

10.

European commission. Cancer screening in the European Union report on the implementation of the council recommendation on cancer screening. Reprint May 2017.

Google Scholar

11.

12.

13.

Josip Banovich. Breast specialized surgeon from KBC split, Krizine, Croatia. Personal communication.

Google Scholar

14.

15.

16.

17.

18.

Dare AJ, Anderson BO, Sullivan R, Pramesh CS, Yip CH, Ilbawi A, et al. Surgical services for cancer care. In: Gelband H, Jha P, Sankaranarayanan R, Horton S, editors. Cancer volume, disease control priorities in developing countries. 3rd ed. Washington, DC: World Bank; 2015.

http://dcp-3.org/chapter/1536/surgical-services-cancer-care

.

Google Scholar

19.

20.

Delaney G, Jacob S, Featherstone C, Barton M. The role of radiotherapy in cancer treatment: estimating optimal utilization from a review of evidence-based clinical guidelines. Cancer. 2005;104:1129–37.

CrossRef

PubMed

Google Scholar

21.

22.

23.

24.

25.

26.

Shyyan R, Masood S, Badwe RA, Errico KM, Liberman L, Ozmen V, et al. Breast cancer in limited-resource countries: diagnosis and pathology. Breast J. 2006;12(suppl 1):S27–37.

CrossRef

PubMed

Google Scholar

27.

28.

29.

30.

31.

Mosoiu D, Eniu A. Barriers towards establishing palliative care in Eastern Europe and prospects for improvement in the future: Romania as an example. In: Silberman M, editors. Palliative Care: Perspectives, Practices and Impact on Quality of Life, Nova Science Publishers, 2017, ISBN: 978-1-53612-084-4).

Google Scholar

32.

T. Brodowicz, I. Steiner, S. Beslija, T. E. Ciuleanu, M. Inbar, M. Krzakowski, Z. Kahan, V. et al, Time inclusion between final protocol approval and inclusion of the first patient into randomized clinical trials performed by the Central European Cooperative Oncology Group (CECOG): a 10 years experience, Journal of Clinical Oncology200927:15S, 6546–654621.1 Ramya Ramaswami, Eduardo Paulino, Adriana Barrichello, Angelica Nogueira-Rodrigues, Alexandra Bukowski, Jessica St. Louis, Paul E. Goss, Disparities in Breast, Lung, and Cervical Cancer Trials Worldwide, Journal of Global Oncology, no. 4 (May 2018) 1–11.

 

https://doi.org/10.1200/JGO.17.00226.

33.

34.

Ramaswami R, Paulino E, Barrichello A, Nogueira-Rodrigues A, Bukowski A, Louis JSt., Goss PE, Disparities in breast, lung, and cervical cancer trials worldwide. J Glob Oncol. 4:1–11.

 

https://doi.org/10.1200/JGO.17.00226

.

35.

36.

37.

38.

Cancer medicines shortages in Europe, Policy recommendations to prevent and manage shortages. Economist Intelligence Unit (EIU) Healthcare study. available at http://www.eiu.com/graphics/marketing/pdf/ESMO-Cancer-medicines-shortages.pdf (accessed 27 Apr 2018).

Google Scholar

39.

40.

41.

42.

Anderson BO, Duggan C. Resource-stratified guidelines for cancer management: correction and commentary. J Glob Oncol. 2017;3:84–8.

CrossRef

PubMed

Google Scholar

43.

World Health Organization: The seventieth world health assembly. Cancer prevention and control in the context of an integrated approach, in The seventieth world health assembly (ed): A70/a/CONF./9. Geneva, 2017.

Google Scholar

44.

Carlson RW, Scavone J, Koh W-J, et al: NCCN framework for resource stratification: a framework for providing and improving global quality oncology care. J Natl Compr Cancer Netw:in press, 2016.

Google Scholar

45.

46.

Vivot A, Jacot J, Zeitoun J-D, Ravaud P, Crequit P, Porcher R. Clinical benefit, price and approval characteristics of FDA-approved new drugs for treating advanced solid cancer, 2000–2015. Ann Oncol.

 

https://doi.org/10.1093/annonc/mdx053

.

47.

Eniu A, Carlson RW, El Saghir NS, Bines J, Bese NS, Vorobiof D, et al. Breast health global initiative treatment panel. Guideline implementation for breast healthcare in low- and middle-income countries: treatment resource allocation. Cancer. 2008;113(8 Suppl):2269–81.

 

https://doi.org/10.1002/cncr.23843.

CrossRef

PubMed

Google Scholar

48.

49.
Copyright information
© Springer Science+Business Media, LLC, part of Springer Nature 2018