Catalytic activity of Cu–SSZ-13 prepared with different methods for NH3-SCR reaction
Abstract
A series of Cu–SSZ-13 catalysts with the same Cu loading were prepared by different methods of incipient wetness impregnation [Cu–SSZ-13 (IWI)], ion exchange [Cu–SSZ-13 (IE)] and hydro-thermal synthesis [Cu–SSZ-13 (HTS)]. Their activity for selective catalytic reduction of nitrogen oxides (NOx) with NH3 was determined. The results show that the Cu–SSZ-13(HTS) catalyst exhibits a better ammonia selective catalytic reduction (NH3-SCR) activity compared with the other two catalysts, over which more than 90% NO conversion is obtained at 215–600 °C under the space velocity of 180,000 h−1. The characterization results reveal that the Cu–SSZ-13(HTS) catalyst possesses more amount of stable Cu2+ in the six-membered ring and high ability for NH3 and NO adsorption, leading to its high NH3-SCR activity, although this catalyst has low surface area. On the other hand, the activity of Cu–SSZ-13(IE) catalyst is almost the same as that of Cu–SSZ-13 (IWI) catalyst at the temperature lower than 400 °C, but the activity of the former is much higher than that of the latter at > 400 °C due to the high activity of Cu–SSZ-13(IWI) catalyst for NH3 oxidation.
Graphical abstract
Three kinds of Cu–SSZ-13 with the same amount of Cu loading were prepared by different methods. The catalyst prepared by hydrothermal synthesis displayed the better NH
3
-SCR activity due to more isolated Cu
2+
in six-membered ring of the CHA structure.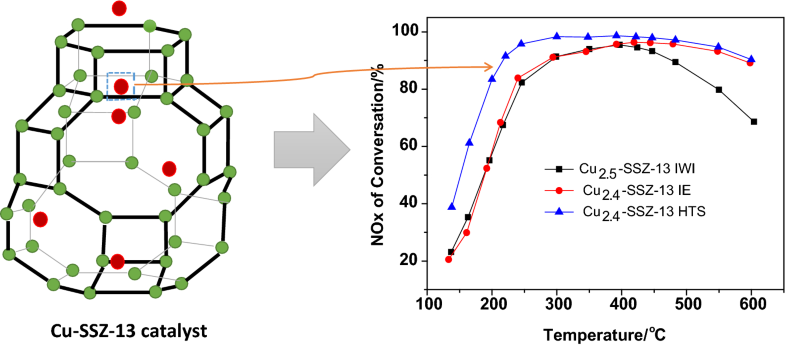 Keywords
SSZ-13 zeolite 
Selective catalytic reduction 
Nitrogen oxides 
Preparation method 
Cu2+ 
Notes
Acknowledgements
This work was financially supported by the National Key Research and Development Program of China (No. 2016YFC0204300), the National Natural Science Foundation of China (Nos. 21577034 and 21333003) and the Science and Technology Commission of Shanghai Municipality (No. 16ZR1407900).
Copyright information
© The Nonferrous Metals Society of China and Springer-Verlag GmbH Germany, part of Springer Nature 2018