Abstract
Focus assessed transthoracic echocardiography and focused cardiac ultrasound are point-of-care echo protocols for the evaluation of cardiac disease in the emergency room; however, these protocols may not adequately assess aortic dissection, pulmonary embolism, and acute coronary syndrome in patients with killer chest pain. Here, I present an echocardiography protocol focused on screening for these critical cardiovascular diseases. This protocol (termed EASY screening) consists of the assessment of effusion in the pericardial space, aortic abnormalities, the size and shape of the ventricles and asynergy of the left ventricle. Aortic dissection is suggested by positive findings for effusion and/or abnormal aortic findings. Pulmonary embolism is suggested by a dilated right ventricle and a D-shaped left ventricle in the short-axis view. Acute coronary syndrome is suggested by asynergy of left ventricular wall motion. EASY screening may facilitate the assessment of aortic dissection, pulmonary embolism and acute coronary syndrome in patients presenting to the emergency room with killer chest pain.
This is a preview of subscription content, log in to check access.
Access options
Buy single article
Instant unlimited access to the full article PDF.
US$ 39.95
Price includes VAT for USA
Subscribe to journal
Immediate online access to all issues from 2019. Subscription will auto renew annually.
US$ 99
This is the net price. Taxes to be calculated in checkout.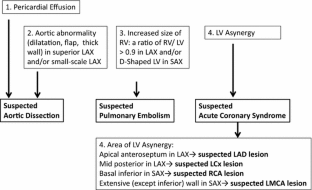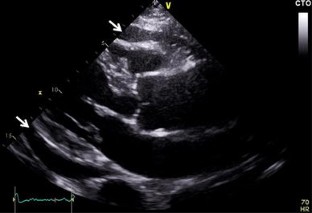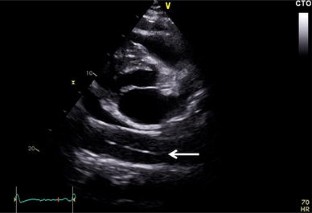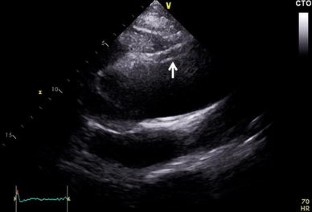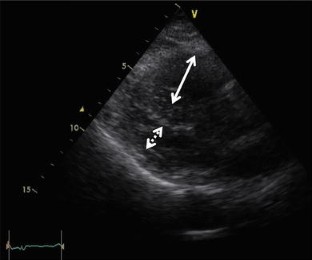 References
1.

Jensen MB, Sloth E, Larsen KM, et al. Transthoracic echocardiography for cardiopulmonary monitoring in intensive care. Eur J Anaesthsiol. 2004;21:700–7.

2.

Breitkreutz R, Walcher F, Seeger FH. Focused echocardiographic evaluation in resuscitation management: concept of an advanced life support-conformed algorithm. Crit Care Med. 2007;35:S150–61.

3.

Via G, Hussain A, Wells M, et al. International evidence-based recommendations focused cardiac ultrasound. J Am Soc Echocardiogra. 2014;27(7):683.e1–33.

4.

Gilon D, Mehta RH, Oh JK, et al. International Registry of Acute Aortic Dissection Group. Characteristics and in-hospital outcomes of patients with cardiac tamponade complicating type A acute aortic dissection. Am J Cardiol. 2009;103(7):1029–31.

5.

Nishigami K. Simultaneous examination of the aorta in echocardiography of patients with coronary artery disease. J Echocardiogr. 2010;8:150–1.

6.

Frémont B, Pacouret G, Jacobi D, et al. Prognostic value of echocardiographic right/left ventricular end-diastolic diameter ratio in patients with acute pulmonary embolism: results from a monocenter registry of 1,416 patients. Chest. 2008;133(2):358–62.

7.

Pope JH, Aufderheide TP, Ruthazer R, et al. Missed diagnoses of acute cardiac ischemia in the emergency department. N Engl J Med. 2000;342(16):1163–70.
Ethics declarations
Conflict of interest
Kazuhiro Nishigami has received honoraria of $1,000 or less as a lecture fee from Astellas Pharma Inc., AstraZeneca K.K., Bayer Yakuhin Ltd., Boehringer Ingelheim Japan Inc., Kowa Pharmaceutical Co., Ltd., MSD K.K., Shionogi & Co., Ltd., Novartis Pharma K.K., Tanabemitsubishi Pharmaceutical Co., Ltd. and Takeda Pharmaceutical Co., Ltd.
About this article
Cite this article
Nishigami, K. Point-of-care echocardiography for aortic dissection, pulmonary embolism and acute coronary syndrome in patients with killer chest pain: EASY screening focused on the assessment of effusion, aorta, ventricular size and shape and ventricular asynergy. J Echocardiogr 13, 141–144 (2015). https://doi.org/10.1007/s12574-015-0265-1
Received:

Revised:

Accepted:

Published:

Issue Date:
Keywords
Point-of-care echocardiography

Chest pain

Aortic dissection

Pulmonary embolism

Acute coronary syndrome