Abstract
A 69-year-old female with polymyositis was referred to our hospital with a chief complaint of dyspnea. Transthoracic echocardiography showed right ventricular overloading. In addition to two-dimensional echocardiography, observation of the abnormal free-floating string-like mass by three-dimensional echocardiography provided superior visualization of the features of the mass which protruded into the right ventricle across the tricuspid valve during diastole. These findings enabled us to confirm the diagnosis of venous thrombus. The thrombus disappeared during the echocardiographic examination. Multidetector-row computed tomography showed a string-like thrombus across the bifurcation of the main pulmonary artery. Anticoagulation therapy was initiated with heparin and warfarin, and fondaparinux was started on the fourth day. Three-dimensional echocardiography was useful in characterizing the motion and extent of the thrombus.
This is a preview of subscription content, log in to check access.
Access options
Buy single article
Instant unlimited access to the full article PDF.
US$ 39.95
Price includes VAT for USA
Subscribe to journal
Immediate online access to all issues from 2019. Subscription will auto renew annually.
US$ 99
This is the net price. Taxes to be calculated in checkout.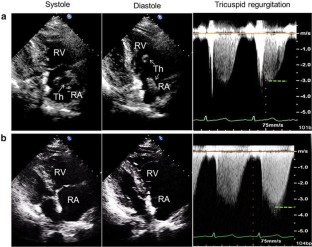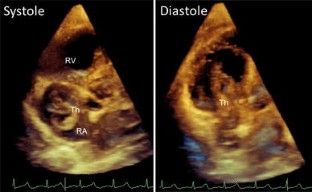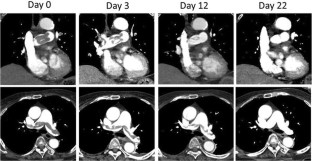 References
1.

Chartier L, Bera J, Delomez M, et al. Free-floating thrombi in the right heart: diagnosis, management, and prognostic indexes in 38 consecutive patients. Circulation. 1999;99:2779–83.

2.

Casazza F, Bongarzoni A, Centonze F, et al. Prevalence and prognostic significance of right-sided cardiac mobile thrombi in acute massive pulmonary embolism. Am J Cardiol. 1997;79:1433–5.

3.

Goldhaber SZ, Visani L, De Rosa M. Acute pulmonary embolism: clinical outcomes in the International Cooperative Pulmonary Embolism Registry (ICOPER). Lancet. 1999;353:1386–9.

4.

Pelaez JB, de Miguel EM, Moreno RS, et al. Right-atrial floating thrombus attached to the interatrial septum with massive pulmonary embolism diagnosed by echocardiography. Int J Cardiol. 2008;131:125–7.

5.

Torbicki A, Galie N, Covezzoli A, et al. Right heart thrombi in pulmonary embolism: results from the International Cooperative Pulmonary Embolism Registry. J Am Coll Cardiol. 2003;41:2245–51.

6.

Buller HR, Davidson BL, Decousus H, et al. Subcutaneous fondaparinux versus intravenous unfractionated heparin in the initial treatment of pulmonary embolism. N Eng J Med. 2003;349:1695–702.

7.

Hisatomi K, Yamada T, Onohara D. Surgical embolectomy of a floating right heart thrombus and acute massive pulmonary embolism: report of a case. Ann Thorac Cardiovasc Surg. 2013;19:316–9.

8.

Anwar AM, Nosir YF, Ajam A, et al. Central role of real-time three-dimensional echocardiography in the assessment of intracardiac thrombi. Int J Cardiovasc Imaging. 2010;26:519–26.

9.

Wertman BM, Goland S, Davidson RM, et al. Right atrial and ventricular masses of unknown origin. J Am Soc Echocardiogr. 2008;776:5–7.
Ethics declarations
Conflict of interest
Mika Bando, Hirotsugu Yamada, Kenya Kusunose, Shuji Hayashi, Yuriko Takagawa, Yoshihito Saijo, Susumu Nishio, Kozue Ogasawara, and Masataka Sata declare that they have no conflict of interest.
Human rights statements and informed consent
All procedures followed were in accordance with the ethical standards of the responsible committee on human experimentation (institutional and national) and with the Helsinki Declaration of 1964 and later revisions. Informed consent was obtained from the patient for being included in the study.
Electronic supplementary material
Below is the link to the electronic supplementary material.
Supplementary material 1 (WMV 5895 kb)
Supplementary material 2 (WMV 4504 kb)
About this article
Cite this article
Bando, M., Yamada, H., Kusunose, K. et al. Pulmonary embolism due to right atrial free-floating thrombus during echocardiographic examination: a case of a pulmonary saddle thrombus . J Echocardiogr 13, 145–147 (2015). https://doi.org/10.1007/s12574-015-0263-3
Received:

Revised:

Accepted:

Published:

Issue Date:
Keywords
Right atrial thrombus

Pulmonary embolism

Anticoagulation

Echocardiography