Abstract
Primary tumors of the heart are rare and are usually benign. Disseminated malignancies and lymphomas rarely involve the heart. Non-Hodgkin lymphomas (NHL) are one of the common hematological malignancies that can affect the heart usually in the form of pericardial effusion. Involvement as intracardiac masses in NHL is extremely rare and usually described in autopsy series. We report a case of NHL and massive intracardiac involvement diagnosed on echocardiographic assessment. Primary cardiac NHL is extremely rare and accounts for 1–2 % of primary cardiac tumors involving the right versus left atrium at a ratio of about 8:1 (Ceresoli et al., Cancer 80:1497–1506, 1997; Delmas-Marsalet et al., Nouv Rev Fr Hematol 37:223–230, 1995). The intracardiac secondaries in NHL are extremely rare. They are usually described in autopsy series. We report the detection of secondaries in the cardiac chambers, on interatrial septum and in atrioventricular groove, diagnosed by transthoracic echocardiography.
This is a preview of subscription content, log in to check access.
Access options
Buy single article
Instant unlimited access to the full article PDF.
US$ 39.95
Price includes VAT for USA
Subscribe to journal
Immediate online access to all issues from 2019. Subscription will auto renew annually.
US$ 99
This is the net price. Taxes to be calculated in checkout.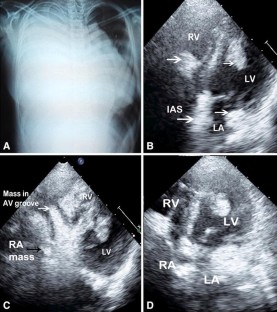 References
1.

Ceresoli GL, Ferreri AJ, Bucci E, et al. Primary cardiac lymphoma in immunocompetent patients: diagnostic and therapeutic management. Cancer. 1997;80:1497–506.

2.

Delmas-Marsalet B, Molinie V, Jary L, et al. Cardiac localization of non-Hodgkin's lymphoma: two case reports and review of the literature. Nouv Rev Fr Hematol. 1995;37:223–30.

3.

Chalabreysse L, Berger F, Loire R, et al. Primary cardiac lymphoma in immunocompetent patients: a report of three cases and review of the literature. Virchows Arch. 2002;441:456–61.

4.

Ikeda H, Nakamura S, Nishimaki H, et al. Primary lymphoma of the heart: case report and literature review. Pathol Int. 2004;54:187–95.

5.

Ochi H, HozumiT Yamamoto M, et al. Cardiac involvement of malignant lymphoma and its improvement after chemotherapy. J Echocardiogr. 2013;11:38–9.
Compliance with ethical standards
Conflict of interest
I. B. Vijayalakshmi, Somashekhara Govindappa, Chitra Narasimhan, C.N. Manjunath declare that they have no conflicts of interest.
Human rights statements and informed consent
All procedures followed were in accordance with the ethical standards of the responsible committee on human experimentation (institutional and national) and with the Helsinki Declaration of 1975, as revised in 2000(5). Informed consent was obtained from the patient for being included in the study.
Electronic supplementary material
Below is the link to the electronic supplementary material.
Video 2 Modified biventricular view showing mass in AV groove with mild pericardial effusion with masses also seen in left ventricle, right atrium, and right ventricle. (MPG 176 kb)
About this article
Cite this article
Vijayalakshmi, I.B., Govindappa, S., Narasimhan, C. et al. Multiple intracardiac tumors secondary to non-Hodgkin lymphoma. J Echocardiogr 13, 113–115 (2015) doi:10.1007/s12574-015-0253-5
Received:

Revised:

Accepted:

Published:

Issue Date:
Keywords
Mass

Secondaries

Effusion

Antemortem