This is a preview of subscription content, log in to check access.
Access options
Buy single article
Instant unlimited access to the full article PDF.
US$ 39.95
Price includes VAT for USA
Subscribe to journal
Immediate online access to all issues from 2019. Subscription will auto renew annually.
US$ 99
This is the net price. Taxes to be calculated in checkout.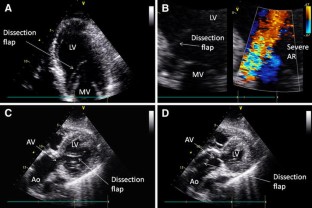 References
1.

Asouhidou I, Asteri T. Acute aortic dissection: Be aware of misdiagnosis. BMC Research Notes. 2009;2:25.

2.

Meredith EL, Masani ND. Echocardiography in the emergency assessment of acute aortic syndromes. Eur J Echocardiogr. 2009;10:i31–9.

3.

Scarabeo V, Di Marco A, Pantaleoni A, et al. Dissection of the ascending aorta mimicking an acute coronary syndrome: usefulness of transthoracic echocardiography for the differential diagnosis. Ital Heart J. 2002;3:490–4.

4.

Kotsuka Y, Ezure M, Kawauchi M, et al. Takamoto S. Swinging motion of intimal flap through the aortic valve in acute aortic dissection. J Cardiovasc Surg (Torino). 2000;41:395–7.

5.

Karapinar H, Kaya Z, Aung SM, et al. Dynamic circle image in left ventricle outflow tract. Echocardiography. 2011;28:E9–E11.

6.

Uçar O, Canbay A, Demirçelik B, et al. Acute type A aortic dissection with diastolic prolapse of intimal flap into the left ventricle. Turk Kardiyol Dern Ars. 2010;38:118–20.
Conflict of interest
The authors have no conflict of interest to declare.
Electronic supplementary material
Below is the link to the electronic supplementary material.
Supplementary material 1 (AVI 1680 kb)
About this article
Cite this article
Wynn, G.J., Somauroo, J.D. Acute aortic dissection flap prolapsing into the left ventricle on transthoracic echocardiography. J Echocardiogr 10, 154–155 (2012) doi:10.1007/s12574-012-0143-z
Received:

Revised:

Accepted:

Published:

Issue Date:
Keywords
Aortic Dissection

Aortic Root

Aortic Regurgitation

Pericardial Effusion

Acute Aortic Dissection