Correction to: Development of an efficient bioreactor system for delivering foreign proteins secreted from liver into eggs with a vitellogenin signal in medaka Oryzias latipes
In the original publication the third well of the sequence in figure 3 is incorrectly presented as "chgH-LUC-EGFP". The correct version should be read "chgH-vtg signal-EGFP".
Fig. 3
Expression analysis of
EGFP
in the ovary using RT-PCR.
a
Electrophoresis image of the PCR amplicons of
ef
-
1α
gene. In all samples, the smaller size of PCR products (374 bp) derived from the exon sequence were observed, whereas the longer size of PCR products (519 bp) derived from the exon and intron sequence were not detected.
b
Electrophoresis image of the PCR amplicons of
EGFP
gene. The PCR amplicons (298 bp) containing the
EGFP
gene were detected only from the ovary of a transgenic female which expresses EGFP in the oocytes and was used as a positive control (PC), but not from that of WT (Cab), Tg (
chg
H-
vtg signal
-
EGFP
) and Tg (
chg
H-
vtg signal
-
LUC
-
EGFP
)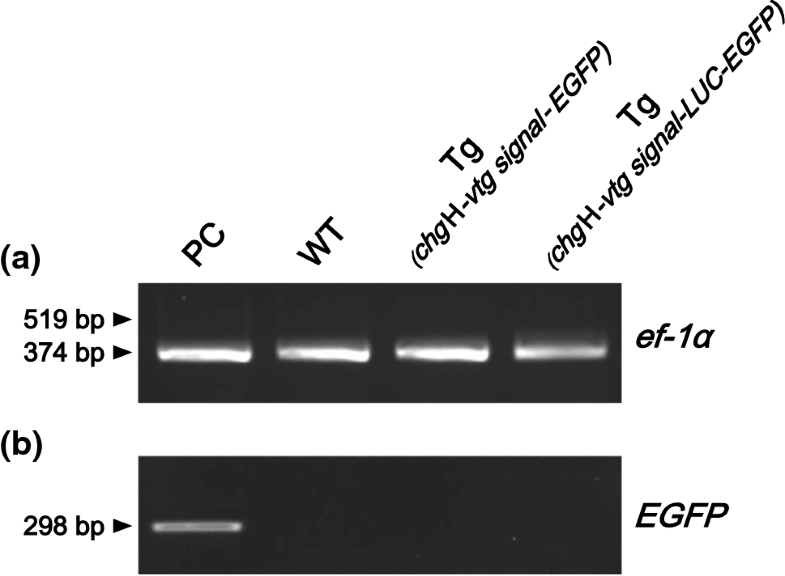 Copyright information
© Japanese Society of Fisheries Science 2019