Immigration Policies and Social Determinants of Health: Is Immigrants' Health at Risk?
Abstract
The purpose of this study was to examine the impact of immigration legislation on Latino immigrants within the social determinants of health framework to understand the impact of such legislation on the immigrant's health. While the socio-political climate in California is geared towards more pro-integration immigration policies, findings indicate that immigrants still experiences poor treatment in the form of microaggressions, horizontal discrimination, and institutional discrimination. This poor treatment may be an indication of residual anti-immigrant sentiment that remains in the state as well as a spillover effect from the anti-immigrant legislation being passed in neighboring states or national rhetoric. The findings overlap with four domains of the social determinants of health framework including economic stability, education, health and access to care, and social and community context. Implications for practice, policy and research are discussed.
Keywords
Immigration policies 
Latino families 
Institutional discriminations 
Microaggressions 
Social and community context 
Social determinants of health 
Introduction
Historically in the US during economic downturns or recessions, immigrants have been scapegoated and immigration legislation becomes more stringent (Massey et al. 2002). The state of Arizona, in particular, passed some of the most restrictive immigrant legislation including SB1070, which granted local law enforcement the authority to detain people if there was "reasonable suspicion" of unauthorized status (Immigration Policy Center 2012). States such as Alabama and Georgia passed similar policies and many other states made attempts to pass similar legislation (Immigration Policy Center 2012). Policy advocates and media coverage have focused their attention on states with more rampant anti-immigrant sentiment, yet in other states immigrants also experience subtle antagonist microaggressions affecting their daily activities and how they perceive themselves in this environment. That is, anti-immigrant sentiment is not limited to states that have passed restrictive immigration legislation. A spillover effect is evident as studies indicate that Latino immigrants experience discrimination across the United States (Almeida et al. 2016). Discrimination poses a serious public health concern, as it is associated with deleterious physical and mental health outcomes (Williams et al. 2008).
According to the social determinants of health perspective, social and economic policies are synonymous with health policy (House et al. 2008; Viruell-Fuentes et al. 2012). In their review of the literature, Viruell-Fuentes et al. (2012) found an emphasis on cultural variables to explain health among immigrants; they propose a shift towards examining structural factors, such as immigration policy. Immigration policies shape access to health care (American College of Physicians 2011), impact immigrants' social and economic well-being (Chavez 1984b), and heighten stress levels through fear of deportation and detention (Ayón and Becerra 2013). The purpose of this study was to examine Latino immigrants' perceptions on the impact of immigration policy on their families; and to understand these findings within the Social Determinants of Health (SDH) framework to identify the risk to immigrants' health. The SDH framework is the predominant model for assessing health inequity in the U.S. and supports a comprehensive assessment of the impact of immigration policy on Latino immigrants' health.
Methods
Focus groups were used to gather information on parents' perceptions of the consequences of immigration policy on their families. This method of data collection is appropriate when working with minority groups and low-income families, because it creates a safe group environment where participants do not see their experiences as isolated events (Linhorst 2002). Following human subjects' approval, six focus groups were established to explore the impact of immigration policies and immigrant sentiment on their families. Study participants were recruited in a predominantly Latino school district in Southern California. The first author informed the potential participants about the research project including the purpose, confidentiality, possible risks and benefits as well as eligibility criteria (born outside the U.S.). The focus groups took place in the morning after parents dropped off their children at school and during the lunch hour. All the groups took place within school grounds.
The groups followed a flexible interview schedule including questions regarding immigration policies in California as well as in other states, how these policies affected their family and children and how these policies have change overtime. Also, participants were asked how they cope with the laws and enforcement practices. The focus groups duration ranged from one hour to one hour and a half. All of the groups were completed in Spanish, focus group sessions were fully transcribed, and analysis was completed in Spanish. Excerpts from the interviews were translated for this paper by the authors.
Participants
Six focus groups were completed in Spanish with a total of 108 participants. Participants were all Latino, with nine of them born in the US. Most of the participants were women (90%) with an average of 3 children. Majority of the participants (75%) had lived in the US for more than 10 years and 21% had lived in this country for more than 21 years (M = 14 years). More than half of participants (71%) had less than 9 years of education. Some had a high school degree or a GED (15%) and several had some college or were college graduates (13%). More than half (68%) indicated Spanish was their primary language.
Analysis
A combined deductive/inductive approach was used to code the focus group data. First, inductive analysis was performed following constructivist grounded theory methods. A constant comparative approach was used within and between transcripts as well as open and focused coding to categorize data and identify common themes (Charmaz 2006). Both authors completed initial coding; this process involved labeling the data and grounding the labels in participants' responses. The second author completed focused coding where the most significant codes from the initial coding were applied to the remaining data. Analytical decisions were made about categorizing the data in inclusive and comprehensive themes. Next, informed by the social determinants of health framework, we deductively coded identified themes as economic stability, education, social and community context, health and health care, neighborhood and build environment (i.e., key social determinant of health areas). We found participants' responses on the impact of immigration policies on their lives overlapped with three key areas of the social determinants of health identified by HealthyPeople.gov.
The following steps were taken to enrich the trustworthiness of the findings. To achieve analytical triangulation, the two authors independently completed the initial phase of gathering themes to diminish researcher bias. Once the authors agreed on themes, the second author applied the coding to all data which was later reviewed by the first author. In addition, rich quotes are used to illustrate and support the credibility of the themes (Lincoln and Guba 1985; Charmaz 2006).
Findings
Figure 1 summarizes the findings of the study and illustrates the interconnection between participants' perceptions on the impact of anti-immigrant policies and the social determinants of health framework. The social political context in California is unique in that historically citizens supported anti-immigrant legislation (e.g., Prop 187) but more recently they have passed legislation that supports immigrant integration (e.g., driver's license for undocumented and Dream Act). At the same time, Arizona, a neighboring state, passed some of the most restrictive immigrant legislation in the nation, including SB1070. Participants' quotes illustrate the impact of Arizona's legislation on their families through the media and anti-immigrant sentiment they experience in their communities. While the legislative body may be passing immigrant friendly policies, anti-immigrant sentiment remains within the community context. Examples of unjust treatment include incidents of overt discrimination, microaggressions, and horizontal discrimination.
In response to the impact of anti-immigrant legislation and sentiment on families, participants' quotes fell into the following overarching themes—experiences of discrimination in their work environment, discrimination experienced by children in school, discrimination while accessing health services, discrimination in public spaces/everyday activities, discrimination when interacting with public officials, and limited social interactions as a result of anti-immigrant practices. These themes correspond with four domains of the Social Determinants of Health outlined by Healthy People 2020 including economic stability, education, health and health care access, and social and community context (see Fig. 1). Participants' experiences with discrimination place their health at risk as their economic stability is often uncertain and they often endure stressful work environment; children's educational setting is not safe or conducive to learning; and their social and community context limits their social interactions and they experience discrimination through social interactions in their everyday lives. Yet, often participants' quotes emerged out of a context of resistance. Some participants reported confronting individuals who made discriminatory comments or actions. However, participants' ability to resist or confront discrimination is often limited by the specific situation and personal experience (Fig. 2).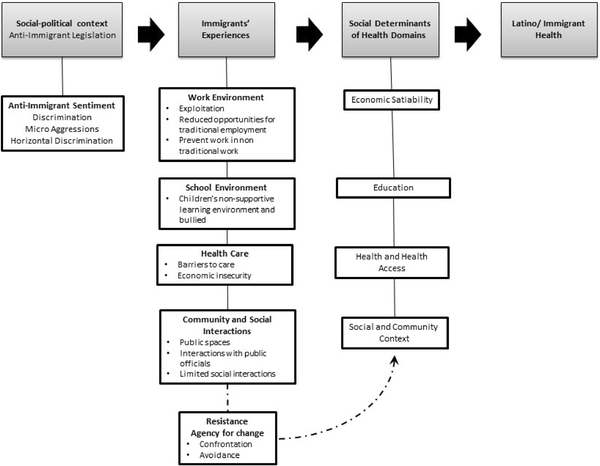 Economic Stability
The economic stability determinant of health includes factors such as poverty, employment status, access to employment, and housing stability (e.g., homelessness and foreclosure) (Healthy People 2020 2014). Participants experienced a number of discriminatory practices based on their immigrant status that impact their economic stability. In this area, participants' narratives fell into two subthemes; exploitation—unjust practices and reduced opportunities for employment (traditional and non-traditional).
Exploitation—Unjust Practices
Participants described being treated differently based on their ethnicity and documentation status. At times, they experienced unjust practices in their employment settings that placed them at risk for poverty including not having the opportunity to work full time, being forced to take time off, and differential expectations.
We are hired full time and then they tell us "Take two hours for lunch, or I need you to take some time off, and today I can only pay four hours, take four free hours" And what can we do? I would like to say "You hired me for full time and I am not working full time. I need my hours". And they start treating us differently, in my case.

And also at the job there was discrimination, simply for being Mexican…There were Americans…or "gueritos" like we call them sometimes…they get hired so easily and do nothing. They get the supervisor position…only to be giving orders. And we…we cannot…even go to the restroom because they are already calling on us [like we did something wrong].
In the following quote, the participant describes how they are treated differently because they are undocumented and how the employer applauded the passage of SB1070 in Arizona even though he employs undocumented workers. The employer's response to the passage of SB1070, speaks to the "spill over" effect such policies may have beyond the state where they were passed.
[Where I used to work]...the majority of us were… undocumented. And we are always being rushed [to do more work and to do it faster]…Then they started hiring people [that were] citizens, many born here or that had papers and with them they were not like that, [they were not rushed]. There…we saw the racism. They would arrive late from their break and nobody would tell them anything, yet to us they would tell us "If you are late, then…you will do…" And people would need to do it because… they need to work. Where my brother works, he also says that the owner is rude. [My brother] says that [the owner] insults them…And [my brother] feels impotent because he said "What do we do?" He said that when the law in Arizona was approved, the owner put a sign about Mexicans like "Good that they will be out." Yet, [the owner] is living from them, [the work of Mexicans].
Reduced Opportunities: Access to Employment
Participants' access to employment was limited particularly if they were undocumented. Participants shared experiences where they lacked opportunities for employment in traditional settings as well as examples of how they are prevented from engaging in non-traditional work. The lack of opportunities for employment hinders participants' ability to have economic stability. Not only are participants unable to work, which hinders their ability to provide for their family, but they also live with the uncertainty of when they will lose their job making for a stressful living environment.
When they go to their job, they get a letter and they tell them that they can no longer work. Because the social security number was false they cannot give us work. Where my husband is, they fired many… there were almost 200 people [employees] and now they are only like 70 people.
The following participant shares the strategies used by employers to avoid giving immigrants raises and the stress experienced by employees. She also illustrates another example of how immigrants are exploited as they are asked to train people who will replace them.
In the factories they will always pay the minimum… almost always. And many…when it is time to increase the salary they will look for anything to fire them, [including] if they do not have their papers in order [or are undocumented]. But in my case, what I experienced, every week they were firing people. I had a friend, and each week she would say, "They are going to fire me. They are going to fire me." Because it was like that, they were cleaning out all the [undocumented] people. They would bring new people but before they were fired, they would need us to train the new ones.
Many participants shared that immigrants are also being prevented from engaging in non-traditional work opportunities. Police ticket individuals who are collecting cans for recycling purposes. Individuals who sell food goods (such as corn or ice-cream bars) are stopped by police as well. Participants do not understand why individuals are not allowed to find a way to make a living. In the next two quotes, it is also evident that participants question myths about immigrants and practices that support the subjugation of immigrants.
He got a ticket for that reason, because [he was] recycling trash…he had to go to court because he recycled trash. And the [police] said that is the law… that if they find people recycling trash [they get a ticket].

One of the things that I have seen too is … the police [will take items away from street venders]…people who are selling corn. But besides taking it… they throw it away… sometimes they pour Clorox [on the food]. I have seen it. And on top of that, they get ticketed. Then I think that it's illogical because people are trying… to get ahead and not to be on welfare. They (always say) that we are on welfare.
Findings from this study illustrate how anti-immigrant policies support income inequalities for immigrant Latinos. Participants report a number of ways in which they are exploited and discriminated in the work environment. Participants endure stressful work place environments and are prevented from making a living through non-traditional work. Within the Social Determinants of Health framework, Latino immigrants' health is placed at risk as poverty is linked to a number of health problems including mental health problems (Aguilar-Gaxiola et al. 2012). In addition, foreign-born Latinos are less likely to have health insurance, which will prevent them from accessing needed care (American College of Physicians 2011).
Education
Healthy People 2020 identified school environments that are safe and conducive to learning as factors within the education social determinant of health. As participants reflected on the impact of immigration policies on their families, they often commented on the impact that such policies have on their children. Their quotes involved experiences their children have had within their learning environment.
Participants shared examples that involved physical attacks and bullying on school grounds or on the school bus by peers. Parents said "a los niños Mexicanos, a veces los agarran …hasta a golpes…aunque sean nacidos aquí." [the Mexican children, sometimes they even beat them, even when they are born here] In addition, participants shared negative experiences with teachers. These experiences ranged from parents describing that teachers were unresponsive to their needs to more harmful experiences where teachers made anti-immigrant comments in the classroom. Parents reported that teachers often frown upon children speaking in Spanish as well. Teachers' negative behaviors support the bullying and hate that Latino and immigrant children experience by peers.
And also one of the things that I have seen in several schools is that sometimes we try to go with the teachers to see what… what they can help us with. Sometimes we are pushed away they think we go to pan handle. But is not pan handling it's something for our children.

Also, children that speak Spanish in the schools, are told by some teachers not to speak Spanish. My daughter will tell me "other children at school tell me that Spanish is not good."…I told her to tell them. "Spanish is not good? Spanish is very good, English is very good and I am going to a Chinese school too."

A teacher… she was also anti-immigrant, because she was…asking the kids who had papers and who did not… They are [hurting] the children psychologically. The children were afraid. The parents were afraid. And they stop sending their children [to school]… and then the public learned about it and the [school] had to step in... Also, then the children knew [who was undocumented]. And then they started separating themselves. "Oh no you are undocumented" and they stopped being friends. This was emotionally bad for children.
As noted in the above quote, participants recognize the psychological and emotional harm anti-immigrant practices have on children. Participants sited behavioral changes they observed in children including biting nails, decreasing grades, and refusing to go to school. A participant noted that even children who are born here are discriminated and treated as second class citizen (ciudadanos de segunda). These quotes do not speak about learning environments that are safe and conducive to learning, on the contrary many Latino and immigrant children are exposed to environments that may harm their health and well-being.
Health Care Access
Participants also referenced discrimination they experience while attempting to access health care. Several participants did not have access to health insurance as they were undocumented. Discrimination was experienced through delayed access to care. Individuals believe that because they do not have insurance or Medicaid, they were treated differently. Often they were expected to wait several hours for services. A participant shared:
…many of us do not have social security number….a real one or medical insurance…I've experienced in clinics…this last time that I went it was four hours before they talked to me. Why? Because I do not have my MediCal card… Others will get there and will go in right away. Those people will go in because they had a card [Medicaid or health insurance]. They… do not call you. You have to be telling them "Excuse me I been here for a while, two hours, three hours…" It's very annoying. And at the same time it's confusing that they do not want to serve us. And it's because we do not have insurance…
Other participants shared that even with insurance they experience unjust treatment as assumptions are made about them based on their language abilities or appearance.
Who said that I didn't have insurance? Even with insurance the same happens to me. It has happened to me twice at the dentist…I got there on time so that they can serve us quickly but then they start taking the White people and African Americans first while I'm waiting. Then the second time I told my husband and he… he called to the company to … to talk to them and fix this because I could not do it. My English is not too good to raise the issue with them, you know? They all speak Spanish…the employees, doctors, and others…but with me they pretend and don't want to speak to me in Spanish.
Maintaining access to health insurance was challenging for participants. The cost of health insurance was often a barrier. Participants mentioned having to discontinue their insurance plan to provide for their families in other ways (e.g., afford food). Given their experiences, participants worried about what would happened in a crisis, would they have to go without care? "…si te preocupa entonces dices '…si llega uno a tener una enfermedad, complicad, que va pasar?' Te…preocupas…" [you worry and you think if the time comes when you get a complicated illness, what will happen? You worry…].
Social and Community Context
Participants shared a number of experiences of discrimination within their everyday lives including in public spaces and their interactions with public officials. In addition, a number of anti-immigrant practices limit their social interactions as they fear being detained and deported. These findings illustrate unsafe spaces/places Latinos and immigrants negotiate on a daily basis consistent with the social and community context domain in the social determinants of health (Healthy People 2020 2014).
Public Spaces
Participants shared a number of experiences with discrimination in public spaces such as the laundry mat, while walking or riding their bike on the street, in their apartment complex, and on the bus. Participant shared that people of other races make derogatory comments.
… discrimination that is happening from other races towards Latinos… there has been two times that I went to the laundry mat and an African American man…began to say… "O Latinos should not get a penny from us. I don't know why they come here they should stay in Mexico… Immigrants don't have the right to be in this country. They should go to their country." [This has happened] already two times. How ugly that with all these laws that are passing they are opening a wave of anti-immigrant feelings from other races toward Latinos only.
Another participant shared,
We were walking… in… Altadena… I think… from my sister's house. We were walking and I saw that a gabacho [Anglo] come and said "Why don't you go to Mexico pinches… wetbacks." And…I wanted to say something but I did not say anything.
Discrimination in public spaces was not limited to comments made by non-Latinos, participants also shared examples of horizontal discrimination or discriminatory practices by other Latinos who may be U.S. citizens or more assimilated. A participant stated,
I heard a comment from Mexicans born here, they were saying that they hate the undocumented, they hate us because we made the economy go bad. And then I heard people saying that the big stores have gone bankrupt because of Mexicans, because Mexicans only buy in the 99 cent stores… in the stores that are cheaper.
Interactions with Law Enforcement
Within their social and community context, participants also interact with law enforcement officers. As illustrated earlier, participants shared that immigrants are prevented from working by police officers when they are selling food or collecting items to recycle. In addition, participants shared experiences where the authenticity of their documents is questioned and racial profiling is used by law enforcement officers.
It happened to me with the police, they stopped me and I had my girl… she is 10 years old and the boy is 14. And the police stopped me and said "Why don't you have them in a car seat?" And I said "in the car seat?" He told me "how old are they?" I told him "Ten and fourteen?" and he tells me again "How many?" I told him "ten and fourteen" he said "your license". And I showed it to him. He tells me "Is it real?" I told him "Of course it is real" and then he tells me "Okay, you can go". But I think that [I was stopped] because of my color. What else?
Limited Social Interactions
Although California has passed a number of policies that support immigrant integration, there continues to be a number of anti-immigrant practices including the presence of immigration officials in public spaces (such as airports, stores, and metro) and immigration check points on streets (retenes). These practices instill fear in individuals and families limit leaving their homes consequently limiting their interactions with members of their social support system. This was a common response among participants who were documented residents as well. Moreover, people are pushed into isolation. This is a significant finding as a strong social support system has been associated with improved health and mental health. A participant shared, we do not go out because they say, that there are check points with the migra [immigration officials]…and… so I do not go out. I can't go with my family and this is sometimes frustrating.
A documented participant shared her fear of being detained. Her narrative also illustrates the use of racial profiling to identify "undocumented" individuals.
…many people…will share that "immigration was here by the X street. Immigration was in certain areas in this side of the city"…Then people…get scared [specially when] they see that people are [detained]…I give thanks to God that I have my papers, but even with papers they have [detained] people. And we never carry our papers with us.
Resisting Discrimination: Tienes Que Demonstrar Que Vales Igual
While participants shared many examples of discrimination, feeling impotent, intimidated, and harassed; in some cases, participants' narratives emerged from a context of resistance. They recognize that they are being treated unfairly and often inhumanly. Participants shared their efforts to confront and resist discrimination. A participant stated, Te ven asi con cara de Latino y siempre te hacen el feo. Pero tienes que demostrar que tu vales igual…[They see that you are Latino and they look at you differently. But you have to demonstrate that you are worth the same.] In the following quote, the participant challenges the myth that Latinos come to take jobs away.
I have worked with many Americans in restaurants and then because they say that we take away their jobs, I say "if you want it there is my job." I said "I work many hours" I said "there it is" the American said "no I am OK with 3–4 hours" he said "I do not want to stay all day inside."
In the next quote, the participant is sharing an interaction she had with a neighbor in her apartment complex. The neighbor threatens to call immigration. The participant resists by not allowing herself to be intimidated by the neighbor.
Then there was a time that (my neighbor) got very upset and began screaming… "don't you understand? You don't understand?" I told her "I do understand what you are telling me" I told her "I do understand" Then she said "I am calling immigration so they can take you" I told her "Well you know?" I told her "that does not matter to me" I told her "you can call them and when they are here, come and knock at my door" I told her "I am going to open the door and invite them in" She laughed and said "I do not believe that you would do that" I told her "yes" I told her "call them, call them" I told her "I do not have any problem [referring to her documentation status]." And since that discussion that we had and that I responded [to her threats]…since then…she stopped calling the cops. Because I am telling you, that if we let them, they will continue bothering us…we need to respond.
While some participants felt confident enough to question the poor treatment they experience, others were not ready for resistance. The following participants' narrative illustrates how readiness for resistance may vary within families. A participant states, Mi cuñado dice voy a la tienda y nomas veo a los Americanos y me siento como, como intimidado. Le dije "Porque, somos iguales menos el color… [My brother in law says I go to the store and I see the Americans and I feel like, like intimidated. I told him "Why we are equal only the color [is different]]. Another participant stated,…Mi esposo iba a la tienda y él me decía "Dale paso al gabacho." "¿Porque dale paso al gabacho? El vale más que yo? ¿O qué?" Todos somos iguales… […My husband would go to the store and he would say "let the gabacho (American) go first" "Why give him the pass? Is he better than me? Or what? All of us are equal."]
Having access to information (i.e., such as rights as immigrants, how laws should be implemented, and updates on policies) may be critical to understanding whether one has the right to defend oneself or not. Participants had mixed feelings towards being informed and the role media plays. In the following interaction, differences in perceptions on the media were evident.
Participant A

Yo no miro las noticias. [I do not watch the news]

Participant B

Yo si las veo. [I do watch them]

Participant B

No, son muy importantes. [No, they are very important]

Participant A

A veces es mejor estar ignorante. [Sometimes is better to be an ignorant]

Participant C

Yo las miro. [I do watch them]

Participant D

Yo no porque me quita la calma, me quita el sueño. Ando bien intranquila… [I do not, because they make me nervous, I can't sleep, I am very restless…]
Furthermore, a participant shared that it was important for people to be up to date on new policies to be informed voters, as policies may not impact them directly if they are documented but it can impact others in their family or community. Another participant shared the need to help those who do not know. She has encouraged her children to help others who do not speak Spanish. She does not want her children to take part in horizontal discrimination or discrimination against other Latinos.
Yes, there are some Mexicans that are very rude… I get very upset that they are like that and I tell my daughter the oldest one, I told her "Mija when you see a person that does not speak English or something you say 'I can help you' Because it feels terrible when they do not want to help us.
Discussion and Implications
The purpose of this study was to examine the impact of immigration policies on Latino immigrants and to frame these findings within the social determinants of health framework to understand the impact of such policies on immigrants' health. Findings indicate that while the state of California has passed policies that support immigrant integration, immigrants still experience anti-immigrant sentiment in the form of microaggressions, horizontal discrimination, and institutional discrimination. Anti-immigrant policies and sentiment have created unhealthy environments in which Latino immigrants experience feelings of worthlessness, fear, and discrimination in their interaction with community members and institutions. Discrimination between Latinos, or horizontal discrimination, was also prevalent as participants reported that other Latinos discriminated against undocumented immigrants, and other participants spoke about their efforts to teach their children to help and empathize with immigrants as a way to prevent horizontal discrimination.
The discrimination experienced by individuals may be an indication of residual anti-immigrant sentiment that remains in the state as well as a spillover effect from the anti-immigrant policies passed in neighboring states. That is, even though California has passed a number of policies that aim to support immigrant integration, anti-immigrant policies in neighboring states serve to foster anti-immigrant sentiment in California. This was evident as participants described how exploitive employers celebrated the passage of SB1070 in Arizona. This finding indicates that factors that foster disparities can be far reaching and not limited to circumstances in the local environment.
Following experiences with discrimination, participants reported increased isolation and distrust towards institutions such as schools and the law enforcement system. This study reports experiences of discrimination within participant's work, school environment, as well as in community and social interactions. The findings overlap with three domains of the social determinants of health framework including economic stability, education, and social and community context.
Conclusion
The social determinants of health framework aim to promote health equity by eliminating disparities. This study demonstrates how anti-immigrant policies and sentiment fosters disparities across several SDH domains. The findings also speak to the spillover effects of restrictive policies such as SB1070 on neighboring states. That is, while California has passed a number of policies that aim to support immigrant integration, anti-immigrant policies in neighboring states may foster anti-immigrant sentiment in California. Policy makers and practitioners need to engage in efforts to further support this community and change structural level factors (i.e., restrictive immigration policy and structural discrimination) in order to protect their health, promote their well-being, and support immigrant integration.
Copyright information
© Springer Science+Business Media, LLC, part of Springer Nature 2018