Abstract
Cyclic-di-GMP (c-di-GMP) is an important second messenger in bacteria which regulates the bacterial transition from motile to sessile phase and also plays a major role in processes such as cell division, exopolysaccharide synthesis, and biofilm formation. Due to its crucial role in dictating the bacterial phenotype, the synthesis and hydrolysis of c-di-GMP is tightly regulated via multiple mechanisms. Perturbing the c-di-GMP homeostasis affects bacterial growth and survival, so it is necessary to understand the underlying mechanisms related to c-di-GMP metabolism. Most techniques used for estimating the c-di-GMP concentration lack single-cell resolution and do not provide information about any heterogeneous distribution of c-di-GMP inside cells. In this review, we briefly discuss how the activity of c-di-GMP metabolising enzymes, particularly bifunctional proteins, is modulated to maintain c-di-GMP homeostasis. We further highlight how fluorescence-based methods aid in understanding the spatiotemporal regulation of c-di-GMP signalling. Finally, we discuss the blind spots in our understanding of second messenger signalling and outline how they can be addressed in the future.
This is a preview of subscription content, log in to check access.
Access options
Buy single article
Instant access to the full article PDF.
US$ 39.95
Price includes VAT for USA
Subscribe to journal
Immediate online access to all issues from 2019. Subscription will auto renew annually.
US$ 99
This is the net price. Taxes to be calculated in checkout.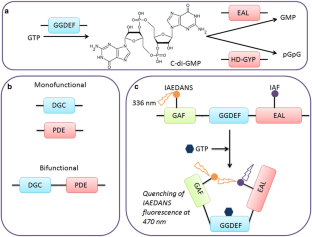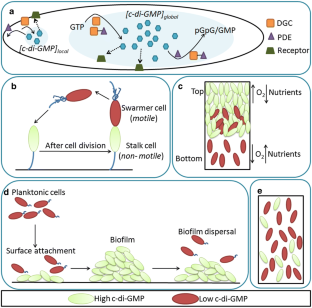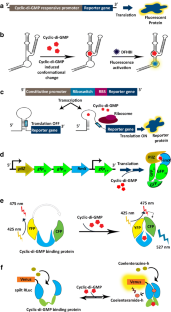 References
Abel S, Bucher T, Nicollier M, Hug I, Kaever V, Zur Wiesch PA, Jenal U (2013) Bi-modal distribution of the second messenger c-di-GMP controls cell fate and asymmetry during the Caulobacter cell cycle PLoS Genet 9:e1003744

Amikam D, Weinhouse H, Galperin MY (2010) Moshe Benziman and the discovery of cyclic di-GMP the second messenger cyclic Di-GMP

Bähre H, Kaever V (2017) Identification and quantification of cyclic di-guanosine monophosphate and its linear metabolites by reversed-phase LC-MS/MS. In: c-di-GMP signaling. Springer, pp 45-58

Bedrunka P, Graumann PL (2017) New functions and subcellular localization patterns of c-di-GMP components (GGDEF domain proteins) in B. subtilis. Front Microbiol 8:794–794. https://doi.org/10.3389/fmicb.2017.00794

Bharati BK, Sharma IM, Kasetty S, Kumar M, Mukherjee R, Chatterji D (2012) A full-length bifunctional protein involved in c-di-GMP turnover is required for long-term survival under nutrient starvation in Mycobacterium smegmatis Microbiology 158:1415–1427 doi:https://doi.org/10.1099/mic.0.053892-0

Bharati BK, Swetha RK, Chatterji D (2013) Identification and characterization of starvation induced msdgc-1 promoter involved in the c-di-GMP turnover. Gene 528:99–108. https://doi.org/10.1016/j.gene.2013.07.043

Bharati BK, Mukherjee R, Chatterji D (2018) Substrate-induced domain movement in a bifunctional protein, DcpA, regulates cyclic di-GMP turnover: Functional implications of a highly conserved motif. J Biol Chem 293:14065–14079. https://doi.org/10.1074/jbc.RA118.003917

Burdette DL et al (2011) STING is a direct innate immune sensor of cyclic di-GMP. Nature 478:515

Burhenne H, Kaever V (2013) Quantification of cyclic dinucleotides by reversed-phase LC-MS/MS. In: Cyclic Nucleotide Signaling in Plants. Springer, pp 27–37

Chen H-J, Li N, Luo Y, Jiang Y-L, Zhou C-Z, Chen Y, Li Q (2018) The GDP-switched GAF domain of DcpA modulates the concerted synthesis/hydrolysis of c-di-GMP in Mycobacterium smegmatis. Biochem J 475:1295–1308. https://doi.org/10.1042/bcj20180079

Chin K-H, Kuo W-T, Yu Y-J, Liao Y-T, Yang M-T, Chou S-H (2012) Structural polymorphism of c-di-GMP bound to an EAL domain and in complex with a type II PilZ-domain protein. Acta Crystallogr D Biol Crystallogr 68:1380–1392

Christen M, Christen B, Allan MG, Folcher M, Jenö P, Grzesiek S, Jenal U (2007) DgrA is a member of a new family of cyclic diguanosine monophosphate receptors and controls flagellar motor function in Caulobacter crescentus. Proc Natl Acad Sci 104:4112–4117

Christen M, Kulasekara HD, Christen B, Kulasekara BR, Hoffman LR, Miller SI (2010) Asymmetrical distribution of the second messenger c-di-GMP upon bacterial cell division Science 328:1295–1297

Chua SL et al (2014) Dispersed cells represent a distinct stage in the transition from bacterial biofilm to planktonic lifestyles. Nat Commun 5:4462–4462. https://doi.org/10.1038/ncomms5462

Conner JG, Zamorano-Sánchez D, Park JH, Sondermann H, Yildiz FH (2017) The ins and outs of cyclic di-GMP signaling in Vibrio cholerae. Curr Opin Microbiol 36:20–29. https://doi.org/10.1016/j.mib.2017.01.002

Corrigan RM, Gründling A (2013) Cyclic di-AMP: another second messenger enters the fray Nature reviews. Microbiology 11:513–524. https://doi.org/10.1038/nrmicro3069

Dahlstrom KM, O'Toole GA (2017) A symphony of cyclases: specificity in diguanylate cyclase signaling. Annu Rev Microbiol 71:179–195

Dahlstrom KM, Giglio KM, Collins AJ, Sondermann H, O'Toole GA (2015) Contribution of physical interactions to signaling specificity between a diguanylate cyclase and its effector. mBio 6:e01978. https://doi.org/10.1128/mBio.01978-15

Dahlstrom KM et al (2018) A multimodal strategy used by a large c-di-GMP network. J Bacteriol 200:e00703-00717. https://doi.org/10.1128/jb.00703-17

De N, Pirruccello M, Krasteva PV, Bae N, Raghavan RV, Sondermann H (2008) Phosphorylation-independent regulation of the diguanylate cyclase WspR. PLoS Biol 6:e67

Dippel AB, Anderson WA, Evans RS, Deutsch S, Hammond MC (2018) Chemiluminescent biosensors for detection of second messenger cyclic di-GMP. ACS Chem Biol 13:1872–1879

Dippel AB, Anderson WA, Park JH, Yildiz FH, Hammond MC (2019) Ratiometric bioluminescent sensors towards in vivo imaging of bacterial signaling bioRxiv:798140

Greenwald EC, Mehta S, Zhang J (2018) Genetically encoded fluorescent biosensors illuminate the spatiotemporal regulation of signaling networks. Chem Rev 118:11707–11794. https://doi.org/10.1021/acs.chemrev.8b00333

Gu H, Furukawa K, Breaker RR (2012) Engineered allosteric ribozymes that sense the bacterial second messenger cyclic diguanosyl 5′-monophosphate Anal Chem 84:4935-4941

Hauryliuk V, Atkinson GC, Murakami KS, Tenson T, Gerdes K (2015) Recent functional insights into the role of (p) ppGpp in bacterial physiology. Nat Rev Microbiol 13:298–309. https://doi.org/10.1038/nrmicro3448

Hecht GB, Newton A (1995) Identification of a novel response regulator required for the swarmer-to-stalked-cell transition in Caulobacter crescentus. J Bacteriol 177:6223–6229

Hengge R (2009) Principles of c-di-GMP signalling in bacteria. Nat Rev Microbiol 7:263–273

Hengge R (2016) Trigger phosphodiesterases as a novel class of c-di-GMP effector proteins Philosophical Transactions of the Royal Society B: Biological Sciences 371:20150498

Ho CL, Chong KSJ, Oppong JA, Chuah MLC, Tan SM, Liang Z-X (2013) Visualizing the perturbation of cellular cyclic di-GMP levels in bacterial cells. J Am Chem Soc 135:566–569

Hong Y, Zhou X, Fang H, Yu D, Li C, Sun B (2013) Cyclic di-GMP mediates Mycobacterium tuberculosis dormancy and pathogenecity. Tuberculosis (Edinb) 93:625–634. https://doi.org/10.1016/j.tube.2013.09.002

Jain V, Saleem-Batcha R, Chatterji D (2007) Synthesis and hydrolysis of pppGpp in mycobacteria: a ligand mediated conformational switch in Rel. Biophys Chem 127:41–50. https://doi.org/10.1016/j.bpc.2006.12.003

Jenal U, Reinders A, Lori C (2017) Cyclic di-GMP: second messenger extraordinaire. Nat Rev Microbiol 15:271–284. https://doi.org/10.1038/nrmicro.2016.190

Jones CJ, Wozniak DJ (2017) Congo Red stain identifies matrix overproduction and is an indirect measurement for c-di-GMP in many species of bacteria. In: c-di-GMP Signaling. Springer, pp 147-156

Kalia D et al (2013) Nucleotide, c-di-GMP, c-di-AMP, cGMP, cAMP, (p) ppGpp signaling in bacteria and implications in pathogenesis. Chem Soc Rev 42:305–341. https://doi.org/10.1039/c2cs35206k

Kellenberger CA, Wilson SC, Sales-Lee J, Hammond MC (2013) RNA-based fluorescent biosensors for live cell imaging of second messengers cyclic di-GMP and cyclic AMP-GMP. J Am Chem Soc 135:4906–4909

Klauck G, Serra DO, Possling A, Hengge R (2018) Spatial organization of different sigma factor activities and c-di-GMP signalling within the three-dimensional landscape of a bacterial biofilm Open biology 8:180066

Kulasekara BR, Kamischke C, Kulasekara HD, Christen M, Wiggins PA, Miller SI (2013) c-di-GMP heterogeneity is generated by the chemotaxis machinery to regulate flagellar motility. Elife 2:e01402

Li W, He Z-G (2012) LtmA, a novel cyclic di-GMP-responsive activator, broadly regulates the expression of lipid transport and metabolism genes in Mycobacterium smegmati. Nucleic Acids Res 40:11292–11307

Li F, Cimdins A, Rohde M, Jänsch L, Kaever V, Nimtz M, Römling U (2019) DncV synthesizes cyclic GMP-AMP and regulates biofilm formation and motility in Escherichia coli ECOR31. mBio 10:e02492–e02418. https://doi.org/10.1128/mBio.02492-18

Lori C et al. (2015) Cyclic di-GMP acts as a cell cycle oscillator to drive chromosome replication Nature 523:236

Matsuyama BY, Krasteva PV, Baraquet C, Harwood CS, Sondermann H, Navarro MVAS (2016) Mechanistic insights into c-di-GMP-dependent control of the biofilm regulator FleQ from Pseudomonas aeruginosa. Proc Natl Acad Sci U S A 113:E209–E218. https://doi.org/10.1073/pnas.1523148113

Mills E, Petersen E, Kulasekara BR, Miller SI (2015) A direct screen for c-di-GMP modulators reveals a Salmonella Typhimurium periplasmic ʟ-arginine–sensing pathway. Sci Signal 8:ra57–ra57

Mushnikov NV, Fomicheva A, Gomelsky M, Bowman GR (2019) Inducible asymmetric cell division and cell differentiation in a bacterium. Nat Chem Biol 15:925–931

Nair HA, Periasamy S, Yang L, Kjelleberg S, Rice SA (2017) Real time, spatial, and temporal mapping of the distribution of c-di-GMP during biofilm development. J Biol Chem 292:477–487

Nakayama S, Luo Y, Zhou J, Dayie TK, Sintim HO (2012) Nanomolar fluorescent detection of c-di-GMP using a modular aptamer strategy. Chem Commun (Camb) 48:9059–9061. https://doi.org/10.1039/c2cc34379g

O'Toole GA, Pratt LA, Watnick PI, Newman DK, Weaver VB, Kolter R (1999) [6] Genetic approaches to study of biofilms. In: Methods in enzymology, vol 310. Elsevier, pp 91-109

Paul R, Abel S, Wassmann P, Beck A, Heerklotz H, Jenal U (2007) Activation of the diguanylate cyclase PleD by phosphorylation-mediated dimerization. J Biol Chem 282:29170–29177

Paul K, Nieto V, Carlquist WC, Blair DF, Harshey RM (2010) The c-di-GMP binding protein YcgR controls flagellar motor direction and speed to affect chemotaxis by a "backstop brake" mechanism. Mol Cell 38:128–139

Petchiappan A, Naik SY, Chatterji D (2020) RelZ-mediated stress response in Mycobacterium smegmatis: pGpp synthesis and its regulation J Bacteriol 202 doi:e00444-19 [

Petersen E, Mills E, Miller SI (2019) Cyclic-di-GMP regulation promotes survival of a slow-replicating subpopulation of intracellular Salmonella Typhimurium. Proc Natl Acad Sci 116:6335–6340

Rodesney CA, Roman B, Dhamani N, Cooley BJ, Katira P, Touhami A, Gordon VD (2017) Mechanosensing of shear by Pseudomonas aeruginosa leads to increased levels of the cyclic-di-GMP signal initiating biofilm development Proceedings of the National Academy of Sciences 114:5906–5911

Romling U, Galperin MY, Gomelsky M (2013) Cyclic di-GMP: the first 25 years of a universal bacterial second messenger. Microbiol Mol Biol Rev 77:1–52. https://doi.org/10.1128/MMBR.00043-12

Ross P, Aloni Y, Weinhouse H, Michaeli D, Weinberger-Ohana P, Mayer R, Benziman M (1986)Control of cellulose synthesis Acetobacter xylinum. A unique guanyl oligonucleotide is the immediate activator of the cellulose synthase Carbohydrate Res 149:101–117

Ross P et al (1987) Regulation of cellulose synthesis in Acetobacter xylinum by cyclic diguanylic acid. Nature 325:279

Rybtke MT et al (2012) Fluorescence-based reporter for gauging cyclic di-GMP levels in Pseudomonas aeruginosa. Appl Environ Microbiol 78:5060–5069

Sarenko O et al. (2017) More than enzymes that make or break cyclic Di-GMP-local signaling in the interactome of GGDEF/EAL domain proteins of Escherichia coli mBio 8:e01639-01617 doi:https://doi.org/10.1128/mBio.01639-17

Serra DO, Hengge R (2019) A c-di-GMP-based switch controls local heterogeneity of extracellular matrix synthesis which is crucial for integrity and morphogenesis of Escherichia coli macrocolony biofilms. J Mol Biol 431:4775–4793. https://doi.org/10.1016/j.jmb.2019.04.001

Sharma IM, Petchiappan A, Chatterji D (2014a) Quorum sensing and biofilm formation in mycobacteria: role of c-di-GMP and methods to study this second messenger. IUBMB Life 66:823–834. https://doi.org/10.1002/iub.1339

Sharma IM, Prakash S, Dhanaraman T, Chatterji D (2014b) Characterization of a dual-active enzyme, DcpA, involved in cyclic diguanosine monophosphate turnover in Mycobacterium smegmatis. Microbiology 160:2304–2318. https://doi.org/10.1099/mic.0.080200-0

Stelitano V et al (2013) Probing the activity of diguanylate cyclases and c-di-GMP phosphodiesterases in real-time by CD spectroscopy. Nucleic Acids Res 41:e79–e79

Sudarsan N, Lee ER, Weinberg Z, Moy RH, Kim JN, Link KH, Breaker RR (2008) Riboswitches in eubacteria sense the second messenger cyclic di-GMP. Science (New York, NY) 321:411–413. https://doi.org/10.1126/science.1159519

Tarutina M, Ryjenkov DA, Gomelsky M (2006) An unorthodox bacteriophytochrome from Rhodobacter sphaeroides involved in turnover of the second messenger c-di-GMP. J Biol Chem 281:34751–34758

Trimble MJ, McCarter LL (2011) Bis-(3′-5′)-cyclic dimeric GMP-linked quorum sensing controls swarming in Vibrio parahaemolyticus. Proc Natl Acad Sci U S A 108:18079–18084. https://doi.org/10.1073/pnas.1113790108

Valentini M, Filloux A (2016) Biofilms and cyclic di-GMP (c-di-GMP) signaling: lessons from Pseudomonas aeruginosa and other bacteria. J Biol Chem 291:12547–12555

Villa JK, Su Y, Contreras LM, Hammond MC (2018) Synthetic biology of small RNAs and riboswitches. Microbiol Spectr 6. https://doi.org/10.1128/microbiolspec.RWR-0007-2017

Wang XC, Wilson SC, Hammond MC (2016) Next-generation RNA-based fluorescent biosensors enable anaerobic detection of cyclic di-GMP. Nucleic Acids Res 44:e139–e139

Weiss CA, Hoberg JA, Liu K, Tu BP, Winkler WC (2019) Single cell microscopy reveals that levels of cyclic di-GMP vary among Bacillus subtilis subpopulations Journal of Bacteriology:JB. 00247-00219

Wolfe AJ, Berg HC (1989) Migration of bacteria in semisolid agar. Proc Natl Acad Sci 86:6973–6977

Yeo J, Dippel AB, Wang XC, Hammond MC (2017) In vivo biochemistry: single-cell dynamics of cyclic Di-GMP in Escherichia coli in response to zinc. Overload Biochemistry 57:108–116

Yin Q et al (2012) Cyclic di-GMP sensing via the innate immune signaling protein STING. Mol Cell 46:735–745

Zähringer F, Lacanna E, Jenal U, Schirmer T, Boehm A (2013) Structure and signaling mechanism of a zinc-sensory diguanylate cyclase. Structure 21:1149–1157

Zhou H et al (2016) Characterization of a natural triple-tandem c-di-GMP riboswitch and application of the riboswitch-based dual-fluorescence reporter. Sci Rep 6:20871
Acknowledgements
AP and SYN acknowledge DST for their fellowship.
Funding
This study is funded by the Department of Science and Technology (DST), Government of India, and IISc
Ethics declarations
Conflict of interest
The authors declare that they have no conflict of interest.
Additional information
Publisher's note
Springer Nature remains neutral with regard to jurisdictional claims in published maps and institutional affiliations.
About this article
Cite this article
Petchiappan, A., Naik, S.Y. & Chatterji, D. Tracking the homeostasis of second messenger cyclic-di-GMP in bacteria. Biophys Rev (2020). https://doi.org/10.1007/s12551-020-00636-1
Received:

Accepted:

Published:
Keywords
C-di-GMP

Second messenger

Biofilm

Biosensor

FRET

Riboswitch