This is a preview of subscription content, log in to check access.
Access options
Buy single article
Instant access to the full article PDF.
US$ 39.95
Price includes VAT for USA
Subscribe to journal
Immediate online access to all issues from 2019. Subscription will auto renew annually.
US$ 99
This is the net price. Taxes to be calculated in checkout.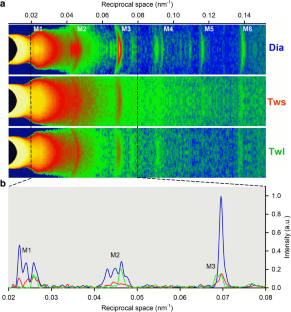 References
Iskratsch T, Wolfenson H, Sheetz MP (2014) Appreciating force and shape-the rise of mechanotransduction in cell biology. Nat Rev Mol Cell Biol 15(12):825–833

Kanagawa M, Kobayashi K, Tajiri M, Manya H, Kuga A, Yamaguchi Y, Akasaka-Manya K, Furukawa JI, Mizuno M, Kawakami H, Shinohara Y, Wada Y, Endo T, Toda T (2016) Identification of a post-translational modification with ribitol-phosphate and its defect in muscular dystrophy. Cell Rep 14:2209–2223

Linari M, Brunello E, Reconditi M, Fusi L, Caremani M, Narayanan T, Piazzesi G, Lombardi V, Irving M (2015) Force generation by skeletal muscle is controlled by mechanosensing in myosin filaments. Nature 528(7581):276–279

Marcucci L, Washio T, Yanagida T (2019) Proposed mechanism for the length dependence of the force developed in maximally activated muscles. Sci Rep 9(1):1317

Reconditi M, Caremani M, Pinzauti F, Powers JD, Narayanan T, Stienen GJ, Linari M, Lombardi V, Piazzesi G (2017) Myosin filament activation in the heart is tuned to the mechanical task. Proc Natl Acad Sci U S A 114(12):3240–3245

Yamamoto K, Ando J (2018) Emerging role of plasma membranes in vascular endothelial mechanosensing. Circ J 82:2691–2698
Additional information
Publisher's note
Springer Nature remains neutral with regard to jurisdictional claims in published maps and institutional affiliations.
About this article
Cite this article
Iwaki, M., Hara, Y. Overview of the frontiers in multi-scale mechanobiology of muscle and vascular system—Session 1SGA. Biophys Rev (2020). https://doi.org/10.1007/s12551-020-00631-6
Received:

Accepted:

Published: