Molecular simulations of cellular processes
Abstract
It is, nowadays, possible to simulate biological processes in conditions that mimic the different cellular compartments. Several groups have performed these calculations using molecular models that vary in performance and accuracy. In many cases, the atomistic degrees of freedom have been eliminated, sacrificing both structural complexity and chemical specificity to be able to explore slow processes. In this review, we will discuss the insights gained from computer simulations on macromolecule diffusion, nuclear body formation, and processes involving the genetic material inside cell-mimicking spaces. We will also discuss the challenges to generate new models suitable for the simulations of biological processes on a cell scale and for cell-cycle-long times, including non-equilibrium events such as the co-translational folding, misfolding, and aggregation of proteins. A prominent role will be played by the wise choice of the structural simplifications and, simultaneously, of a relatively complex energetic description. These challenging tasks will rely on the integration of experimental and computational methods, achieved through the application of efficient algorithms.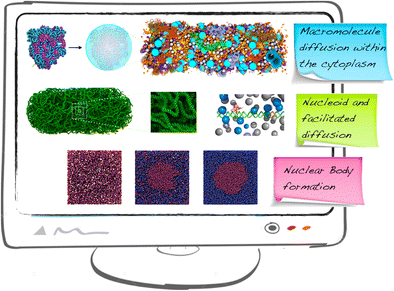 Keywords
Macromolecular crowding 
Coarse-graining 
Molecular dynamics 
Stochastic processes 
Diffusion in the cytoplasm 
Sub-diffusion 
Nuclear bodies 
Genetic material 
Facilitated diffusion 
Soft interactions 
Hydrodynamic interactions 
Integrative modeling 
Notes
Compliance with ethical standards
Conflict of interest
Fabio Trovato declares that he has no conflict of interest. Giordano Fumagalli declares that he has no conflict of interest.
Ethical approval
This article does not contain any studies with human participants or animals performed by any of the authors.
Copyright information
© International Union for Pure and Applied Biophysics (IUPAB) and Springer-Verlag GmbH Germany, part of Springer Nature 2017