This is a preview of subscription content, log in to check access.
Access options
Buy single article
Instant unlimited access to the full article PDF.
US$ 39.95
Price includes VAT for USA
Subscribe to journal
Immediate online access to all issues from 2019. Subscription will auto renew annually.
US$ 99
This is the net price. Taxes to be calculated in checkout.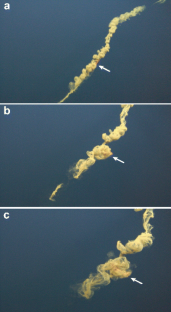 References
Bush SL, Robison BH (2007) Ink utilization by mesopelagic squid. Mar Biol 152:485–494

Derby CD (2007) Escape by inking and secreting: marine molluscs avoid predators through a rich array of chemicals and mechanisms. Biol Bull 213:274–289

Hunt JC, Zeidberg LD, Hamner WM, Robison BH (2000) The behaviour of Loligo opalescens (Mollusca: Cephalopoda) as observed by a remotely operated vehicle (ROV). J Mar Biol Assoc UK 80:873–883

Wood JB, Maynard AE, Lawlor AG, Sawyer EK, Simmons DM, Pennoyer KE, Derby CD (2010) Caribbean reef squid, Sepioteuthis sepioidea, use ink as a defense against predatory French grunts, Haemulon flavolineatum. J Exp Mar Biol Ecol 388:20e27

Zeidberg LD (2004) Allometry measurements from in situ video recordings can determine the size and swimming speeds of juvenile and adult squid Loligo opalescens (Cephalopoda: Myopsida). J Exp Biol 207:4195–4203
Acknowledgments
We thank the captain and crew of the R/V Natsushima and the Hyper-Dolphin team for their assistance, and Richard Young and Michael Vecchione for identifying the squid. Data in this study is from the NT13-11 cruise, Japan Agency for Marine-Earth Science and Technology.
Electronic supplementary material
Below is the link to the electronic supplementary material.
Supplementary Video Clip S1. Video recording of a pelagic squid that ejected a narrow ink trail behind it and then quickly moved back within the ink, which was observed at night on 6 June 2013 at a depth of 167 m near the West Mariana Ridge. (MP4 3.35 MB)
About this article
Cite this article
Miller, M.J., Miwa, T., Mochioka, N. et al. Now you see me, now you don't: observation of a squid hiding in its ink trail. Mar Biodiv 45, 149–150 (2015). https://doi.org/10.1007/s12526-014-0249-9
Received:

Revised:

Accepted:

Published:

Issue Date:
Keywords
Pulse Release

Video Observation

Remote Operate Vehicle

Defensive Mechanism

Bottom Depth