Abstract
In May 2009, we studied the bivalve Spondylus crassisquama and its relevance for macrobenthic biodiversity off the north Ecuadorian coast. We found that the large and heavy shells offer an exclusive substrate for numerous epibiont species and highly specialized carbonate-drilling endobiont species (71 species in total), which is a distinctly different and much more diverse habitat than the surrounding sandy bottoms (13 species, 4 of them found in both habitats). This is reflected by a Bray–Curtis dissimilarity index of 0.88. We discuss in detail the live habits of all 9 species of drilling endobionts that we found, and conclude that these can be seen as true mutualists, with the exception of boring sipunculids and bivalves. To further illustrate this complex co-existence, we visualize and quantify for the first time the tremendous effects of boring organisms on the shell structure of S. crassisquama by means of magnetic resonance imaging and a video appendix is provided.
This is a preview of subscription content, log in to check access.
Access options
Buy single article
Instant unlimited access to the full article PDF.
US$ 39.95
Price includes VAT for USA
Subscribe to journal
Immediate online access to all issues from 2019. Subscription will auto renew annually.
US$ 99
This is the net price. Taxes to be calculated in checkout.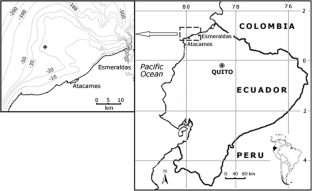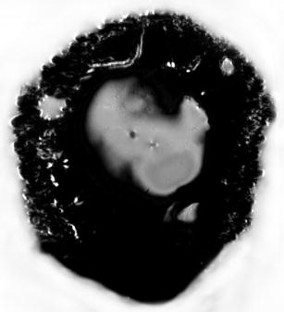 Notes
1.

See Huber (2009) for a recent scientific revision of the nomenclature of the Spondylus species in this area

2.

"Acuerdo Ministerial Nr. 136 publicado en el Registro Oficial Nr. 58 el 30 de octubre de 2009"
References
Airoldi L, Balata D, Beck M (2008) The gray zone: relationships between habitat loss and marine diversity and their applications in conservation. J Exp Mar Biol Ecol 366:8–15

Ansell AD, Nair NB (1969) A comparative study of bivalves which bore mainly by mechanical means. Am Zool 9:857–868

Aviles F, Rozbaczylo N, Herve M, Godoy M (2007) First report of Polychaetes from the genus Oriopsis (Polychaeta: Sabellidae) associated with the Japanese abalone Haliotis discus hannai and other native molluscs in Chile. J Shellfish Res 26:863–867

Bamber R (1990) The effects of acidic seawater on 3 species of lamellibranch mollusk. J Exp Mar Biol Ecol 143:181–191

Berge JA, Bjerkeng B, Pettersen O, Schaanning MT, Oxnevad S (2006) Effects of increased sea water concentrations of CO2 on growth of the bivalve Mytilus edulis L. Chemosphere 62:681–687

Bloom S (1975) Motile escape response of a sessile prey - sponge-scallop mutualism. J Exp Mar Biol Ecol 17:311–321

Buschbaum C, Buschbaum G, Schrey I, Thieltges DW (2007) Shell-boring polychaetes affect gastropod shell strength and crab predation. Mar Ecol Prog Ser 329:123–130

Carlson Jones D (2003) Bivalve Epibiont Armor: The Evolution of an Antipredatory Strategy. Dissertation, University of Cincinnati

Castro-Aguirre JL, García-Domínguez F, Balart EF (1996) Nuevos hospederos y datos morfométricos de Encheliophis dubius (Ophidiiformes: Carapidae) en el Golfo de California, México. Rev Biol Trop 44:753–756

Cobb W (1969) Penetration of calcium carbonate substrates by the boring sponge, Cliona. Am Zool 9:783–790

Davies PJ, Hutchings PA (1983) Initial colonization, erosion and accretion of coral substrate. Coral Reefs 2:27–35

de León-González JA (1988) Mooreonuphis bajacalifornica, a new onuphid (Polychaeta: Onuphidae) epizoic on the thorny oyster, Spondylus princeps unicolor. Rev Biol Trop 36:433–436

de León-González JA, Leija Tristán A, Salazar-Vallejo SI (1993) Epifauna del ostión espinoso Spondylus princeps unicolor (Mollusca: Bivalvia), de Puerto Escondido, Golfo de California, México. Rev Biol Trop 41:877–881

Duffy JE (2006) Biodiversity and the functioning of seagrass ecosystems. Mar Ecol Prog Ser 311:233–250

Evans JW (1969) Borers in the Shell of the Sea Scallop, Placopecten magellanicus. Am Zool 9:775–782

Feifarek BP (1987) Spines and epibionts as antipredator defenses in the thorny oyster Spondylus americanus Hermann. J Exp Mar Biol Ecol 105:39–56

Forester AJ (1979) Association between the sponge Halichondria panicea (Pallas) and scallop Chlamys varia (L.): a commensal-protective mutualism. J Exp Mar Biol Ecol 36:1–10

Gazeau F, Quiblier C, Jansen JM, Gattuso J-P, Middelburg JJ, Heip CHR (2007) Impact of elevated CO2 on shellfish calcification. Geophys Res Lett 34:L07603

Graham MH (2004) Effects of local deforestation on the diversity and structure of Southern California giant kelp forest food webs. Ecosystems 7:341–357

Haigler S (1969) Boring mechanism of Polydora websteri inhabiting Crassostrea virginica. Am Zool 9:821–828

Handley S, Bergquist P (1997) Spionid polychaete infestations of intertidal Pacific Oysters Crassostrea gigas (Thunberg), Mahurangi Harbour, Northern New Zealand. Aquaculture 153:191–205

Huber M (2009) Name Changes for two well-known Panamic Spondylids. Festivus 41:103–109

Hutchings P, Kiene W, Cunningham R, Donnelly C (1992) Spatial and temporal patterns of non-colonial boring organisms (Polychaetes, Sipunculans and Bivalve Molluscs) in Porites at Lizard Island, Great Barrier Reef. Coral Reefs 11:23–31

Kiene W, Hutchings P (1994) Bioerosion experiments at Lizard-Island, Great-Barrier-Reef. Coral Reefs 13:91–98

Kleemann K (1996) Biocorrosion by Bivalves. Pubbl St Zool Napoli Mar Ecol 17:145–158

Laihonen P, Furman E (1986) The site of settlement indicates commensalism between Bluemussel and its Epibiont. Oecologia 71:38–40

Lamprell K (2006) Spiny oysters: a revision of the living Spondylus species of the world. Lamprell, Brisbane

Lazar B, Loya Y (1991) Bioerosion of coral reefs - a chemical approach. Limnol Oceanogr 36:377–383

Linero-Arana I, Diaz-Diaz O (2006) Poliquetos (Annelida: Polychaeta) epibiontes de Spondylus americanus (Bivalvia: Spondylidae) en el Parque Nacional Mochima, Venezuela. Rev Biol Trop 54:765–772

Logan A (1974) Morphology and life habits of the recent cementing Bivalve Spondylus americanus Hermann from the Bermuda Platform. Bull Mar Sci 24:568–594

MacGeachy JK, Stearn CW (1976) Boring by Macro-organisms in the Coral Montastrea annularis on Barbados Reefs. Int Rev Gesamten Hydrobiol Hydrogr 61:715–745

Mackensen AK, Brey T, Sonnenholzner S (2011) The fate of Spondylus stocks (Bivalvia: Spondylidae) in Ecuador: is recovery likely? J Shellfish Res 30:115–121

Michaelidis B, Ouzounis C, Paleras A, Portner H (2005) Effects of long-term moderate hypercapnia on acid-base balance and growth rate in marine mussels Mytilus galloprovincialis. Mar Ecol Prog Ser 293:109–118

Mienis HK (2001) Blister pearl formation in Spondylus and Tridacna caused by boring organisms. Triton 3:9

Moreno RA, Neill PE, Rozbaczylo N (2006) Native and non-indigenous boring polychaetes in Chile: a threat to native and commercial mollusc species. Rev Chil Hist Nat 79:263–278

Oakes FR, Fields RC (1996) Infestation of Haliotis rufescens shells by a sabellid polychaete. Aquaculture 140:139–143

Palmer AR (1992) Calcification in marine molluscs: how costly is it? Proc Natl Acad Sci USA 89:1379

Pari N, Peyrot-Clausade M, Le Campion-Alsumard T, Hutchings PA, Chazottes V, Golubic S, Le Campion J, Fontaine M (1998) Bioerosion of experimental substrates on high islands and on atoll lagoons (French Polynesia) after two years of exposure. Mar Ecol Prog Ser 166:119–130

Pari N, Peyrot-Clausade M, Hutchings PA (2002) Bioerosion of experimental substrates on high islands and atoll lagoons (French Polynesia) during 5 years of exposure. J Exp Mar Biol Ecol 276:109–127

Peyrot-Clausade M, Chazottes V, Pari N (1999) Bioerosion in the carbonate budget of two Indo-Pacific reefs: La Reunion (Indian Ocean) and Moorea (Pacific Ocean). Bull Geol Soc Den 45:151–155

Reaka-Kudla ML, Feingold JS, Glynn W (1996) Experimental studies of rapid bioerosion of coral reefs in the Galapagos Islands. Coral Reefs 15:101–107

Rice ME (1969) Possible boring structures of sipunculids. Am Zool 9:803–812

Rützler K, Rieger G (1973) Sponge burrowing: fine structure of Cliona lampa penetrating Calcareous Substrata. Mar Biol 21:144–162

Sammarco PW, Risk MJ (1990) Large-Scale Patterns in internal Bioerosion of Porites - Cross Continental-Shelf Trends on the Great Barrier-Reef. Mar Ecol Prog Ser 59:145–156

Savazzi E (2005) The function and evolution of lateral asymmetry in boring endolithic bivalves. Paleontol Res 9:169–187

Scott PJB (1988) Distribution, habitat and morphology of the Caribbean coral-boring and rock-boring Bivalve, Lithophaga bisulcata (Dorbigny) (Mytilidae, Lithophaginae). J Molluscan Stud 54:83–95

Skoglund C, Mulliner DK (1996) The Genus Spondylus (Bivalvia: Spondylidae) of the Panamic Province. Festivus 28:93–107

Stone HMI (1998) On predator deterrence by pronounced shell ornament in epifaunal bivalves. Paleontology 41:1051–1068

Tribollet A, Golubic S (2005) Cross-shelf differences in the pattern and pace of bioerosion of experimental carbonate substrates exposed for 3 years on the northern Great Barrier Reef, Australia. Coral Reefs 24:422–434

Tribollet A, Decherf G, Hutchings PA, Peyrot-Clausade M (2002) Large-scale spatial variability in bioerosion of experimental coral substrates on the Great Barrier Reef (Australia): importance of microborers. Coral Reefs 21:424–432

Tribollet A, Godinot C, Atkinson M, Langdon (2009) Effects of elevated pCO2 on dissolution of coral carbonates by microbial euendoliths. Glob Biogeochem Cycles 23:1–7

Vance R (1978) Mutualistic Interaction between a sessile marine Clam and its Epibionts. Ecology 59:679–685

Verbruggen H, Tribollet A (2011) Boring algae. Curr Biol 21:R876–R877

Wahl M (1989) Marine Epibiosis. I. Fouling and Antifouling - some basic Aspects. Mar Ecol Prog Ser 58:175–189

Warme JE, Marshall NF (1969) Marine borers in calcareous terrigenous rocks of the Pacific Coast. Am Zool 9:765–774

Wielgus J, Glassom D, Chadwick NE (2006) Patterns of polychaete worm infestation of stony corals in the northern Red Sea and relationships to water chemistry. Bull Mar Sci 78:377–388

Yonge C (1955) Adaptation to rock boring in Botula and Lithophaga (Lamellibranchia, Mytilidae) with a discussion on the evolution of this habit. J Cell Sci 3:383–410

Zavarei A (1973) Monographie des Spondylidae (Lamellibranches) actuels et fossiles. Dissertation, University of Paris
Acknowledgements
This study was made possible by a full Ph.D. scholarship for A. Mackensen provided by the Rosa Luxemburg Foundation (RLS), Germany. We thank Kate Clark, Anna Fricke, Bill Rudman, Ángel Valdés and Nadya Sanamyan for help during the identification process and Paulina Guarderas, Robert Lamb and Dirk Riebensahm for their assistance in the sampling dives. Stjepko Golubic and two unknown reviewers helped improving the manuscript. The Ecuadorian Ministry of Environment provided the permits for the collection of Spondylus individuals under No. 028 IC-FAU-DNBAPVS/MA and 015-09 IC-FAU-DNB/MA.
Conflict of interest
The authors declare that they have no conflict of interest.
Electronic supplementary material
Below is the link to the electronic supplementary material.
About this article
Cite this article
Mackensen, A.K., Brey, T., Bock, C. et al. Spondylus crassisquama Lamarck, 1819 as a microecosystem and the effects of associated macrofauna on its shell integrity: isles of biodiversity or sleeping with the enemy?. Mar Biodiv 42, 443–451 (2012). https://doi.org/10.1007/s12526-012-0120-9
Received:

Revised:

Accepted:

Published:

Issue Date:
Keywords
Spondylus crassisquama

Ecuador

Habitat complexity

Macrofauna

Boring organisms

Nuclear magnetic resonance