The social interaction between China and Japanese archipelago during Western Han dynasty: comparative study of bronze mirrors from Linzi and Yayoi sites
Abstract
Until recently, there have been differing opinions on the provenance of the Western Han style mirrors (WHSM) of the Yayoi period. Some researchers thought these mirrors were from today's Xi'an city (ancient Chang'an city, the capital of the West Han dynasty), while others argued that they may be from Korea. In this paper, eight bronze mirror samples, which were excavated from the Linzi district, Zibo city, Shandong Province, North China, were analyzed by SEM-EDS and MC-ICP-MS methods. The microstructure and SEM-EDS results indicated that, all of the samples were cast with high tin and low lead content. The lead isotopic results showed that, the lead material of these eight bronze mirrors had two different provenances: one from the Zhaoye region (Zhaoyuan and Yexian), which is a place near the Linzi area, North China, and the other was from the geochemical provinces of Yangtze, South China. Comparing with previous results, it indicates that the WHSM and imitative Han style mirrors (IWHSM) of the Yayoi period share the same alloy technology as the Linzi bronze mirrors. More importantly, all the WHSM and IWHSM share the same lead isotope ratio with the first group of Linzi bronze mirrors. This research inferred that the chemical composition and provenance of the WHSM and IWHSM were the same as those of Linzi bronze mirrors. All of these WHSM mirrors were probably cast in the Linzi area firstly and then exported to Japan. The exportation route was likely from Linzi through the Liaodong Peninsula to the Korean Peninsula and then finally to Japan.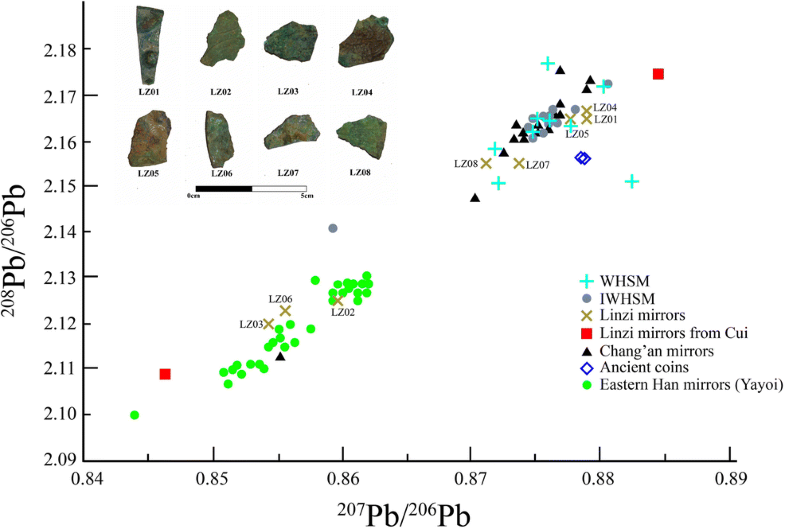 Keywords
Bronze mirror 
Lead isotope ratio 
Western Han 
Linzi area 
Yayoi period 
Notes
Acknowledgements
We are grateful to anonymous reviewers whose comments greatly improved the quality of the manuscript.
Funding information
This research is supported by youth fund of Humanities and Social Sciences of the Ministry of Education, P. R. China (19C14430008), Special Foundation for Young Scholar's Teaching and Research in Scientific History at Chinese Academy of Sciences (2015), National Social Science Fund of China (No. 17XKG003), National Scholarship Fund of China (CSC NO. 201404910198), and National Natural Science Foundation of China (Grant No. 41471167).
Copyright information
© Springer-Verlag GmbH Germany, part of Springer Nature 2019