Abstract
In this study, the effect of weep holes on controlling uplift pressure and hydraulic gradient under concrete canals was investigated in different groundwater levels. For this purpose, three weep holes were embedded in different locations and combinations on the bottom and the sidewall of a laboratory canal. The amounts of seepage discharge were measured from these weep holes in single and combined modes. The corresponding values of seepage discharge, uplift pressure, and exit hydraulic gradient were calculated through simulation with the Seep/W model. The comparison of the observed and the simulated seepage values was indicative of the model's high accuracy with a mean error of 6.23%. The results showed that uplift pressure values in the single modes of weep holes in three different groundwater levels are similar. Uplift pressure in the binary combinations had a significant reduction compared to the single modes (an average of 73%). The maximum exit hydraulic gradient occurred at the weep hole located at the corner of the canal bottom. In general, the binary combinations of the weep holes were the best choice in terms of the minimum uplift pressure and the suitable exit hydraulic gradient.
This is a preview of subscription content, log in to check access.
Access options
Buy single article
Instant unlimited access to the full article PDF.
US$ 39.95
Price includes VAT for USA
Subscribe to journal
Immediate online access to all issues from 2019. Subscription will auto renew annually.
US$ 99
This is the net price. Taxes to be calculated in checkout.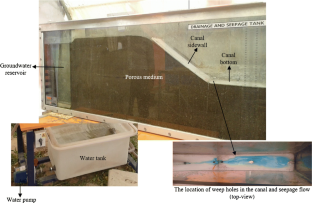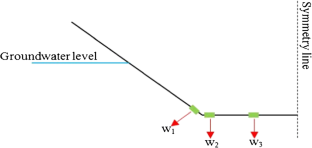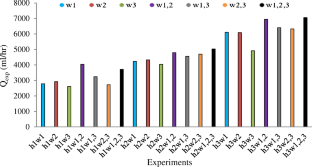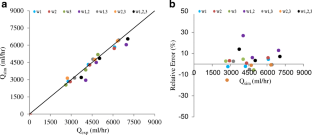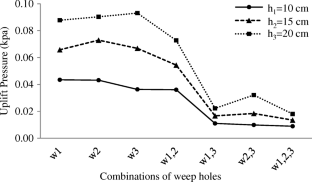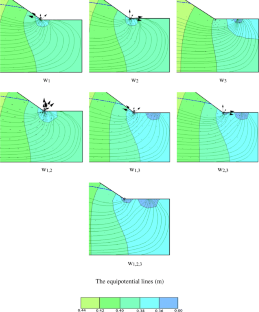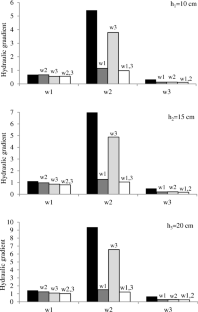 References
Afruzi A, Nazemi AH, Sadraddini AA (2014) Steady-state subsurface drainage of ponded fields by rectangular ditch drains. Irri Drain 63:668–681. https://doi.org/10.1002/ird.1857

Aisenbrey AJ, Hayes RB, Warren HJ, Winsett DL, Young RB (1978) Design of small canal structures. Bureau of Reclamation, Colorado

Astuti SAY, Munadhir, Pratiwi DAWW (2017) The effect of drainage channel type on seepage percentage. Procedia Eng 171:445–453. https://doi.org/10.1016/j.proeng.2017.01.355

Central Water Commission (CWC) (2000) Guidelines for planning of parallel canals. Ministry of Water Resources Government of India, New Delhi

Chahar BHR (2007) Analysis of seepage from polygon channels. J Hyd Eng 133(4):451–460. https://doi.org/10.1061/(ASCE)0733-9429(2007)133:4(451)

Choudhary M, Chahar BHR (2007) Recharge/seepage from an array of rectangular channels. J Hydro 343(1):71–79. https://doi.org/10.1016/j.jhydrol.2007.06.009

Darcy H (1856) Les fontaines publiques de la vile de Dijon. Dalmont, Paris

Harr ME (1962) Groundwater and seepage. McGraw-Hill Publication, New York

Hiscock MK, Bense FV (2014) Hydrogeology: principles and practice, 2nd ed. Wiley-Blackwell, Hoboken

Kahlown AM, Kemper WD (2004) Seepage losses as affected by condition and composition of channel banks. Agri Water Manag 65(2):145–153. https://doi.org/10.1016/j.agwat.2003.07.006

Katibeh H (2004) Seepage from lined canal using finite-element method. J Irri Drain Eng 130(5):441–444. https://doi.org/10.1061/(ASCE)0733-9437(2004)130:5(441)

Morgado F, Lopes G, de Brito J, Feiteira J (2012) Portuguese irrigation canals: lining solutions, anomalies, and rehabilitation. J Perform Constr Facil 26(4):507–515. https://doi.org/10.1061/(ASCE)CF.1943-5509.0000230

Nayeb Asadollah S, Aalianvari A, Hajialibeigi H (2018) Role of geological structures in seepage from Lar dam reservoir. Arab J Geosci (2018) 11:632–612. https://doi.org/10.1007/s12517-018-3967-7

Nasr RI, Zeydan BA, Bakry MF, Saloom MS (2003) Uplift pressure relief on lined canals using tile drains. Alexandria Eng J 42(4):497–507

Salmasi F, Khatibi K, Nourani B (2017) Investigating reduction of uplift forces by longitudinal drains with underlined canals. ISH J Hyd Eng 23(3):2–11. https://doi.org/10.1080/09715010.2017.1350605

Swihart J, Haynes J (2002) Canal-lining demonstration project year 10 final report. U.S. Dept. of the Interior, Bureau of Reclamation, Denver Technical Service Center, Civil Engineering Services, Materials Engineering Research Laboratory Denver, Colorado

Upadhyaya A, Chauhan H (2002) Water table rise in sloping aquifer due to canal seepage and constant recharge. J Irri Drain Eng 128(3):160–167. https://doi.org/10.1061/(ASCE)0733-9437(2002)128:3(160)

Yao L, Geng S, Mao X, Huo Z et al (2012) Coupled effects of canal lining and multi-layered soil structure on canal seepage and soil water dynamics. J Hydro 430-431:91–102. https://doi.org/10.1016/j.jhydrol.2012.02.004
Acknowledgments
The authors are grateful for the material support and equipment provided by the Research Deputy of the University of Zanjan.
Funding information
This study is partially funded by the Research Deputy of the University of Zanjan.
Additional information
Responsible Editor: Abdullah M. Al-Amri
About this article
Cite this article
Taran, F., Mahtabi, G. Optimum layout of weep holes in concrete irrigation canals to control uplift pressure and hydraulic gradient. Arab J Geosci 13, 88 (2020). https://doi.org/10.1007/s12517-020-5108-3
Received:

Accepted:

Published:
Keywords
Concrete canal

Hydraulic gradient

Seepage

Uplift pressure

Weep hole