Abstract
This paper describes an instability in the Yokuşlubağ village of the Yusufeli district of Artvin in Northeastern Turkey. The Arkun Dam was one of the dams planned on the basin of the Çoruh River. The Yokuşlubağ landslide area starting at 600 m upstream is on the left side of the Arkun Dam. The sliding area is approximately 2 km2. The landslide consists of rockfalls, rotation slides, planar slides, slope wash deposit and alluvial fans. The causes of the slidings are the toe erosion by the Çoruh River, high slope angles varying between 20° and 35°, rockfalls in the Berta Formation and hydrothermal and physical weathering. Lithology boundaries and possible sliding surfaces were determined with drilling and resistivity studies. One hundred iron bars were fixed on the landslide, and the movements of these iron bars were recorded. The Yokuşlubağ landslide was determined as a huge creep. Two possible sliding surfaces were determined. When the water was accumulated in the reservoir, the toe of landslide would be under reservoir lake. This would increase landslide velocity and may cause dam failure. According to the first possible sliding surface, the sliding material amount was calculated as approximately 100 × 106 m3. This material would fill approximately 1/3 of the reservoir of the Dam. If the second possible sliding surface mobilized, approximately 130 × 106 m3 of material would move into the reservoir. According to these possibilities, the Arkun Dam project was canceled, and other alternatives were considered.
This is a preview of subscription content, log in to check access.
Access options
Buy single article
Instant unlimited access to the full article PDF.
US$ 39.95
Price includes VAT for USA
Subscribe to journal
Immediate online access to all issues from 2019. Subscription will auto renew annually.
US$ 99
This is the net price. Taxes to be calculated in checkout.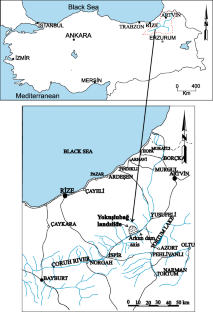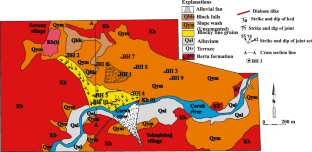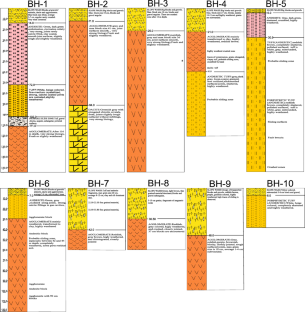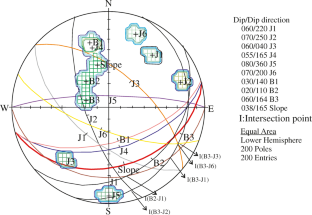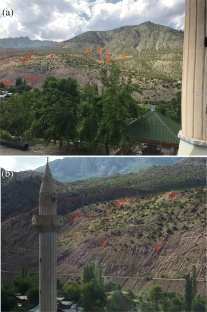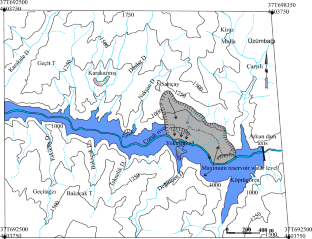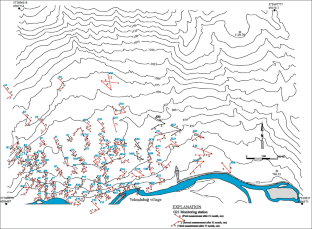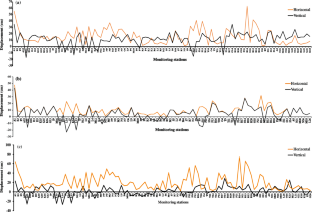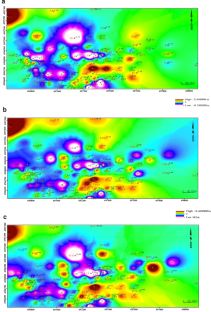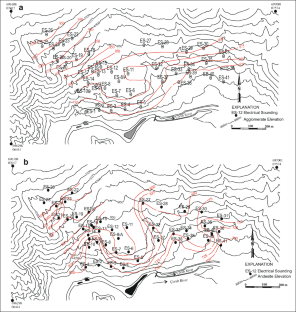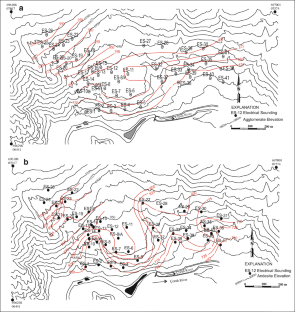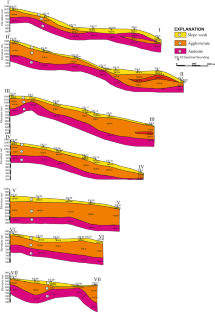 References
Arafat AA (2017) Back analysis of mount Polley dam failure. Master of science thesis, graduate program in earth and space science York University Toronto, Ontario

Atwood WW (1918) Relation of landslides and glacial deposits to reservoir sites: U.S. Geological Survey Bulletin 685, 38 p

Barnes JM (1992) Famous failures. Revisiting major dam catastrophes, Hydro Review Magazine https://damfailures.org/wp-content/uploads/2015/07/116_Famous-Failures.pdf

Bromehead CEN (1936) Geology of reservoir-damsites. In: Transactions: 2nd International Congress on Large Dams, vol 4. International Commission on Large Dams, Washington, pp 113–119

Burwell EB, Moneymaker BC (1950) Geology in dam construction. In: Paige S (ed) Application of geology to engineering practice Berkey Volume. Geological Society of America, pp 11–43

Clarke DD (1904) A phenomenal landslide. Am Soc Civ Eng Trans 53(984):321–412

Demiroğlu V (1988) Yukarı Çoruh Havzası Arkun Barajı Rezervuarı Yokuşlubağ Heyelanının Jeofizik Etüt Raporu. Elektrik İşleri Etüt İdaresi Genel Müdürlüğü, Yayın No:88-4. Ankara, Turkiye. (In Turkish)

Desio A (1973) Geologia applicata alla ingegneria, vol 1. Hoepli, Milan, p 194

Duffaut P (2013) The traps behind the failure of Malpasset arch dam in 1959. J Rock Mech Geotech Eng 5:335–341

EIE (1989) Arkun Barajı ve Hidroelektrik Santrali Yapılabilirlik Raporu. Cilt I, Eylül (In Turkısh)

Emelyanova EP (1953) O prichinakh iaktorekh opolznevykh protsesov (causes and factors of landslide processes). Voprosy gidrogeol. İnzhenernoi geol, Moskva (in Russian)

Ertunç A (1980) "Çoruh Havzası Olası Baraj Yerleri, Göl Alanları ve Tünel Güzergâhlarının Mühendislik Jeolojisi İncelemesi". (Doçentlik Tezi) Elektrik İşleri Etüt İdaresi Genel Müdürlüğü, Ankara, Türkiye (In Turkish)

Ertunç A, Çetin H (2007) Dam projects affected by the landslides on the Çoruh river. Bull Eng Geol Environ 66:335–343. https://doi.org/10.1007/s10064-006-0081-y

Fell R, Mac Gregor P, Stapledon D (1992) Geotechnical engineering of embankment dams. Balkema, Rotterdam, p 675

Galster RW (1989a) Howard A. Hanson Dam. In: Galster RW (ed) Engineering geology in Washington, vol 1. Washington Division of Geology and Earth Resources Bulletin 78, pp 233–240

Galster RW (1989b) Mud Mountain Dam. In: Galster RW (ed) Engineering geology in Washington, vol 1. Washington Division of Geology and Earth Resources Bulletin 78, pp 241–248

Garcia LC, Riberio BD, Rogue OF, Ochoa-Quintero JM (2016) Brasils worst mining disaster: corporations must be compelled to pay the actual environmental costs. Ecoll Appl. https://doi.org/10.1002/eap.1461

Gignoux M, Barbier R (1955) Geologie des barrages et des amenagements hydrauliques. Masson and Co, Paris, p 343

Gleick HP (2009) Three gorges dam project, Yangtze River. China Water Brief 3

Goodman RE (1989) Introduction to rock mechanics, 2nd edn. Wiley, Toronto

Hoek E, Bray J (1981) Rock slope engineering, 2nd edn. Institute of Mining and Metallurgy, London

Hutchinson JN (1968) Mass movement. In: Fairbridge RW (ed) The encyclopedia of geomorphology, New York, pp 688–695

Ibañeza JP, Hatzorb YH (2018) Rapid sliding and friction degradation: lessons from the catastrophic Vajont landslide. Eng Geol 244:96–106

ISRM (International Society for Rock Mechanics) (1978) Suggested methods for the quantitative description of discontinuities in rock masses. Int J Rock Mech Min Sci Geomech Abstr 15:319–368

Kumsar H, Aydan Ö (2018) Engineering geological İnvestigation of Beylerli dam (Çardak-Denizli) Spilway landslide in terms of dam safety. 5th international symposium on dam safety, proceedings:volume II, p. 41-749. İstanbul/Turkey

Kumsar H, Özdamar AR (2018) Stability assesment of slope failures in the spillway site for Seki dam-Muğla, Turkey. In: 5th international symposium on dam safety, proceedings, vol II, pp 729–740 İstanbul/Turkey

Ladd GE (1935) Landslides, subsidences and rockfalls. Proc Am Railw Eng Assoc 36:1091–1162

Lapworth H (1911) The geology of dam trenches. Inst Water Eng Trans, London 16:25–66

Legget RF (1939) Geology and engineering. McGraw-Hill, New York, p 650

Legget RF, Hatheway AW (1988) Geology and engineering. McGraw-Hill, New York, p 613

Legget RF and Karrow PF (1983) Handbook of geology in civil engineering: New York, McGraw-Hill, 50 chap [variously paged]

Mattox A, Higman B, MCkittirick E, Coil D (2016) Understanding Dam Failure. http://www.groundtruthtrekking.org/Issues/OtherIssues/understanding-dam-failure.html

Mencl V (1977) Modern methods used in the study of mass movements. Int Assoc Eng Geol Bull 16:185–197

MGM (2019) Turkish State Meteorological Service: https://mgm.gov.tr/eng/forecast- Citiesaspx

MOC (2002) Technical code for building slope engineering. Ministry of Construction, Beijing

Ökten TT (1989) Yukarı Çoruh Havzası, Arkun Barajı ve HES Projesi Mühendislik JeolojisiRaporu. Elektrik İşleri Etüt İdaresi Genel Müdürlüğü, Ankara, Türkiye. (In Turkish).

Ökten TT, Kayabaşı A (1997) Yukarı Çoruh Havzası Arkun Baraj ve HES Projesi Yokuşlubağ Heyelanı Mühendislik Jeolojisi Raporu. Elektrik İşleri Etüt İdaresi Genel Müdürlüğü. Ankara, Türkiye (In Turkish)

Popov IV (1951) Inzhenernaya geologiya (Engineering Geology). Gos. izd. Geol. lit., 442 pp. Moskva (in Russian).

Richey JE (1959) Dam foundations in argillaceous strata: Water Power, February, p. 57–63.

Richey JE (1964) Elements of engineering geology: London, Sir Isaac Pitman & Sons Ltd., 157 p.

Riemer W (1995) Keynote paper landslides and reservoirs, in Bell, D.H., ed., Landslides: Proceedings, 6th International Symposium on Landslides, Christchurch, February 10–14, 1992, v. 3, p. 1973–2004.

Rocscience (2002) RocFall software for risk analysis of falling rocks on steep slopes. Rocscience user's guide, p 59

Rose TA (2013) The Influence of Dam Failures On Dam Safety Laws In Pennsylvania. https://damfailures.org/wp-content/uploads/2015/07/104_The-Influence-of-Dam-Failures-on-Dam-Safety-Laws-in-Pennsylvania.pdf.

Schaff Zs (2011) The health damage effects of red mud. Presentation at the conference of "Red Mud Disaster: Consequences and lessons", organized by the Hungarian Academy of Sciences and the National Directorate for Disaster Management, March 1. http://www.katasztrofavedelem.hu/letoltes/konferencia/5/schaff_zsuzsanna.pdf

Sharpe CFS (1938) Landslides and related phenomena. Columbia Univ. Press, 138 pp. New York.

Schuster LR (2006) Interaction of Dams and Lanslides-Case studies and Mitigation.U.S.Geological Survey, Reston, Virginia. Web:http://www.usgs.gov/pubprod

Skempas M and Chandler RJ (1993) Case histories of dams with abutment problems, in Anagnostopoulos A, Schlosser F, Kalteziotis N, and Frank, R., eds., Geotechnical engineering of hard soils–soft rocks: Proceedings of an international symposium, Athens,20–23, p. 1319–1325.

Terzaghi K (1936) Stability of slopes of natural clay. Proc. 1st ICSMFE, I, 161–165. Cambridge, Massachussets.

Tolmachev LV (1994) Effect of main engineering-geological factors on selection of sites of large dams, in Proceedings: 7th International Congress, International Association of Engineering Geology, Lisbon, September 5–9, v. 2, p. 1267–1273.

Varnes DJ (1958) Landslide types and processes. In: Landslides and Engineering Practice, vol 29. Highway Research Board, Spec. Report, Washington, pp 20–47

Varnes DJ (1978) Slope movement types and processes. Landslides, analysis and control. Transp Res Board Spec Rep 176:11–33

Walters RCS (1971) Dam geology, 2nd edn. Butterworth's, London, p 470

Willis B (1928) Report on the geology of St. Francis damsite, Los Angeles County, California: Western Construction News, June 25, v. 3, no. 12, p. 409–413.

Wilcox CA, O'Connor EJ, Major JJ (2013) Rapid reservoir erosion, hyperconcentrated flow, and downstream deposition triggered by breaching of 38 m tall Condit Dam, White Salmon River, Washington. Journal of Geophysical Research: Earth Surface, AGU Publications.

WP/WLI (1995) A suggested method for describing the rate of movement of a landslide. Bull Int Assoc Eng Geol 52:75–78

Záruba Q (1979) The importance of slope movements in dam construction. Int Assoc Eng Geol Bull 20:158–162

Záruba Q, Mencl V (1976) Engineering geology: Amsterdam. Elsevier:504 p

Záruba Qu and Mencl V (1982) Landslides and Their control. Second completely revised edition. Elsevier Scientific Publishing Company, Amsterdam Oxford New York.
Acknowledgments
The author would like to express his sincere thanks to fellow geology engineers Tanju Ökten, Ali Oğuz and geophysics engineer Veli Demiroğlu for their permission to use data and valuable comments that helped form this article. The author is also grateful to his former, closed institution, the General Directorate of Electrical Power Researches Survey and Development Administration. The author is grateful for anonymous reviewers of this study for their helpful comments on the manuscript.
Additional information
Responsible Editor: Zeynal Abiddin Erguler
About this article
Cite this article
Kayabasi, A. Evaluation of a reservoir landslide: a case study from Artvin, Turkey. Arab J Geosci 13, 80 (2020). https://doi.org/10.1007/s12517-019-5021-9
Received:

Accepted:

Published:
Keywords
Creep

Reservoir

Monitoring

Resistivity

Çoruh River