Imaging of hydrothermal altered zones in Wadi Al-Bana, in southern Yemen, using remote sensing techniques and very low frequency–electromagnetic data
Part of the following topical collections:
Abstract
Economic mineralization and hydrothermally altered zones are areas of great economic interests. This study focusses on hydrothermal altered zones of high mineralization potentials in Wadi Al-Bana, in southern Yemen. An azimuthal very low frequency–electromagnetic (AVLF-EM) data acquisition was conducted in search for mineralization in the study area. The study integrated observations from geophysical field data with others extracted from object-oriented principal component analysis (PCA) to better map and understand mineralization in the investigated area. This technique was applied to two data sets, ASTER and Landsat 8 Operational Land Imager (OLI) imagery. The results of PCA revealed high accuracy in detecting alteration minerals and for mapping zones of high concentration of these minerals. The PCA-based distribution of selected alteration zones correlated spatially with high conductivity anomalies in the subsurface that were detected by VLF measurements. Finally, a GIS model was built and successfully utilized to categorize the resulted altered zones, into three levels.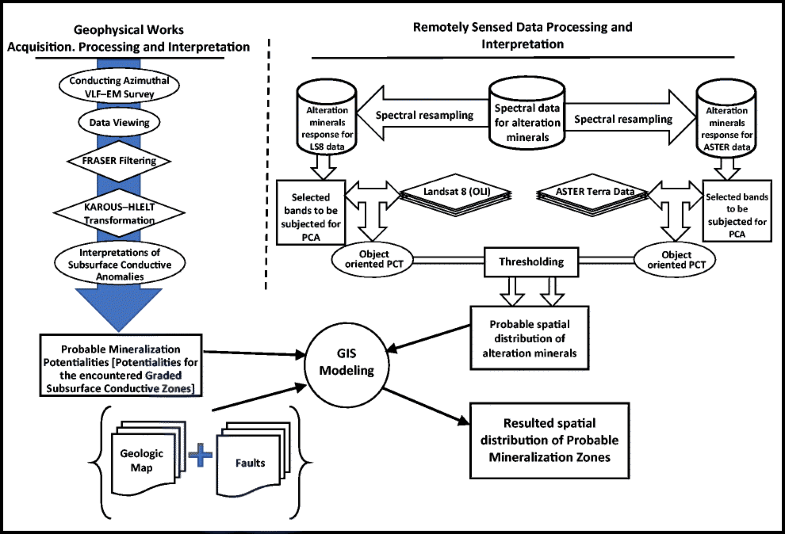 Keywords
Azimuthal VLF-EM survey 
Remote sensing 
Object-oriented PCA 
Hydrothermal alteration 
Mineral exploration 
Notes
Acknowledgments
The authors deeply thank the anonymous editors and reviewers for their precious comments and advice to improve the research paper quality as well as Dr. Tarek A. Barakat, Civil Engineering Department, Faculty of Engineering, Sana'a University, for his support and facilitating the field trips.
Funding information
UAE Space Agency for time funding grant number Z01-2016-001.6
Copyright information
© Saudi Society for Geosciences 2019