Abstract
A dinosaur tracksite was discovered in Batha on the side of the road from Harissa to Ghosta (Keserwan, Lebanon). About ten trackways are exposed at the top of two beds of Lower Cretaceous limestones over an area of approximately 1000 m2. These footprints were probably made by at least two dinosaur species, Sauropoda and either Theropoda or Ornithopoda. The site, which is the first record from Lebanon, should be protected to allow further scientific investigations.
This is a preview of subscription content, log in to check access.
Access options
Buy single article
Instant unlimited access to the full article PDF.
US$ 39.95
Price includes VAT for USA
Subscribe to journal
Immediate online access to all issues from 2019. Subscription will auto renew annually.
US$ 99
This is the net price. Taxes to be calculated in checkout.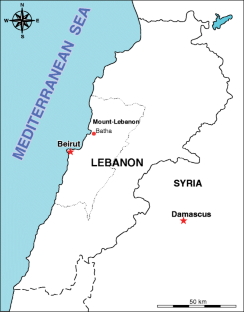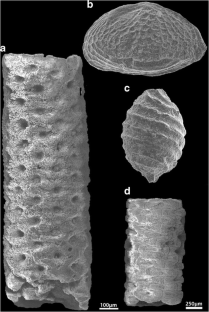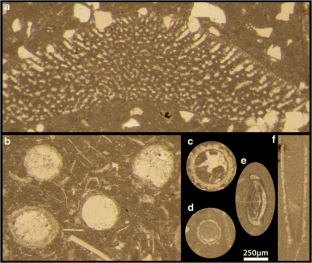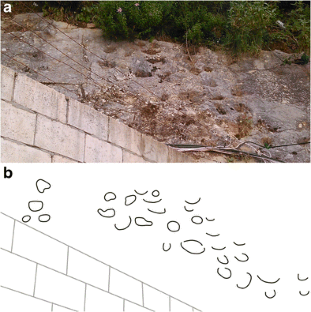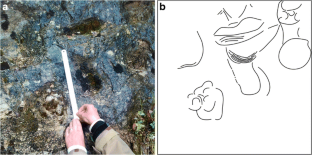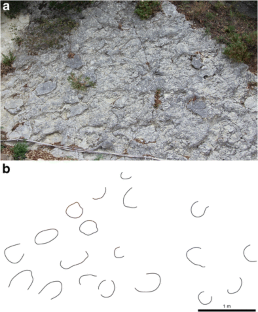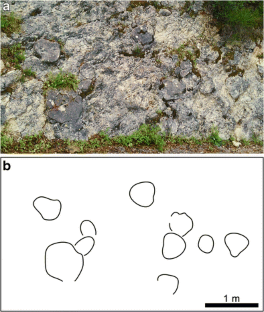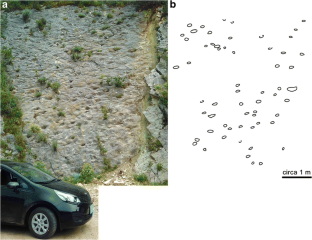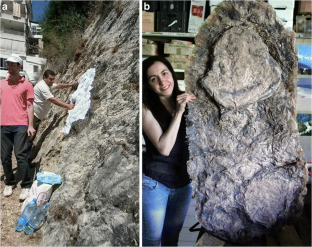 References
Azar D, Dejax J, Masure E (2011) Palynological analysis of amber-bearing clay from the Lower Cretaceous of Central Lebanon. Acta Geologica Sinica (English Edition) 85(4):942–949

Buffetaut E, Azar D, Nel A, Ziade K, Acra A (2006) First nonavian dinosaur from Lebanon : a brachiosaurid sauropod from the Lower Cretaceous of the Jezzine District. Naturwissenschaften 93(9):440–443

Conrad MA, Peybernès B, Radoičić R (1959) Salpingoporella urladanasi, n. sp., une Dasycladale du Crétacé inférieur d'Espagne et de Yougoslavie. Géol. Méditerranéenne IV(2):73-82

Dubertret L (1951) Carte géologique au 50.000ème feuille de Beyrouth. Ministère des Travaux Publiques, République Libanaise 66 pp

Farlow JO, Chapman RE (1997) The scientific study of dinosaur footprints. In: Farlow JO, Brett-Surman MK (eds) The complete dinosaur. Indiana University Press, Bloomington and Indianapolis, Ind, pp. 519–553

Granier B, Azar D, Maksoud S, Gèze R, Habchi R (2015) New fossiliferous sites with Barremian Charophyta in the "Grès du Liban" auct. (Lebanon), with a critical perspective regarding the nature of Munieria Deecke, 1883. Carnets Geol. 15(15):199–229. doi:10.4267/2042/57947

Granier B, Toland C, Gèze R, Azar D, Maksoud S (2016) Some steps toward a new story for the Jurassic - Cretaceous transition in Mount Lebanon. Carnets Geol. 16(8):247–269. doi:10.4267/2042/59924

Henson FRS (1948) Larger imperforate foraminifera of south-western Asia, Families Lituolidae, Orbitolinidae and Meandropsinidae. Monograph of the British Museum of Natural History, London, 127 pp

Kuban GJ (1989) Elongate dinosaur tracks. In: Gillette DD, Lockley MG (eds) Dinosaur tracks and traces. Cambridge University Press, Cambridge, pp. 428–440

Maksoud S, Granier B, Azar D, Gèze R, Paicheler J-C, Moreno-Bedmar JA (2014) Revision of "Falaise de Blanche" (Lower Cretaceous) in Lebanon, with the definition of a Jezzinian regional stage. Carnets Geol 14(18):401–427. doi:10.4267/2042/54359

Moreno K, Carrano MT, Snyder R (2007) Morphological changes in pedal phalanges through Ornithopod dinosaur evolution : a biomechanical approach. J Morphol 268:50–63

Moreno K, De Valais S, Blanco N, Tomlinson AJ, Jacay J, Calvo JO (2012) Large Theropod dinosaur footprint association in western Gondwana : behavioral and paleogeographic implications. Acta Palaeontol Pol 57(1):73–83

Radoičić R (1959) Salpingoporella dinarica nov. sp. u donjokrednim sedimentima Dinarida. Geol. Glasnik Titograd 3:33-42

Saint-Marc P (1970) Contribution à la connaissance du Crétacé basal au Liban. Revue de Micropaléontologie, Paris 12(4):224–233

Schlumberger C (1904) Note sur le genre Choffatella n.g. Bull Soc géol Fr (4ème série) 04:763-764

Schroeder R, Buchem FSP van, Cherchi A, Baghbani D, Vincent B, Immenhauser A, Granier B (2010) Revised orbitolinid biostratigraphic zonation for the Barremian - Aptian of the eastern Arabian plate and implications for regional stratigraphic correlations. GeoArabia, Manama 1:49–96

Sereno PC, Beck AL, Moussa B, Dutheil D, Larsson HCE, Lyon GH, Sadlier RW, Sidor CA, Varrichio DJ, Wilson GP, Wilson JA (1999) Cretaceous sauropods from the Sahara and the uneven rate of skeletal evolution among dinosaurs. Science 286:1342–1347

Thulborn T (2012) Impact of sauropod dinosaurs on lagoonal substrates in the Broome Sandstone (Lower Cretaceous), Western Australia. PLoS One 7(5):e36208. doi:10.1371/journal.pone.0036208iana519-553
Acknowledgements
This research is a contribution to project N° 30959NJ - PHC CEDRE 2014, supported by of the research project of Hubert-Curien Partnership program (PHC) CEDRE, implemented in Lebanon and France by the Ministry of Foreign Affairs (Ministère des Affaires étrangères, MAE) and the Ministry of Higher Education and Research (Ministère de l'Enseignement supérieur et de la Recherche, MESR) led by Bruno Granier (France) and Dany Azar (Lebanon). This paper is also a contribution of the team project "Biodiversity: Origin, Structure, Evolution and Geology" led by Dany Azar at the Lebanese University. This work has been partially funded with support from the National Council for Scientific Research in Lebanon within the project: "Holostratigraphy of the "falaise de Blanche" formation and updating of the geological maps" allotted to Dany Azar. Finally, the authors are grateful to the reviewers for their detailed critical reviews of the original manuscript and also to Phil Salvador who helped polishing the English text.
Additional information
Jean-Claude Paicheler died before publication of this work was completed
Electronic supplementary material
About this article
Cite this article
Gèze, R., Veltz, I., Paicheler, J. et al. Preliminary report on a dinosaur tracksite from Lower Cretaceous strata in Mount Lebanon. Arab J Geosci 9, 730 (2016). https://doi.org/10.1007/s12517-016-2759-1
Received:

Accepted:

Published:
Keywords
Dinosaurs

Lebanon

Lower Cretaceous

Jezzinian

Tracks

Footprints

Ichnites