This is a preview of subscription content, log in to check access.
Access options
Buy single article
Instant unlimited access to the full article PDF.
US$ 39.95
Price includes VAT for USA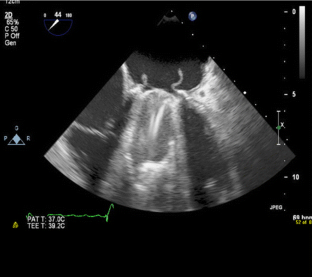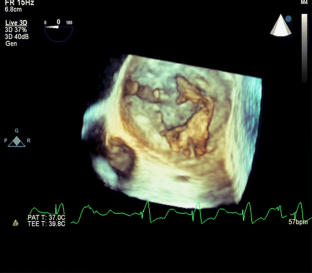 Reference
1.

Moreo A, Lobiati E, De Chiara B, et al. Assessment of mitral prosthetic valve thrombosis by live three-dimensional echocardiography: comparison with transesophageal echocardiography. Hear Vessel. 2007;22(4):287–9.
Electronic supplementary material
Below is the link to the electronic supplementary material.
Two-dimensional transoesophageal echocardiography two-chamber view showing mobile thrombus developed on the atrial side of the prosthesis with a diastolic movement within the prosthesis without obstruction. Normal motion of the prosthetic leaflets during diastole can be observed (WMV 546 kb)
Real-time three-dimensional transoesophageal echocardiography showing the presence of a circular thrombus like a crown protruding between the prosthesis leaflets and the sewing ring (WMV 773 kb)
Two-dimensional transoesophageal echocardiography two-chamber view showing mobile thrombus developed on the atrial side of the prosthesis with a diastolic movement within the prosthesis without obstruction. Normal motion of the prosthetic leaflets during diastole can be observed (WMV 546 kb)
Real-time three-dimensional transoesophageal echocardiography showing the presence of a circular thrombus like a crown protruding between the prosthesis leaflets and the sewing ring (WMV 773 kb)
About this article
Cite this article
Alexandrescu, C., Negrea, S.L., Civaia, F. et al. Imaging the prosthetic valve sewing ring thrombosis using real-time three-dimensional transoesophageal echocardiography. Neth Heart J 21, 521–523 (2013). https://doi.org/10.1007/s12471-011-0217-y
Keywords
Atrial Fibrillation

Mitral Valve

Valve Replacement

Rheumatic Disease

Prosthetic Valve