This is a preview of subscription content, log in to check access.
Access options
Buy single article
Instant unlimited access to the full article PDF.
US$ 39.95
Price includes VAT for USA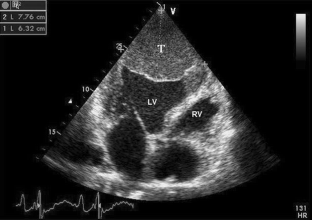 References
1.

Dujardin KS, Click RL, Oh JK. The role of intraoperative transesophageal echocardiography in patients undergoing cardiac mass removal. J Am Soc Echocardiogr. 2000;13:1080–3.

2.

Sharma N, McCullough P, Philbin E, Weaver WD. Left ventricular thrombus and subsequent thromboembolism in patients with severe systolic dysfunction. Chest. 2000;117:314–20.

3.

Schneider C, Bahlmann E, Heuser C, et al. Unusual biventricular thrombus formation in acute myeloid leukemia and Factor V Leiden mutation. Circulation. 2003;107:e114–6.

4.

Vanhaleweyk G, el-Ramahi KM, Hazmi M, Sieck JO, Zaman L, Fawzy M. Right atrial, right ventricular and left ventricular thrombi in (incomplete) Behçet's disease. Eur Heart J. 1990;11(10):957–9.

5.

Moore PA, Segar DS. Twenty-five-year-old man with a giant left ventricular mass. J Am Soc Echocardiogr. 2006;19(10):1294.e7–8.
Electronic supplementary material
Below is the link to the electronic supplementary material.
Transthoracic echocardiography apical for chamber view showing left ventricular dilatation, apical aneurysm and a giant undulating apical thrombus. (AVI 2389 kb)
Transthoracic echocardiography apical for chamber view showing left ventricular dilatation, apical aneurysm and a giant undulating apical thrombus. (AVI 2389 kb)
About this article
Cite this article
İlhan, E., Güvenç, T.S. & Tayyareci, G. An undulating giant left ventricular apical thrombus after myocardial infarction. Neth Heart J 20, 292–293 (2012) doi:10.1007/s12471-011-0151-z
Keywords
Myocarditis

Hydatid Cyst

Takotsubo Cardiomyopathy

Ventricular Aneurysm

Left Ventricular Thrombus