Role of multimodality imaging in the early identification of cardiac sarcoidosis
A 40-year-old male presented to the emergency department complaining of palpitations and was found to be in stable monomorphic ventricular tachycardia (Figure
1
). He underwent a thorough diagnostic workup. Cardiac catheterization revealed normal coronary arteries and endomyocardial biopsy was nondiagnostic. However, based on findings from multiple imaging modalities including cardiac MRI (Figure
2
), transthoracic echocardiography (Figure
3
A), and cardiac PET (Figure
4
, first and second rows; and Figure
5
), a clinical diagnosis of cardiac sarcoidosis was made. High-dose steroids were initiated and he underwent placement of an ICD before discharge. After completing a course of steroids, repeat imaging revealed improved left ventricular function and resolution of regional cardiac inflammation (Figure
3
B; and Figure
4
, third row). The patient continues to do well clinically with no symptoms or arrhythmias.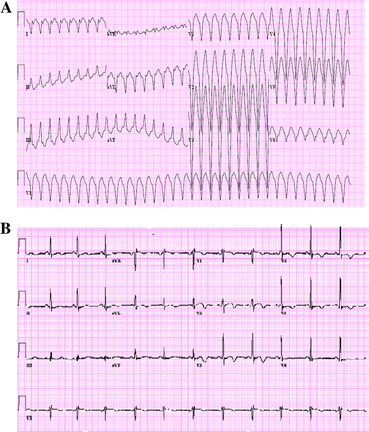 Keywords
Sarcoidosis 
Cardiac Involvement 
Multiple Imaging 
Endomyocardial Biopsy 
Multimodality Imaging 
These keywords were added by machine and not by the authors. This process is experimental and the keywords may be updated as the learning algorithm improves.
Notes
Conflict of interest
The authors have indicated that they have no financial conflict of interest.
Supplementary material
Supplementary material 1 (MP4 176 kb)
Supplementary material 1 (M4V 875 kb)
References
1.

Uemura A, Morimoto S, Hiramitsu S, Kato Y, Ito T, Hishida H. Histologic diagnostic rate of cardiac sarcoidosis: Evaluation of endomyocardial biopsies. Am Heart J 1999;138:299-302.

PubMed

CrossRef

Google Scholar

2.

Youssef G, Leung E, Mylonas I, Nery P, Williams K, Wisenberg G, et al. The use of F-18 FDG PET in the diagnosis of cardiac sarcoidosis: A systematic review and meta-analysis including the Ontario experience. J Nucl Med 2012;53:241-8.

PubMed

CrossRef

Google Scholar

3.

Ohira H, Tsujino I, Ishimaru S, Oyama N, Takei T, Tsukamoto E, et al. Myocardial imaging with 18F-fluoro-2-deoxyglucose positron emission tomography and magnetic resonance imaging in sarcoidosis. Eur J Nucl Med Mol Imaging 2008;35:933-41.

PubMed

CrossRef

Google Scholar
Copyright information
© American Society of Nuclear Cardiology 2014