This is a preview of subscription content, log in to check access.
Access options
Buy single article
Instant unlimited access to the full article PDF.
US$ 39.95
Price includes VAT for USA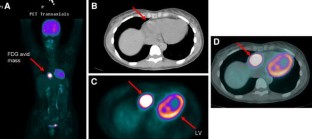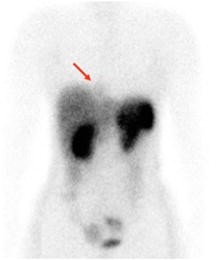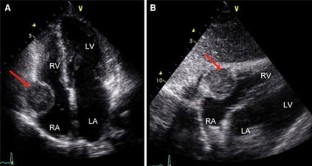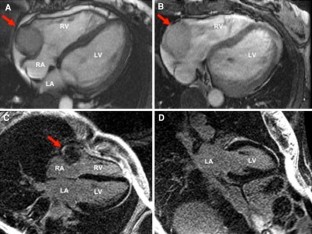 References
1.

Erickson D, Kudva YC, Ebersold MJ, Thompson GB, Grant CS, Van Heerden JA, et al. Benign paragangliomas: Clinical presentation and treatment outcomes in 236 patients. J Clin Endocrinol Metab 2001;86:5210-6.

2.

Brown ML, Zayas GE, Abel MD, Young WF, Schaff HV. Mediastinal paragangliomas: The Mayo Clinic experience. Ann Thorac Surg 2008;86:946-51.

3.

Maxey TS, Grow P, Morris CD, Patton KT, Guyton RA. Biatrial primary cardiac paraganglioma: A rare finding. Cardiovasc Pathol 2007;16:179-82.

4.

Turley A, Hunter S, Stewart M. A cardiac paraganglioma presenting with atypical chest pain. Eur J Cardiothoracic Surg 2005;28:352-4.

5.

Martin WH, Delbeke D, Patton JA, Sandler MP. Detection of malignancies with SPECT versus PET, with 2-[fluorine-18]fluoro-2-deoxy-d-glucose. Radiology 1996;198(1):225-31.
Electronic supplementary material
Below are the links to the electronic supplementary material.
A transthoracic 2-dimensional echocardiogram (Apical 4 chamber and sub-costal views) showing the para-cardiac mass in the region of the right atrioventricular groove (AVI 1760 kb)
A transthoracic 2-dimensional echocardiogram (Apical 4 chamber and sub-costal views) showing the para-cardiac mass in the region of the right atrioventricular groove (AVI 2615 kb)
A transthoracic 2-dimensional echocardiogram (Apical 4 chamber and sub-costal views) showing the para-cardiac mass in the region of the right atrioventricular groove (AVI 1760 kb)
A transthoracic 2-dimensional echocardiogram (Apical 4 chamber and sub-costal views) showing the para-cardiac mass in the region of the right atrioventricular groove (AVI 2615 kb)
Cardiac magnetic resonance imaging demonstrating the mass (33x31 mm diameter) in the right AV groove (AVI 2030 kb)
About this article
Cite this article
Thomas, D., Grant, F.D., Kwong, R. et al. Multimodality imaging of an unusual case of cardiac paraganglioma. J. Nucl. Cardiol. 16, 644–647 (2009). https://doi.org/10.1007/s12350-009-9067-z
Received:

Revised:

Accepted:

Published:

Issue Date:
Keywords
Octreotide

Cardiac Magnetic Resonance

Paraganglioma

Metanephrines

Physiological Uptake