This is a preview of subscription content, log in to check access.
We're sorry, something doesn't seem to be working properly.
Please try refreshing the page. If that doesn't work, please contact support so we can address the problem.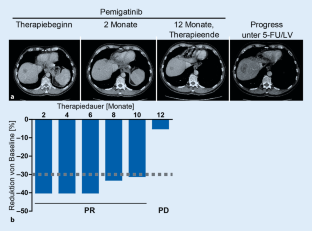 Literatur
1.

Valle J, Wasan H, Palmer DH, Cunningham D, Anthoney A, Maraveyas A, Madhusudan S et al (2010) Cisplatin plus gemcitabine versus gemcitabine for biliary tract cancer. N Engl J Med 362:1273–1281

2.

Malka D, Cervera P, Foulon S, Trarbach T, de la Fouchardiere C, Boucher E, Fartoux L et al (2014) Gemcitabine and oxaliplatin with or without cetuximab in advanced biliary-tract cancer (BINGO): a randomised, open-label, non-comparative phase 2 trial. Lancet Oncol 15:819–828

3.

Shroff RT, Javle MM, Xiao L, Kaseb AO, Varadhachary GR, Wolff RA, Raghav KPS et al (2019) Gemcitabine, cisplatin, and nab-paclitaxel for the treatment of advanced biliary tract cancers: a phase 2 clinical trial. JAMA Oncol 5:824–830

4.

Lamarca A, Hubner RA, David Ryder W, Valle JW (2014) Second-line chemotherapy in advanced biliary cancer: a systematic review. Ann Oncol 25:2328–2338

5.

Verlingue L, Malka D, Allorant A, Massard C, Ferte C, Lacroix L, Rouleau E et al (2017) Precision medicine for patients with advanced biliary tract cancers: an effective strategy within the prospective MOSCATO-01 trial. Eur J Cancer 87:122–130

6.

Javle MM, Murugesan K, Shroff RT, Borad MJ, Abdel-Wahab R, Schrock AB, Chung J et al (2019) Profiling of 3,634 cholangiocarcinomas (CCA) to identify genomic alterations (GA), tumor mutational burden (TMB), and genomic loss of heterozygosity (gLOH). J Clin Oncol 37:4087–4087

7.

Javle M, Lowery M, Shroff RT, Weiss KH, Springfeld C, Borad MJ, Ramanathan RK et al (2018) Phase II study of BGJ398 in patients with FGFR-altered advanced cholangiocarcinoma. J Clin Oncol 36:276–282

8.

Vogel A, Sahai V, Hollebecque A, Vaccaro G, Melisi D, Al-Rajabi R, Paulson AS et al (2019) LBA40FIGHT-202: a phase II study of pemigatinib in patients (pts) with previously treated locally advanced or metastatic cholangiocarcinoma (CCA). Ann Oncol. https://doi.org/10.1093/annonc/mdz394.031

9.

Goyal L, Saha SK, Liu LY, Siravegna G, Leshchiner I, Ahronian LG, Lennerz JK et al (2017) Polyclonal secondary FGFR2 mutations drive acquired resistance to FGFR inhibition in patients with FGFR2 fusion-positive cholangiocarcinoma. Cancer Discov 7:252–263

10.

Goyal L, Shi L, Liu LY, Fece de la Cruz F, Lennerz JK, Raghavan S, Leschiner I et al (2019) TAS-120 overcomes resistance to ATP-competitive FGFR inhibitors in patients with FGFR2 fusion-positive intrahepatic cholangiocarcinoma. Cancer Discov 9:1064–1079
Ethics declarations
Interessenkonflikt
A. Saborowski und M. Bathon geben an, dass kein Interessenkonflikt besteht. A. Vogel hat Honorare für Vorträge und Beratung von INCYTE und SHIRE erhalten.
Für diesen Beitrag wurden von den Autoren keine Studien an Menschen oder Tieren durchgeführt. Für die aufgeführten Studien gelten die jeweils dort angegebenen ethischen Richtlinien.
About this article
Cite this article
Saborowski, A., Bathon, M. & Vogel, A. Molekulares Tumorboard: Cholangiokarzinom. Forum 35, 13–16 (2020). https://doi.org/10.1007/s12312-019-00728-4