Viper as a Batesian Model – its Role in an Ecological Community
Abstract
Appearance of Old world vipers of genus Vipera serves various purposes including crypsis and aposematism. Recent research showed that the zigzag pattern represents strong signal to predators to avoid vipers as a prey. It is also possible that vipers function within ecological community as Batesian model for numerous mimics, including other reptiles, birds, and invertebrates. It is then showed that Batesian models need to have prominent features to sustain the mimicry system. The main modulation of this system is presented here as iconicity. Iconicity is treated as quantitative variable resulting from open dynamic process with multiple inputs, also including iconicity of previous states of system. Batesian mimicry is based on mimics adopting the iconicity of the model. It is an example of ecological facilitation, and as such, it is part of niche construction. Since Batesian mimicry is based on semiotic processes, it is a special case of ecological facilitation, namely semiotic facilitation.
Keywords
Vipera
Snakes 
Batesian mimicry 
Iconicity 
Semiosis 
Community dynamics 
Ecological facilitation 
The Anglo-Germanic word adder, just like the English snake and Latin natrix, derives from the Proto-Indo-European (s)neh- (Merriam-Webster 2018), meaning 'to twist or spin' or 'a needle or rope' (compare the Dutch naaien, 'to sew') (Rix and Kümmel 2001). In Slavonic languages, a viper is in Czech called zmije (derived from země, 'ground' or 'soil'), while in Bulgarian it is known as пепелянка (pepelyanka, derived from word pepel, 'ashes, dirt') (Štěrbová 2017). It is probably a way of avoiding the 'true' name of the animal. Such circumlocutions around the original taboo names highlight the importance and respect people accorded to animals throughout history (Emeneau 1948; Smal-Stocki 1950). Indeed, upon encountering a snake, a person noticing it may feel a short but powerful physiological response (Öhman and Mineka 2003).
In Batesian mimicry, selecting agents are those who 'seek the imitator, but avoid the imitated' (Bates 1862, p. 512), while the imitated (model) organisms advertise their dangerous nature by aposematic appearance (Komárek 2003). The surface of aposematic terrestrial species often features a combination of black and yellow-red hues: such an appearance contrasts with the background (Sherratt and Beatty 2003), thus aiding detection and recognition (Endler 1981). This is a example of Batesian mimicry in snakes and it is found, for instance, in various venomous New World coral snakes (genera Micrurus and Mircuroides) but also numerous species of nonvenomous colubrid snakes. Nonetheless, even within this classical mimicry system, we find cases where utilisation of bright colours has been abandoned and colouration of both the model and its mimic shifted to duller colours (Greene and McDiarmid 1981). Indeed, the aposematic appearance of a Batesian model does not necessarily require that the model be conspicuous or variegated (Sherratt and Beatty 2003; Endler and Mappes 2004). An aposematic signal has to be distinct, memorable, generalisable (Guilford 1988; Endler 1990; Mallet and Joron 1999; Caro 2017). It has been demonstrated that in naive predators, differences exist between the memorability of prey coloured in red-yellow hues and grey prey items, but what ultimately decided about the predators' choice of prey was its edibility or inedibility, not its appearance (Ham et al. 2006). The functioning of aposematic signal depends on how unambiguous the response is and how much the effects of such response transfer to the future. If the effects which are reflected in future interactions are strong enough even where the signal is relatively cryptic (i.e. a weak aposematic signal that leads to relatively low receptor activation), a pattern can function as an aposematic signal (Sherratt and Beatty 2003; Ruxton et al. 2008). Although the main assumptions about functionality of aposematic and cryptic coloration hardly at all overlap – cryptic coloration need not activate or confuse the predators' visual receptors, while aposematic coloration needs to activate their photoreceptors and be unambiguous – appearance can have an aposematic or cryptic function either simultaneously or sequentially (Endler 1981; Stevens 2007). Colouring can function in different ways depending on the viewing conditions, for instance distance (Tullberg et al. 2005; Barnett and Cuthill 2014). Its functioning can also depend on whether an animal is still or moving (Pough 1976; Hanlon et al. 1999; Ioannou and Krause 2009). Moreover, predators differ in their ability to perceive the signaller's appearance (Endler 1978). Theoretical models suggest that the response of predator community to prey's harmful or unpalatable nature has an impact on its appearance (Endler and Mappes 2004). When only a minority of predators avoids a harmful aposematic signaller, crypsis is favoured. Only when most predators notice and learn to avoid harmful prey, conspicuous appearance starts to be favoured (Endler and Mappes 2004). It also needs to be taken into account that signals are often complex multicomponent traits that do not function independently of one another but interact and form functional units (Hebets and Papaj 2005). Multiple components of aposematic signals produced by members of a mimicry system enhance the resemblance needed to achieve avoidance by their predators (Kazemi et al. 2014; Kikuchi et al. 2016; Wang et al. 2017).
In the following, I would like to focus on Eurasian true vipers (Vipera), the aposematic nature of their appearance and their possible role as Batesian models. It will be argued that although the primary appearance of these snakes is probably subjected to natural selection for crypsis, in some contexts, vipers thanks to their unique appearance function as Batesian models for a broad range of mimics. Finally, I briefly discuss the role of Batesian mimicry in niche construction via ecological facilitation.
Function of Viper Appearance
Genus
Vipera
is distinct among European snakes in virtue of its keeled dorsal scales, triangular head with multiple small scales on the top, and a dark dorsal zigzag pattern (Speybroeck et al.
2016
) (Fig. 
1
a, Fig. 
2
a). In this genus, we find a widespread colour polymorphism that includes monochromatic melanistic and red morphs, striped morphs, as well as the most common banded or zigzag morphs (Speybroeck et al.
2016
). It has been hypothesised that ambiguity stemming from polymorphic colouration makes the prey harder to detect for predators, because it is more difficult to search for multiple prey types than it is to search for just one definite type (Clarke
1962
; Bond
2007
). The zigzag morph is less predated upon than the melanistic morph, but the melanistic morph has an advantage in thermoregulation and other related traits (Andrén and Nilson
1981
; but see Forsman and Ås
1987
). While different complex patterns have disruptive properties (Cott
1940
), blotchiness in its various degrees enhances crypsis by blending into background, while stripes found in the different taxa of snakes seem to assist a strategy of visual escape (Jackson et al.
1976
; Brodie
1992
; Wolf and Werner
1994
). Even blotchy or banded patterns have a beneficial effect due to snakes' behaviour during their escape. The illusion of an apparently monochrome appearance of a banded moving object is called a 'flicker-fusion effect' (Brown
1965
; Shiffrar and Lorenceau
1996
). It is related to Wertheimer's 'phi phenomenon' (
1912
), a psycho-optic phenomenon where stationary objects appear to move (or vice versa). When a snake is motionless, the pattern can have a cryptic function, and when the snake is moving, the pattern blurs and changes the properties of its appearance dramatically (Pough
1976
; Shine and Madsen
1994
; Titcomb et al.
2014
). Abrupt transition from movement to stillness confuses predators: interestingly, when a predator follows a moving object, it cannot immediately recognise it when it becomes still (Pough
1976
). The flicker-fusion effect has also been proposed as an explanation for sexual dichromatism present in the zigzag morphs of some species of
Vipera
, such as
V. berus
,
V. amodytes
, and
V. seoanei
(Shine and Madsen
1994
). And since the dull dichromatic colouration of females of various
Vipera
species resembles the colouration of both sexes of non-dichromatic species, such as
V. ursini
and
V. aspis
, and males of the dichromatic species assume a bright colouration only during the mating season, it has been suggested that the main driver of dichromatism in the
Vipera
are selection pressures on the males rather than the females (Shine and Madsen
1994
). Support for the flicker-fusion hypothesis among vipers has later been discussed in a field study which had shown that zigzag males survive better than their monochromatic melanistic conspecifics, whereas no significant difference in survival rates was found between melanistic and zigzag females (Lindell and Forsman
1996
). The argument was that especially during the mating season, males travel over long distances, while females tend to be sedentary (Moser et al.
1984
; Neumeyer
1987
). Better survival chances of bright zigzag males can thus be ascribed to benefits stemming from the flicker-fusion effect (Lindell and Forsman
1996
).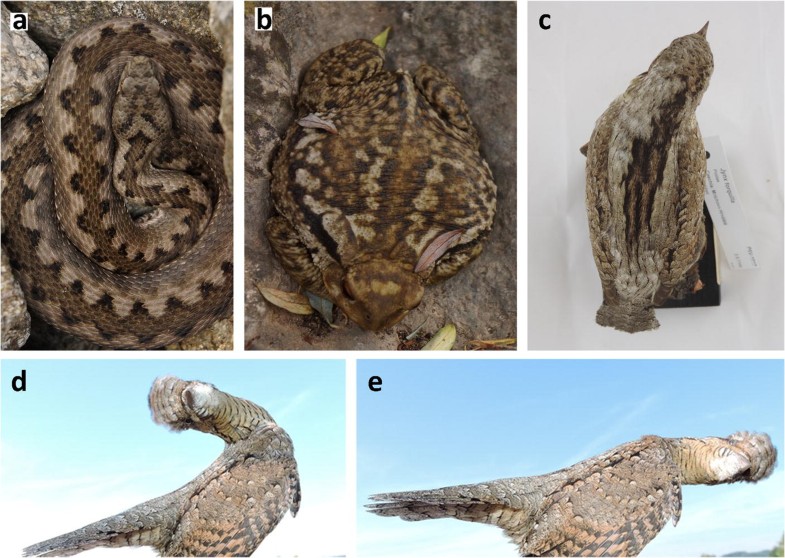 The abovementioned explanations of viper coloration a priori assume that the main function of the zigzag pattern is to avoid detection by predators, but already Andrén and Nilson (1981) suggested that zigzag patterning could function as an aposematic signal. Recent field experiments which tested predation pressures among various viper-like patterned snake replicas (Wüster et al. 2004; Niskanen and Mappes 2005; Valkonen et al. 2011a) indicate that, in addition to crypsis and thermoregulation, there may yet another explanation for the function of colour in vipers, namely aposematism. It has been found that in northern Europe, where V. berus is the only venomous snake, zigzag-patterned immobile snake replicas suffered significantly less predation regardless of the background and the colour of their pattern (Wüster et al. 2004). The experimental setup was designed so as to exclude the role of zigzag coloration in background matching by employing a comparison between a natural and artificial background and the dichromatic versions of the zigzag-patterned viper replicas. Results were then confirmed by a follow-up study in southern Europe, where V. latastei occurs (Niskanen and Mappes 2005).
Although these two studies demonstrated a reduced predation rate upon zigzag-patterned snake models and excluded background matching as the main underlying reason, they did not show whether the main cause of reduction in the detection rate of such prey is active avoidance of this pattern by predators or the pattern's disruptive nature, which makes it harder to detect. However, the most recent study on this subject shows this phenomenon is best explained by active avoidance and not the disruption caused by zigzag patterning (Valkonen et al. 2011a). Thus, although viper coloration is cryptic and can function as such under certain conditions, it is also aposematic because even when controlled for background matching and the pattern's disruptive properties predators do avoid zigzag-patterned replicas. Moreover, it has been shown that not only the zigzag pattern, but also the typical shape of viper head functions as an aposematic signal (Valkonen et al. 2011b). Triangular head shape (Fig. 1a, b) and zigzag patterning do not have an additive effect on predation rate: it has been shown that predators also avoid snake replicas that have either only triangular head or a zigzag pattern (Valkonen et al. 2011b). Another study, however, suggests that triangular head shape does not necessarily always have an aposematic effect (Guimaraes and Sawaya 2011, 2012; Valkonen and Mappes 2012), while the zigzag pattern does (see above). Both zigzag pattern and head triangulation might represent same category of aposematic signals as well as teeth or claws (Souchet and Aubret 2016).
It has also been proposed that Old World vipers function as models of Batesian mimicry. If vipers indeed function as aposematic models in a Batesian mimicry system, there must also be the mimics. Smooth snakes (Valkonen and Mappes 2014) (Fig. 1b) or viperine snakes (Santos et al. 2017) resemble European vipers in their patterns, head triangulation, hissing, and the fact they are snakes. Other examples of possible viper mimicry can, however, be found also elsewhere, as is the case of the Eurasian wryneck (Jynx torquila) (Fig. 2c), a notorious mimic of the snakes and vipers in particular. In fact, already Aristotle had hypothesised that the wryneck mimics snakes (Maran 2007). Its behavioural display involves head swaying from side to side (imitation of the wriggling snake) (Fig. 2d, e), erecting its head feathers, and sometimes even hissing (Lučan in verb. 2017). Another mimic of the viper may be the common toad (Fig. 2b), where some individuals can closely resemble a coiled viper and hiss when approached. The slowworm has also been sometimes included in the group of viper mimics thanks to its coloration pattern and a snake-like shape (Smith 1974). And although it may seem at first glance unfounded, other proposed snake mimics include slugs and salamanders (Salamandra salamandra), which are polymorphic in colour, but in some instances, display a zigzag pattern on their dorsal side (Moravec in verb. 2018). There is plenty of evidence in literature on colubrid snakes presumably mimicking viperid snakes by their colour. Such cases include African eggeaters (Dasypeltis) (Gans 1961; Pough 1988), Boiga (Kroon 1975), the Telescopus (Greene and McDiarmid 2005) who mimic Old World vipers (Echis, Causus), or American gopher snakes (Pituopsis melanoleucus) and Asian catsnakes (Boiga) who mimic rattlesnakes (Crotalus) and pitvipers (Protobothrops) respectively (Sweet 1985; Rodríguez-Robles and De Jesús-Escobar 2000); for a thorough review on non-venomous snakes imitating venomous snakes, see (Greene and McDiarmid 2005).
Moreover, there also exist aposematic signals other that coloration which are produced solely by snakes. The rattle of rattlesnakes, hissing, widening of the body, triangulation of the head, the raspy sound produced in coiled state by scales. All these are unmistakable warning signals that a snake is about to strike. Some of them, however, may be just epiphenomena. For instance, hissing seems to be the archetypal sound produced by animals when they are threatened, and it is found in cockroaches (Hunsinger et al. 2017), bumblebees (Kirchner and Röschard 1999), butterflies (Vallin et al. 2005), tits (Krams et al. 2014), turtles (Gans and Maderson 1973), and others, but because of its simple mechanical nature, one could argue that it is a general sign of stress. On the other hand, a study on the role of hissing in aposematism and mimicry among snakes found that all specimens of viper (Vipera aspis) hiss when threatened and most of the viperine snakes (Natrix maura) hiss as well, while only a minority of grass snakes (Natrix natrix) hiss (Aubret and Mangin 2014). It would thus seem that at least in this context, not all snakes hiss the same. Moreover, behavioural aposematic signals are often produced in conjunction and are also mimicked together. For instance, gopher snakes mimic not only the rattlesnakes' rattles and hissing, but also their overall defensive behaviour (Sweet 1985). Rattles are also mimicked by burrowing owls (Athene cunicufaria) who share their microhabitat with rattlesnakes (Rowe et al. 1986). Likewise, the hissing and sounds produced by African vipers by the friction of keeled scales during a coiled defensive posture are imitated in conjunction by eggeaters (Gans 1961). Another widespread aposematic behaviour found in snakes is head triangulation (Werner and Frankenberg 1982; Werner 1983; Guimaraes and Sawaya 2011; Valkonen et al. 2011b), which is mimicked by, e.g., caterpillars (Hossie and Sherratt 2013). Moreover, it has been shown that predators perceive and react to such aposematic manifestations even when they are produced by mimics. An example of this behaviour can be found in the greater roadrunner (Geococcyx californianus) that responds to both the venomous prey and its non-venomous mimic (Pituopsis and Crotalus resp.) as if they were both dangerous prey but show no such response to a coral snake (Micruroides) (Sherbrooke and Westphal 2006). Since rattlesnakes and coral snakes differ in the amount of danger they present to roadrunners, differences in roadrunner's response to coral snakes and rattlesnakes suggest that these birds make a distinction between dangerous prey based on risk levels.
Mimicry of Viper in Semiotic Interpretation
The morphology, pattern, odour, or behaviour based on which a particular organism is immediately recognised is its 'seme' (Kleisner and Markoš 2005). Semes emerge by semantic co-option (Kleisner 2010, 2011) and specific selection acting upon semes is semiotic selection (Maran and Kleisner 2010; Kleisner 2015). Maran (2007, 2011) presents an extensive overview of the concept of iconicity with special focus on mimicry, but in the following, I do not focus on the semantic quality of iconicity. Instead, I understand it as a continuous quantifiable variable. Let us define a trait's potential to become a seme by the probability of that trait being semiotically co-opted so as to represent the properties of one, and only one particular organism. The sum of such potentials of all the traits of an organism is then its iconicity. In other words, iconicity is a quantity that expresses the extent to which an organism is unambiguously recognisable by observers as representing just that particular organism with its properties. Some of the abovementioned traits may represent a specific organism, while others may pertain to this organism and its relatives within an evolutionary or ecological group. Zigzag patterns and triangular heads are the typical characteristics of the Vipera snakes, and the same holds for coiling, the sound produced by the friction of scales, and hissing. Some of these signals have foundation in the general appearance of snakes (for instance hissing or coiling), others are shared by all viperid snakes (e. g. triangulated head), and all are present in vipers of genus Vipera together with a viper-specific signal, the zigzag pattern. Moreover, while for instance the morphological triangulation of the head is specific to the genus Vipera only in Europe, it is present in various viperid genera in the tropics. A viper is thus more iconic than a snake in general, and the iconicity of vipers in Europe is greater than the iconicity of viperids in the tropics.
It has been suggested (Kleisner and Markoš 2005; Maran 2011) that by sharing traits within mimicry circles, mimics lose part of their own identity. They sacrifice some of their iconicity so as to take advantage of iconicity of the model organism. In Müllerian mimicry, shared appearance is maintained by the fact that models and mimics share properties represented by the appearance, i.e. that they represent what they are. In Batesian mimicry, on the other hand, the system relies on iconicity of the model species that is parasitized upon by the mimics' appearance. In other words, mimics represent what the model organism represents and only the model organism represents what it truly is. A Batesian model therefore needs to be iconic enough to 'feed' the whole mimetic complex by its appearance.
High iconicity can be reached by elaborate and highly specific appearance (or overall nature) of an organism, or simply by being the only species with particular properties that have been semiotically co-opted. On the other hand, predators from predator mixes such as those discussed in Endler and Mappes (2004), who ignore the harmful nature of aposemantic signallers, lower their iconicity. From the viewpoint of those predators, the prey thus has no semes. There is no semiotic co-option, no semiotic selection on the exposed surfaces of signallers that could counter the fact that natural selection favours cryptic appearance, i.e. that the most advantageous strategy is to evade the attention of predators. On the other hand, Endler and Mappes (2004) suggest that when predators do distinguish the nature of the signaller, the result of natural selection by the relevant predator mix is hard to predict and various outcomes are possible, including selection that will favour conspicuousness. It could be objected, however, that the outcome is not random: it depends on semiotic processes and to a large extent also on the context where iconicity of the aposematic signaller functions. In particular, predators who do not ignore the potentially harmful nature of aposematic signallers and treat some morphological characteristics as representative of the overall nature of a particular signaller increase the signaller's iconicity. When more predators do not ignore the overall nature of signallers, the result is constrained morphological variability of co-opted traits and the emergence and evolution of semes. The difference between these explanations is the following: the iconicity principle relies on properties of model's meaning to the whole community rather than just on the community's composition per se. Iconicity is thus a relative property, a modulation (sensu Fernández 2014), and for a population it represents the non-linear output of dynamic interactions between 1) the diversity of similar organisms that share a community of observers, 2) perceptual and behavioural variability of the community of observers, 3) morphological variability of the community of signallers and similar organisms, and 4) the overall nature of the signallers. The overall nature of signallers may be difficult to objectively define and quantify: it may correspond to their ecological significance, such as their position in the trophic cascade, or to their sex, in case of sexual selection. When considering aposematism in snakes, it could be best expressed in terms of the constriction pressure they can develop, their bite force, or the toxicity of their venom.
In the case of mimicry, models' iconicity enters the system's dynamics as the initial condition for the iconicity of each mimic, but each new mimic in the system also influences the model's iconicity. Such a system can have a very complex behaviour, which might lead to seemingly non-intuitive results. A recent study by Rabosky et al. (2016) has empirically described some properties of coral snakes' mimicry system that have not been predicted by the traditional mimicry theory. Among other things, the authors suggest on the basis of their results that mimicry is not a static evolutionary outcome. Instead, what takes place are repeated reciprocal evolutionary transitions between mimicry and cryptic colour patterns among mimics. Just as importantly, loss of mimicry occurs more frequently in areas where the model organisms are present than in areas where they are absent. This contrasts with a previous belief that the mimics' advantage is the highest where they live in sympatry with models and runs counter the expectation that mimicry development will not take place where mimics live in a parapatry with the model (Waldbauer and Sternburg 1987). As it turns out, the model and its mimic need not to be fully sympatric. What is necessary is that they share a community of predators (Pfennig and Mullen 2010). The results of Rabosky et al. (2016) have also shown that in given localities, there are significantly more mimic species than there are model species. Once again, this runs counter the widely accepted prediction that Batesian mimics should be rarer than their models. On the other hand, it is safe to assume that if a model organism is toxic enough, it will enable the existence of significantly greater number of sympatric mimics (Lindström et al. 1997; Pfennig 2016).
One interpretation of such an abundance of mimics could be that the presence of highly toxic coral snakes leads to increased speciation and elaboration of appearance in the harmless mimicking snakes. Indeed, a striking overall nature (high toxicity) of a model enables the maintenance of a large number of mimics, although in the end, the higher the number of mimics, the lower the iconicity. Rate of predation of mimics is the highest where the mimics are common (Pfennig et al. 2007). If a highly iconic model continuously facilitates speciation and emergence of mimicry in new species, then – if the whole mimicry system is to remain sustainable by the means of iconicity – some of the already mimicking species must lose their mimicry. An abundance of mimics may also lead to a morphological elaboration or an increase in the overall nature on the part of the model in an effort to prevent loss of its iconicity which establishes its aposematism. If most of the snakes in the area become mimics, the ratio model/mimics will become low, predators will have no choice but take risks (ignore aposematic appearance), there will be selective pressure for the model to lose or reinvent it aposematic signalling or for the mimics to lose mimicry. Hypothetically, if the profusion of mimics were not dynamically compensated, the whole mimicry system could collapse. This would lead to extinctions or a massive reduction in the populations of the mimicking taxa, until the system would re-establish itself – given, of course, that the overall nature of the model is still present. It is also possible that during this collapse, new morphological traits of the model could be semiotically co-opted and after the system's re-establishment, mimics which lost their mimicry might take advantage of the model's current iconicity. In this way, a repeated loss and acquisition of mimicry in an environment rich in mutually similar species be a good evolutionary strategy that is based purely on taking advantage of well-balanced iconicity.
Viper Mimicry as Example of Niche Construction
'Organisms, through their metabolism, their activities, and their choices, define, partly create, and partly destroy their own niches. We refer to these phenomena as "niche construction".' (Odling-Smee et al. 1996, p.641). From the perspective of current ecology and evolutionary biology, we could say that in this way, Batesian mimicry is an example of niche construction. In the past, it was believed that predation, competition, and abiotic stress are the main factors that shape organismal evolution. Recently, however, it has been discovered that positive interactions between species also play a significant role (Bruno et al. 2003; Brooker et al. 2008). These positive interactions among organisms within their environment are called ecological facilitation (Bertness and Callaway 1994; Stachowicz 2001; Bruno et al. 2003). The idea of ecological facilitation originated in research on plant communities. Examples of community interactions that feature ecological facilitation by plants include refuge from physical stresses, nutrient transfer and trophic facilitation, refuge from competition, and refuge from predation (Stachowicz 2001). Not only plants but also animals play a role in ecological facilitation. Thus, for instance, stands of ribbed mussels (Guekensia demissa) together with Atlantic cordgrass (Spartina alterniflora) facilitate a positive relationship between an invasive Asian crab (Hemigrapsus sanguineus) and native communities, although outside this microbiotope, the Asian crab's impact on native communities is negative (Altieri et al. 2010). Large carnivores mediate changes in their environment and in the composition of communities by facilitating trophic cascades (Wilmers et al. 2003; Ripple et al. 2014).
Interaction between Batesian models and their mimics is positive because by mimicking a model, mimics increase their survival rates. Batesian mimicry can therefore be viewed as an example of ecological facilitation. Such a relationship between a model organism and its mimic may have a positive impact on a survival of endangered species (Valkonen and Mappes 2014). Pfennig et al. (2001) found evidence to the effect that the proportion of mimics who are attacked by predators increases when the Batesian model is absent. Most species of the genus Vipera are endangered and their populations are decreasing (IUCN 2018). If, however, a viper is a Batesian model for an endangered species, such as the smooth snake, it can be expected that once the viper population sinks bellow a critical threshold, it will have a serious impact on the survival of the smooth snake (Valkonen and Mappes 2014).
Moreover, ecological facilitation has not only the immediate ecological impact as described above. Ecological facilitation between individuals at various levels of biological organisation can generate new levels of organisation, and thus lead to evolutionary transitions (Kikvidze and Callaway 2009). It also plays a key role in evolution. For instance, it has been shown in poison frogs that reduced predation rates enhance a diversification of vocal signals, which then become elaborated via sexual selection and lead to increased speciation (Santos et al. 2014). Therefore, if a model becomes extinct, the positive effect on survivorship of the mimics will also vanish. Extinction of the model will thus affect the diversification and speciation of the mimics. It is the not physical removal of the model that has an impact on the survival rates of the mimics, but the loss of meaning the model had for a community of predators that will cause a serious decline in the mimics' population or diversity.
Conclusions
To conclude, the appearance of Vipera serves various purposes and it is both cryptic and aposematic. Vipers serve as a Batesian model for numerous mimics, including other reptiles, birds, and even invertebrates. The strong effect of unvariegated appearance of a viper is modulated by its high iconicity, which, as mentioned above, is defined by the extent to which the organism is unambiguously recognised by observers as the only organism with particular properties. Iconicity is an open and dynamic process, the result of interaction of multiple inputs, including previous states of iconicity. Batesian mimicry is based on adopting the iconicity of the model. It is an example of ecological facilitation, and as such, it is part of niche construction. And since Batesian mimicry is based on semiotic processes, it is a special case of ecological facilitation, namely semiotic facilitation.
Notes
Acknowledgements
Work is part of the research goal VaV10/300/PM DKRVO 2017/05 of Czech Ministry of Culture. I would like to dedicate this work to Kristýna Eliášová.
Copyright information
© Springer Nature B.V. 2019