Circulating Mature Megakaryocytes in an Unusual Case of BCR-ABL1-Positive CML
Dear Sir,
A 64-year-old male presented with weakness for 6 months. Examination revealed moderate pallor with massive splenomegaly. Hemoglobin was 87 g/l, total leukocyte count (TLC) 15.0 × 10
9
/l, and platelet count 787 × 10
9
/l. Leukocyte differential showed 88% neutrophils, 08% lymphocytes, 02% monocytes, 01% myelocytes and 01% metamyelocytes with 1 nucleated red cell per 100 leukocytes. Basophils were nil even on a 500-cell differential count. Red cells were normocytic normochromic with a few dacryocytes and codocytes. Strikingly, several circulating megakaryocytes, mostly with segmented nuclei, along with a few bare megakaryocytic nuclei (Fig.
1
) were noted in the tail of the blood film. Cytochemical leukocyte alkaline phosphatase (LAP) score was 92 (control 256).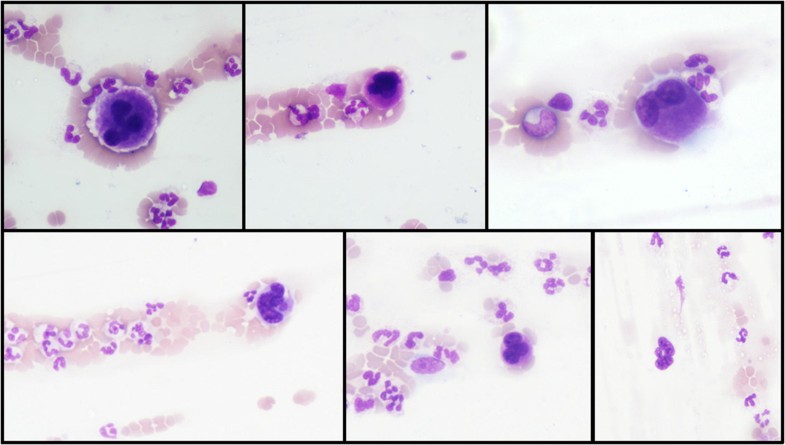 Notes
Compliance with Ethical Standards
Conflict of interest
The authors declare that they have no conflict of interests.
Ethical Approval
All procedures performed in this report involving a human participant were in accordance with the ethical standards of the institutional and/or national research committee and with the 1964 Helsinki declaration and its later amendments or comparable ethical standards. This is a purely observational report and no research procedure was done.
Informed Consent
Informed consent has been obtained for this manuscript.
Copyright information
© Indian Society of Hematology and Blood Transfusion 2018